Después de leer
la entrada de The Non Blonde sobre el delineador azul de Olivia Wilde
, me di cuenta que necesitaba probarlo. Como ella dijo, no es algo particularmente apropiado para la oficina, pero dado que paso una buena parte de mi tiempo ahí, tocó probarlo ahí. Revisé mi colección y afortunadamente encontré algunos –maravilloso dado que no tenía oportunidad de ir al centro comercial a buscar uno. Hoy pruebo el delineador Radium de Urban Decay, que es parte de un set de viaje de delineadores (
otros tonos del mismo set aparecen aquí
). Les comparto los resultados, descubrí que no se ve tan mal para ir a trabajar. Vamos a verlo.
After reading the Non Blonde's post on Olivia Wilde's electric blue eyeliner, I realized my need of this in my life. As she said, it's not something for the office, yet, since I spend most of my time there, it was the only place left. I checked my stash and found a couple of eyeliners this shade –fortunately to me, since I really didn't had much opportunity to visit the mall and get another. Today I'm trying Urban Decay 24/7 Radium, which I've found in a travel set I have (other shades in that set featured here). Here are the results, I've found it's more office-friendy than expected. Take a look.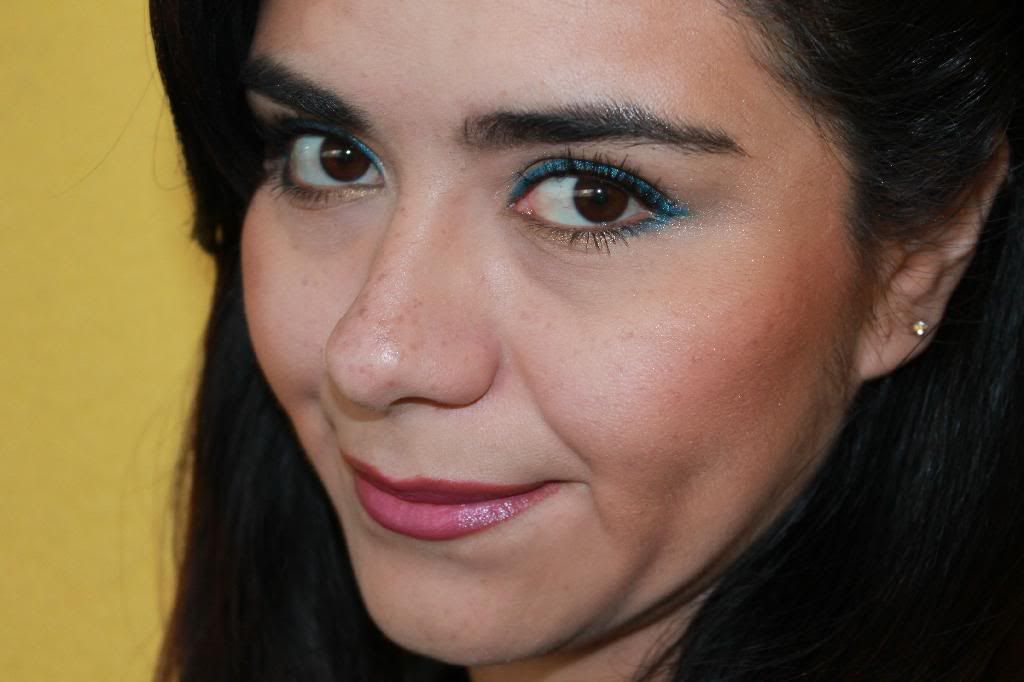 En los ojos usé las sombras en crema Go on y Come on de Skin79 y Radium de Urban Decay como delineador así como Campo de Fiori de Nars; también la mascara Diorshow waterproof y la nourishing de Almay en las pestañas inferiores –actualmente estoy experimentando usar dos tonos de mascara. También uso el Terracotta 4 Seasons 04, el blush Ravish de Tom Ford y como iluminador poudre de soie #4 de Couleur Caramel, en los labios el Full Frontal de Nars.
On eyes I'm using Skin79 Come on and Go on cream eyeshadows, Urban Decay Radium and Nars Campo de Fiori eyeliner; also, Diorshow waterproof mascara on top lashes and Almay nourishing mascara on lower lashes –currently experimenting with double colored mascara. I'm also using Guerlain Terracotta 4 Seasons 04, Tom Ford Ravish blush and Couleur Caramel Poudre de Soie #4 on cheeks while lips is Nars Full Frontal.
¿Has usado delineador azul recientemente? ¡Compártenos tu experiencia!
Have you tried blue eyeliner? Share your thoughts!