Fuente / Source: http://culturacolectiva.com/wp-content/uploads/2012/11/00-VG-PORTADA-FRIDA-KAHLO1.jpg
El reto de esta semana en Makeup Alley ha sido muy exitoso, al menos en mi humilde opinión. Este look hecho por Mayela Velazquez es una explosión de color, pero aun así algo que se puede lograr (sin tener que ser profesional). Antes de mostrarles mi interpretación, les comparto algunos datos de Frida, la pintora mexicana más famosa.
This week's Friday Challenge at Makeup Alley has been a huge success!!! At least in my humble opinion. This look by makeup artist Mayela Velazquez was a color explosion, but still something that we all could try. Before showing you my interpretation, here are some facts about Frida, the most famous Mexican painter:
Nació el 6 de Julio de 1907 y murió el 13 de julio de 1954, en Coyoacán –que actualmente ya es parte de la Ciudad de México.
She was born on July 6th, 1907 and died on July 13th, 1954 at Coyoacan –which currently is part of Mexico City.
Tuvo un accidente en un trolebus cuando era muy joven. Como consecuencia de ello su columna vertebral quedó fracturada en tres partes, sufriendo además fracturas en dos costillas, en la clavícula y tres en el hueso púbico. Su pierna derecha se fracturó en once partes, su pie derecho se dislocó, su hombro izquierdo se descoyuntó y un pasamanos la atravesó desde la cadera izquierda hasta salir por la vagina.
She had an accident in a trolley car when she was very young. She suffered serious injuries as a result of the accident, including a broken spinal column, a broken collarbone, broken ribs, a broken pelvis, and eleven fractures in her right leg, a crushed and dislocated right foot, and a dislocated shoulder. Also, an iron handrail pierced her abdomen and her uterus, compromising her reproductive capacity.
Fuente / Source: http://chulavista.mx/wp-content/uploads/2013/08/Frida-Kahlo.jpg
Los autoretratos son una parte dominante en su vida, y su trabajo. Una vez dijo: "me pinto a mí misma porque paso tanto tiempo sola que soy el sujeto que conozco mejor".
Her self-portraits were a dominant part of her life and her work. Kahlo once said, "I paint myself because I am so often alone and because I am the subject I know best."
Kahlo creó al menos 140 pinturas, junto con docenas de dibujos y estudios. De sus pinturas, 55 son autoretratos que usualmente incorporan retratos de sus heridas físicas y psicológicas.
Kahlo created at least 140 paintings, along with dozens of drawings and studies. Of her paintings, 55 are self-portraits which often incorporate symbolic portrayals of physical and psychological wounds.
Fuente / Source : http://d3hj244ay8zo5a.cloudfront.net/wordpress/wp-content/uploads/2013/06/frida-kahlo-deigo-rivera3.jpg
Se casó con el pintor Mexicano Diego Rivera en 1929 y se divorció en 1939, se volvieron a casar en 1940. Tuvieron un matrimonio conflictivo debido a que ambos tenían temperamentos irritables y varios romances extramaritales.
She married Mexican painter Diego Rivera in 1929 and divorced in 1939, they remarried in 1940. They had a troubled marriage because both had irritable temperaments and numerous extramarital affairs.
Recibió el reconocimiento público hasta décadas después de su muerte. En muchas ocasiones sólo era recordada como la esposa de Diego Rivera.
She wasn't widely acclaimed until decades after her death. Often she was remembered only as Diego Rivera's wife.
Las Dos Fridas

Fuente / Source: http://www.pinturayartistas.com/wordpress/wp-content/uploads/2012/12/autorretrato-frida-kahlo.jpg
No fue sino hasta finales de 1970 y principios de 1980, que el estilo artístico conocido como Neomexicanismo empezó, y con ello se volvió conocida para el público.
It was until the end of the 1970s and the early 1980s, when the artistic style in Mexico known as Neomexicanismo began, that she became well-known to the public.
La primera retrospectiva del trabajo de Frida Kahlo fuera de México (en exposición junto con las fotografías de Tina Modotti) abrió en la Whitechapel Gallery en Londres en mayo de 1982.
The first retrospective of Frida Kahlo's work outside Mexico (exhibited alongside the photographs of Tina Modotti) opened at the Whitechapel Gallery in London in May 1982.
Fuente / Source: http://richardhollis.polimekanos2.com/wp-content/kahlo_01.jpg
Entre 1990-91, la pintura "Diego en mi mente" (1943) se usó como la pieza representativa en la exposición del Museo Metropolitano de Arte "México: Esplendores de treinta siglos".
From 1990–91, Kahlo's "Diego on my Mind" (1943) was used as the representative piece on the post for the Metropolitan Museum of Art's Mexico: Splendors of Thirty Centuries art exhibit.
Fuente / Source: http://4.bp.blogspot.com/_FfZMBBaCF8w/SPT-SReEDpI/AAAAAAAACdc/7abN0RCvw-w/s1600-h/frida+pink+diego.jpg
Fuente / Source: http://img.zvab.com/member/10623h/38563208.jpg
Del 9 de juniio al 9 de octubre de 2005, una exhibición internación del trabajo de Kahlo se presentó en el Tate Modern de Londrés.
During June 9th to October 9th, 2005, an international exhibition of Kahlo's work was presented at the Tate Modern in London.
Fuente / Source: http://www.fridakahlo.it/pict/FridaTate.gif
Ahora mi interpretación, espero que les guste.
Now my interpretation, I really hope you like it.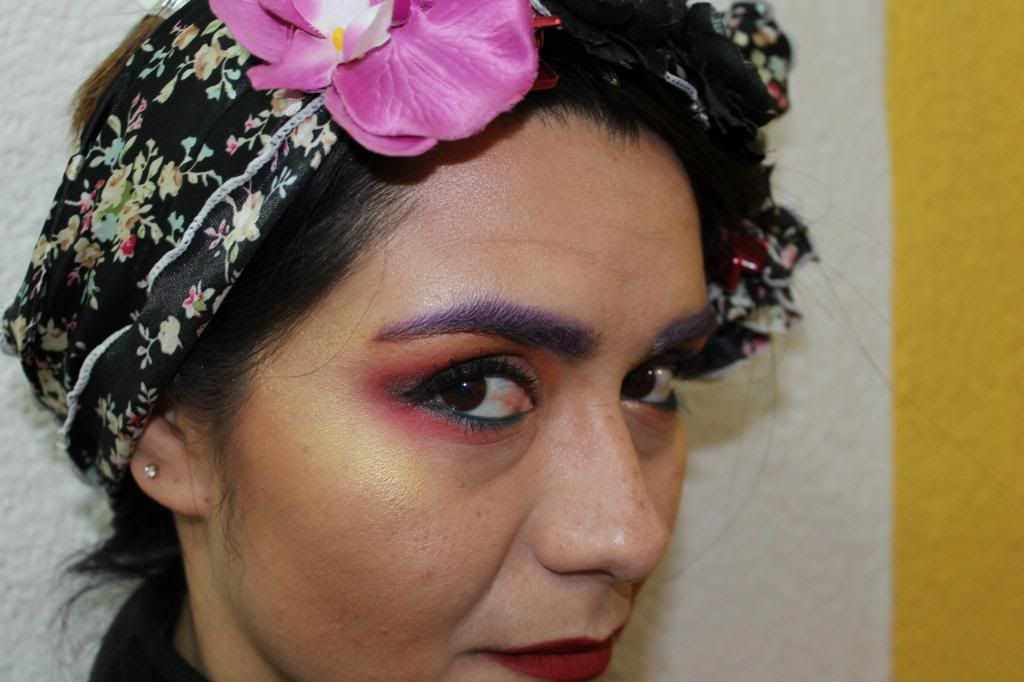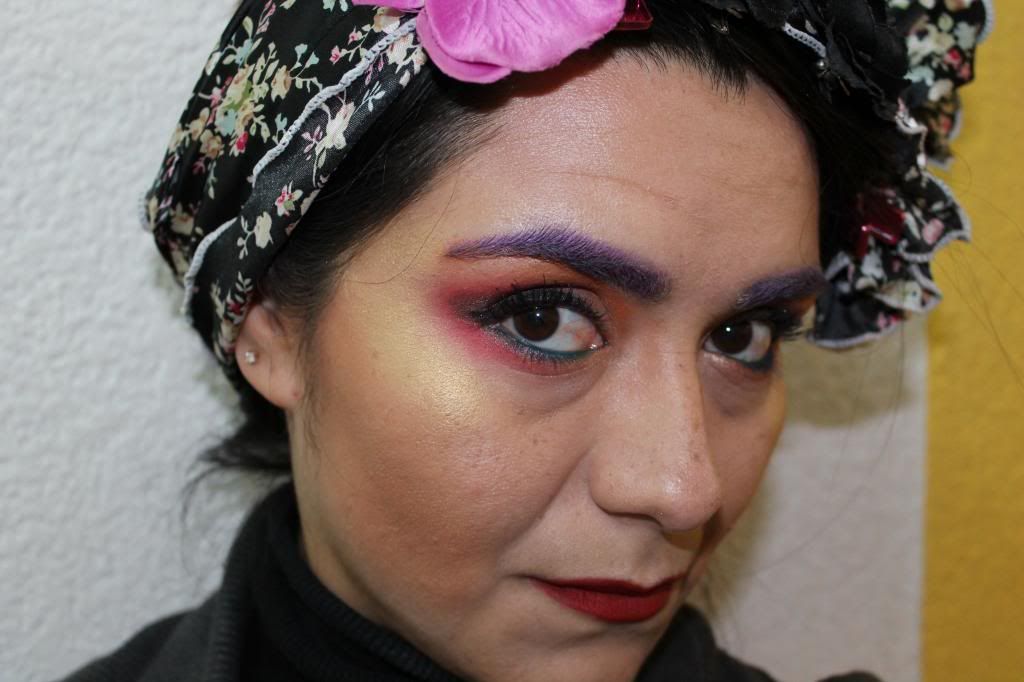 ¿Intentaste este reto? Espero que si, y en caso de que no, ¿qué esperas para unirte?
Did you try the challenge? Hope you did, but if you didn't, what are you waiting to join us in the fun?