Luego de un breve receso, nuevamente me refiero al contorno. Como se puede leer en la
entrada de Aydita
sobre el tema, hay una amplia variedad de productos para contornear. Ella nos mostró algunos disponibles en España, ahora me toca mostrar algunos disponibles en México. Inicio con las opciones en crema/líquidas, y ya después trataré los polvos. Por favor tomen en consideración que para casi todos estos uso la brocha de Royal & Langnickel C240 –
la mencioné aquí
. También tomen en consideración que mi piel es media con tonos base oliva (algo así como entre NC30 y NC35 de Mac, aunque las bases de Mac me resultan muy amarillas).
So, after a small recess, I'm back talking about contouring. As you could read in Aydita's post, there are many different products you can use to contour. She showed us some that are available in Spain. Now it's my turn to show some available in Mexico. I'll start with cream possibilities, and in another post I'll refer to powder contours. Please take note that for most of these, I use Royal & Langnickel C240 brush –I talked about this here. You should also keep in mind the fact that I have olive toned medium skin –that is somewhere between Mac's NC30 and NC35 but tending to neutral since Mac can look too yellow on me.
Ben Nye Concealer Wheel SK-3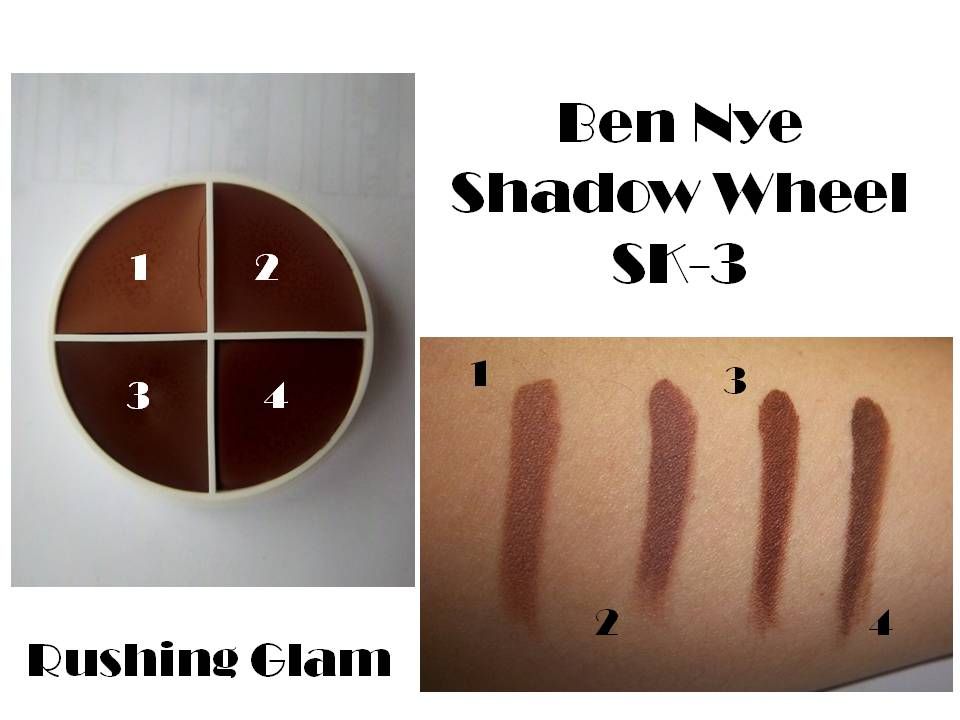 Aquí obtienes cuatro tonos para contorno, de un medio oscuro a oscuro. Los tonos se pueden usar solos o combinados. Si tomas el producto directamente del empaque no parece que tenga mucho pigmento. Sin embargo, si tomas un poco con una espátula pequeña (de las de pintura), lo pones en una paleta y desde ahí tomas el producto con la brocha verás que si es un producto pigmentado. De hecho, el procedimiento que describí brevemente es la mejor forma de hacer que los correctos en crema funcionen bien, ya que mientras tomas el producto de la paleta se calienta el producto y se ve menos pastoso. En esta rueda prácticamente todos los tonos son de base fría, así que funcionan maravillosamente para contornos. Si de estos sólo te gusta un tono, también están a la venta individualmente.
You get 4 contour shades in here, from a medium to a dark one. Shades can be used alone or mixed for a custom shade. They won't seem much pigmented if you try to take it directly from pan with a brush. However, if you take a little bit with a small painting knive, place it over a small painting palette and take it with your brush from there, you will see how pigmented these are. In fact, the way to take product described before, it the best way to make cream concealers work, since the product warms when you take the product from the palette. Most of the shades are cool toned, so works wonderfully for contours. If there is only one shade you like, you can also get on its own.
RCMA Foundation Shinto IV
De las bases de RCMA, la serie Shinto es muy Buena para pieles Latinas, ya que tiene base amarilla y se adapta a los tonos base olive. Mi tono aquí es Shinto II, así que para el contorno me fui 2 tonos más claro y compré Shinto IV. Este no es un tono tan frío como los de Ben Nye, pero también logra un contorno natural. Puedes trabajar con él desde el empaque o usando la espátula como lo mencioné antes.
From RCMA Foundations, the Shinto series are pretty good for Hispanic skins since it has yellow undertones, but it also adapts to olive undertones. My tone in this one is Shinto II, so I went 2 tones darker for contour and got Shinto IV. This shade isn't cool toned as the Ben Nye concealers mentioned before, but also achieves a great natural contour. You can work straight from the pan or take product with a painting knive –as I explained before.
Nars Concealer Dark 1

Este tono me encanta porque es de base fría, mientras que Dark2 es más cálido. Es un corrector muy práctico para contornear, ya que tiene forma de lápiz labial. Así, marco las áreas de contorno y luego difumino con mi brocha C240. Los tonos medios pueden conseguir contornos muy naturales pero visibles con este producto.
I like this shade since it has a cool undertone, while Dark 2 is warmer toned. This is a very practical contour concealer, since it's in stick mode. I just do the contour lines with it and then buff with my C240 brush. Medium tones can achieve a natural yet visible contour with this one.
Soleil Tan de Chanel base

Muchas chicas con pieles de base fría dicen que te hace ver naranja, aunque esto no sucede con tonos base olivo. De hecho, da un tono bronceado muy lindo y se puede conseguir un contorneo muy sutil en pieles medias y algo más evidente en pieles claras (piensa en Adele).
Many cool toned people say this makes you look orange, but for olive tones this doesn't happen. It's actually a nice bronzey shade that can achieve a very subtle contour for medium skintones and nice contour for lighter skintones (think Adele for this).
Mac Studio Finish Concealer

Lo compré en NC50, que es el tono más oscuro disponible. Dado que la piel de casi todos los mexicanos es de base amarilla, con algunos en olivo y muy pocos en tonos base fríos, por lo que no es sencillo encontrar correctores oscuros fríos en esta marca. En fin, con este tono se puede contornear pero no se ve tan natural. Es un poco como usar el Soleil Tan de Chanel, pero más oscuro y se ve más naranja. A veces lo uso, pero no muy seguido.
I got this in NC50, since it was the darkest shade available. The fact that Mexicans are almost all warm toned, with some olives but few cool toned people, makes it difficult to find a cool toned dark concealer. So, you can contour with this but it won't look that natural. It's kind of using a darker shade of Soleil Tan de Chanel, but this one does look orangey. I sometimes keep using it, but not really often.
Mac Prolongwear

Tengo este en NW40. Esta línea es un poco más oscura, así que el NW40 se ve más como un NW45-50. El tono es maravilloso, pero el producto seca muy rápido. Apenas alcanza el tiempo para difuminar antes de que se seque y quede como manchón. Si puedes contornear rápido, es una muy bueno, pero si no, puede ser un caos.
I got this one in NW40. This line runs a bit darker, so NW40 goes more to a NW45-50. The shade is great but this dries too fast!!! You barely get the time to buff it before it dries and leave a patch. If you can contour fast, then it's great, else… it can be a patchy mess.
Shiseido

Tengo este en bronze, y me parece un punto intermedio entre los últimos 2. Es más oliva que naranja en comparación con el Studio Finish NC50, pero no tan frío como Prolongwear NW40, de hecho puede ser semejante a RCMA Shinto IV. Es líquido como el Prolongwear, pero no se seca tan rápido y te permite trabajarlo. Es algo caro, pero puede funcionar.
I got this in bronze, it's like a middle point between the last two. It's more olive rather than orange compared to Studio Finish NC50 but not as cool as Prolongwear NW40, it may be close to Shinto IV. It's liquid as Prolongwear, but it doesn't dry that fast so you can work with it. It's a bit pricey, but could work.
Aquí están mis opciones de tonos para contornear para tonos de piel medios, qué producto usas tu para contornear?
So, here are some options of contouring shades for medium skintones, which product do you use to contour???
Un poco fuera de tema: he recibido algunos comentarios preguntando en dónde compro los productos. Ya he hecho algunas entradas contando sobre NYX, Becca, Coastal Scents y Beauty Blender. Sin embargo, siento que debo compartir una guía de compras (más o menos como lo que a veces incluyen las revistas). Estoy trabajando en ello, aunque sólo será para la Ciudad de México. Espero poder lanzarlo pronto.
Slight Off Topic: I've received a couple of comments asking where I buy many items I feature here. I've done a few posts telling where to get NYX, Becca, Coastal Scents and Beauty Blender. However, I just felt I need to share a shopping guide (like the one some magazines have). I'm currently working on that, for Mexico City for the moment. I hope I can launch it soon.