Una parte importante de un buen maquillaje es usar las herramientas correctas, y ello se vuelve a aún más importante cuando se trata de contorneo / iluminación. Buenas brochas te permitirán hacer el trabajo más rápidamente y con mayor precisión. Aquí hay algunas brochas que tengo, junto con algunas alternativas a ellas:
An important part of getting your makeup well done is using the right tools, and this is more important when it comes to contouring / highlighting. Good brushes will let you do this faster and with more precision. Here are I show some of the brushes I have, and I'll try to add some alternatives to it.
Para contorneo con polvo / For powder contouring
Royal & Langnickel C120
Si ves la foto, podrás notar que es muy parecida a la Mac 168. Esta es la forma básica de una brocha para contorno, ya que la forma angular te permite "cortar" abajo del pómulo. Esta me gusta porque tiene cerdas cortas y es denso, lo que te permite controlar la cantidad de producto que se aplica sobre el rostro. Cabe la posibilidad de aplicar producto de más, así que hay que tener cuidado.
If you see the pic, you'll note is very close to a Mac 168. This is the basic shape for a contouring brush, since the angle lets you "cut" under the cheekbone. I like this one because it has quite short bristles and it's dense, so I can control the amount of product I'm posing on my skin. However, it can be easy to overdo, so be careful.
Chanel #5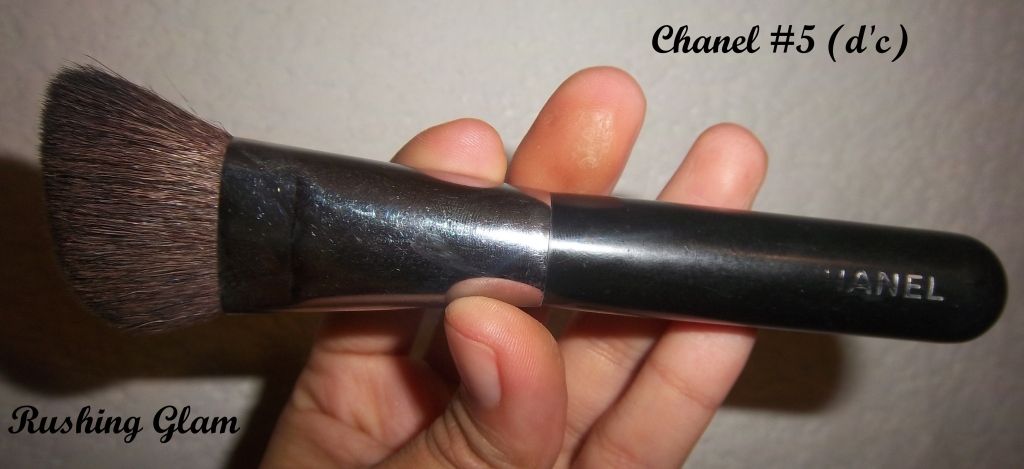 Esta es la versión europea, y fue mi primer brocha para contorno (hace unos 5-6 años) y sigue funcionando de maravilla. Esta es aún más densa y de cerdas más cortas que la anterior, así que es maravillosa para hacer contornos con polvo y con tonos que necesitan trabajarse –en mi tono de piel, es el caso del blush Earthy de Burberry. Me encantaría que Chanel siguiera produciendo esta brocha, por lo maravillosa que es. Lastimosamente, aún no encuentra un clon de ella.
This is the old Euro version, it was my first contour brush (like 5-6 years ago) and it's still in great shape. This one is even denser and has shorter bristles than the latter… so it's great when you just contour with powder and are using a shade that need to be build –for my skintone, that's the case of Burberry Earthy blush. I wish Chanel would keep on producing this one, since it's just great, and I haven't found a dupe for it.
Chanel #2: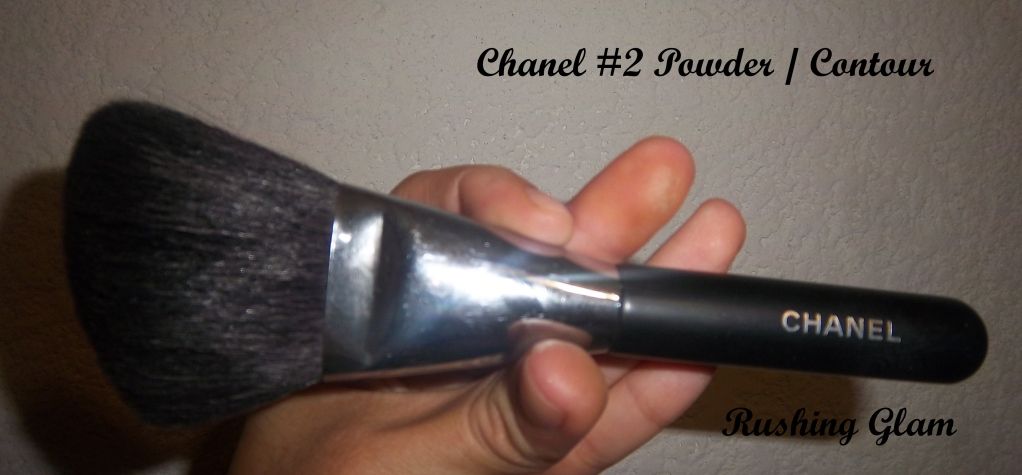 Esta es la versión nueva. Como se puede ver, sigue siendo densa pero las cerdas son más largas. Esta la uso con tonos más oscuros, como el blush de contorno de Ben Nye #1 o el bronceador de Shiseido #2. También lo probé con Earthy, pero como hay que trabajar el tono, prefiero usar la anterior. También tengo la versión mini (de les minis de Chanel, invierno 2011). Sé que Bdellium Tools tiene una brocha muy parecida, es la #990B.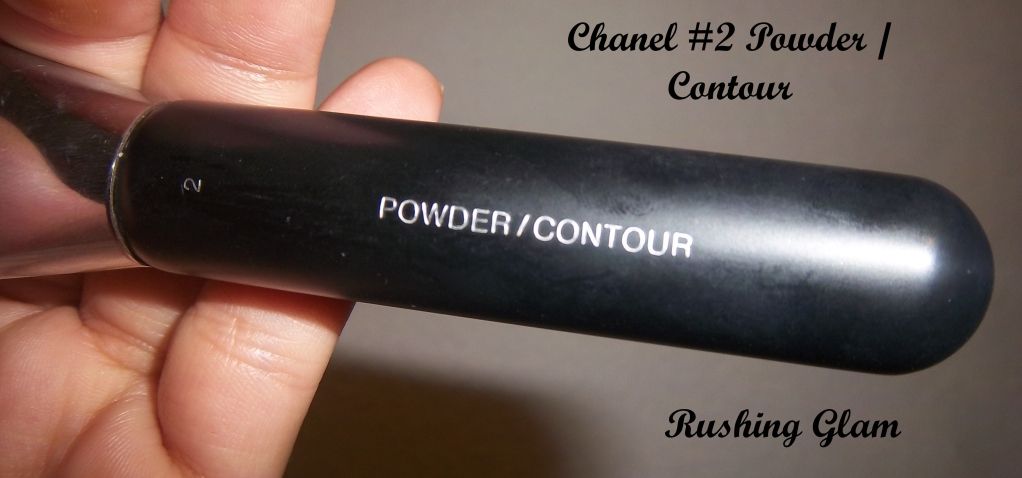 This is the new version. As you can see, it's still dense but bristles are longer. I use this one for darker shades, like Ben Nye contour powder #1 or Shiseido bronzer #2. I've tried it too with Burberry Earthy, but I really have to build the shade, so I just go for the other one. I also have the mini version of this one (from Holiday 2011 les minis de Chanel). I know Bdellium tools has a dupe for this one, #990B.
Royal & Langnickel C125: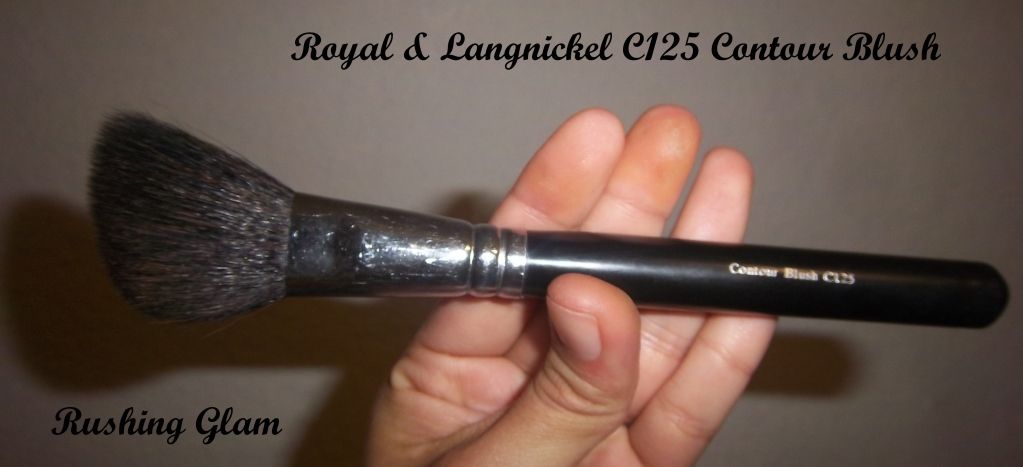 Esta es como una version intermedia entre la C120 de R&L y la Chanel #2, pero aparentemente está descontinuada –la última vez que vi el catálogo de Royal & Langnickel ya no aparecía.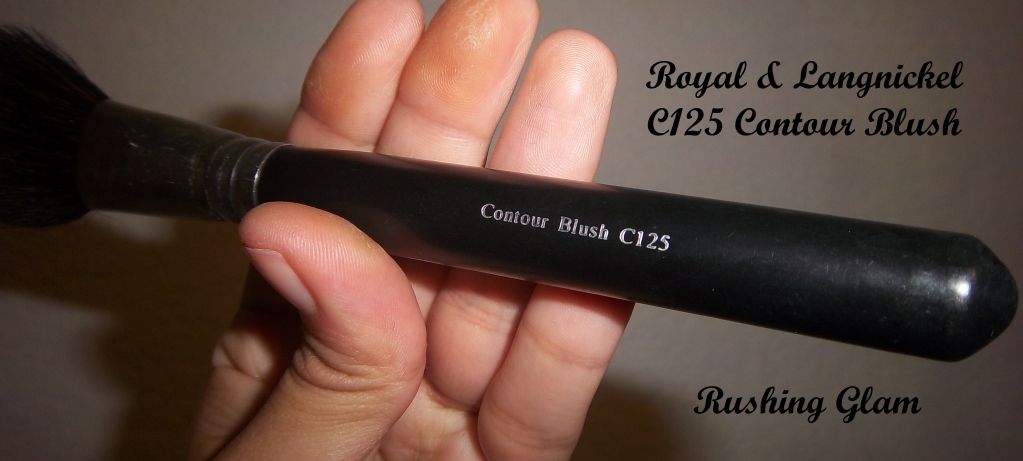 This one is like the middle version of R&L C120 and Chanel #2, but unfortunately it seems it's been now discontinued –the last time I checked a Royal & Langnickel catalog it was no longer there.
Mac 109: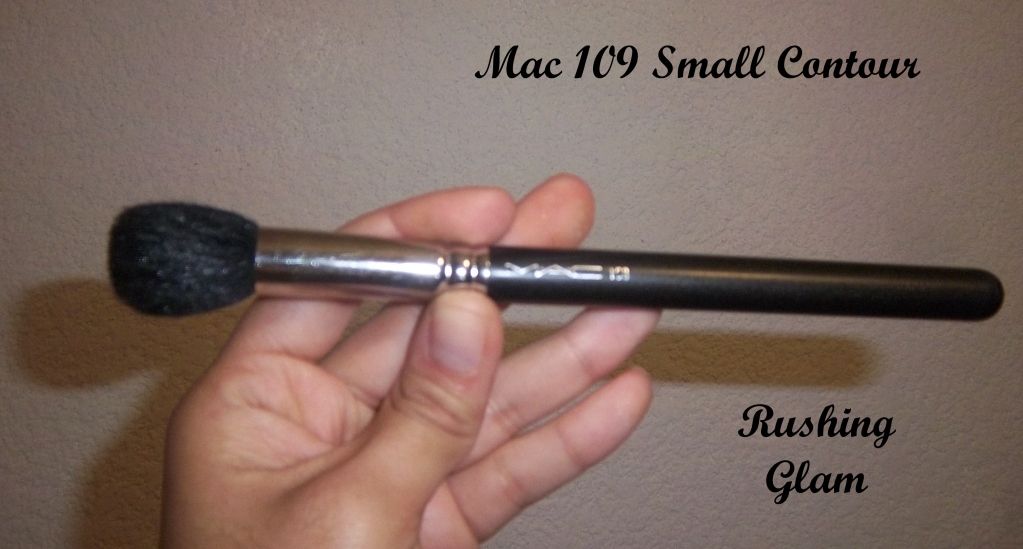 A algunos les gusta esta brocha, y otros la odian. Algunos la usan para aplicar base líquida y otros para blush, yo simplemente la usó para contornos. Es pequeña, densa y con cerdas cortas… esta trabaja parecido a la Chanel #5. Puedes trabajar el tono y realmente sculpir el rostro. Sé que hay una muy parecida de Hakudoho y Royal & Langnickel también.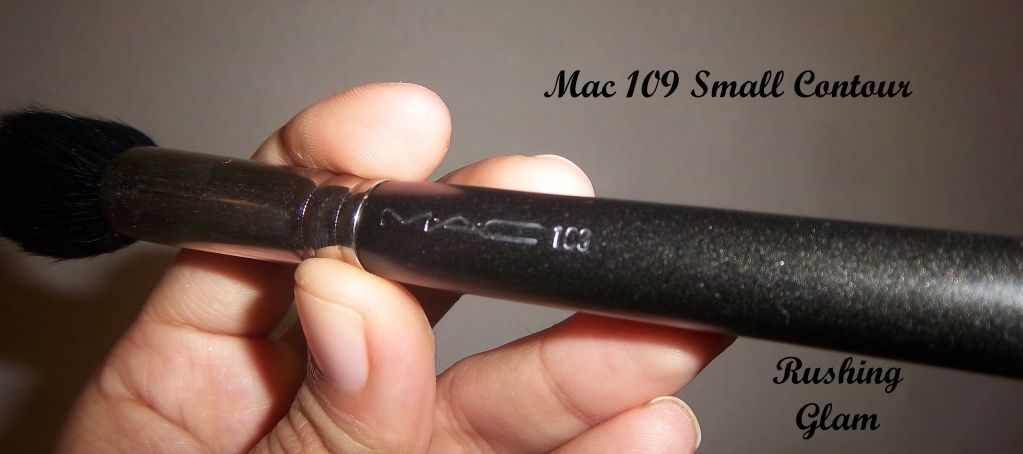 Some people like this, some people don't. Some use it for foundation and others for blush, I just use it for contouring. It's small, dense and with short bristles… this one works like Chanel #5. You can build the shade and really sculpt one's face. I know Hakudoho has a dupe and surely Royal & Langnickel too.
Nars Kabuki Itta brush:
En los mostradores de Nars te la van a recomendar para contornear junto con el Laguna. Si funciona para ello, aunque en lo personal me gusta más sólo para contornear las aletas de la nariz y aplicar iluminador en polvo. Yo la siento muy suave para esculpir los pómulos, pero seguro hay a quien le guste. Si te quedaba alguna duda de para qué usar, esta, he ahí.
All Nars SA's and MUA's will tell you this one is useful for contouring using Laguna. It actually is, but I really prefer this one to contour the noses ales and highlightning the nose bridge. Somehow, I feel it too soft for my under cheekbones, but perfect for nose. If you were wondering how to use this one, here's a use ;)
Ecotools: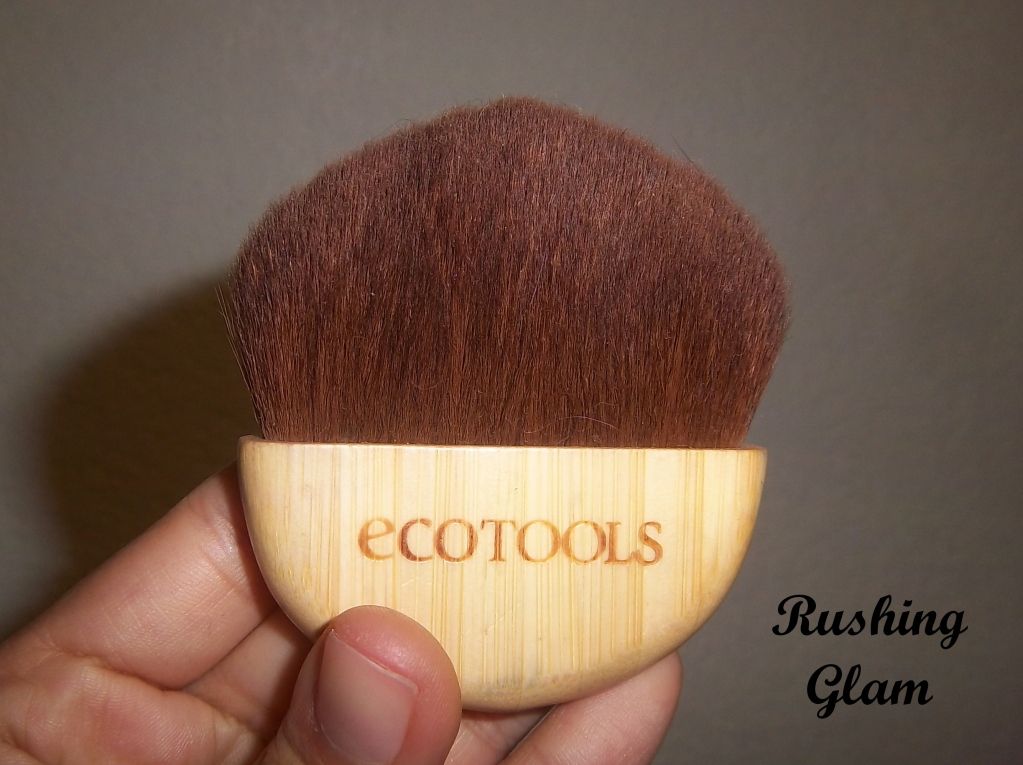 Esta viene en el kit para maquillaje mineral, pero no sé el nombre. Es perfecta para el contorneo diario –de hecho fue la primera que usé. Ya que es de cerdas sintéticas, la aplicación es muy sutil.
I got this one in the mineral mu kit, so I really don't know the name. This one is perfect for everyday contouring –it's actually the one I first used. Since it's made of synthetic bristles, the application is very subtle.
También he visto a algunos MUA hacer contornos con brochas para blush como la Mac 116. Aunque no he visto a nadie contornear con la yachiko de Nars, creo que se debe a que difumina mucho el pigmento y hace que sea poco notorio. Yo sé que a todos nos da miedo contornear de más, pero si no se nota, no sirve de nada.
I've seen some MUA do contouring with blush brushes too, like Mac 116. But I've never seen someone contour with Yachiko brushes, I think it's because it buffs too much pigment, so it would be too sheer to be noticeable. I know, we are all afraid of contouring too much, but when it's no noticeable, it's worthless.
Para contornear con crema / For Cream contour
Royal & Langnickel Taklon Contour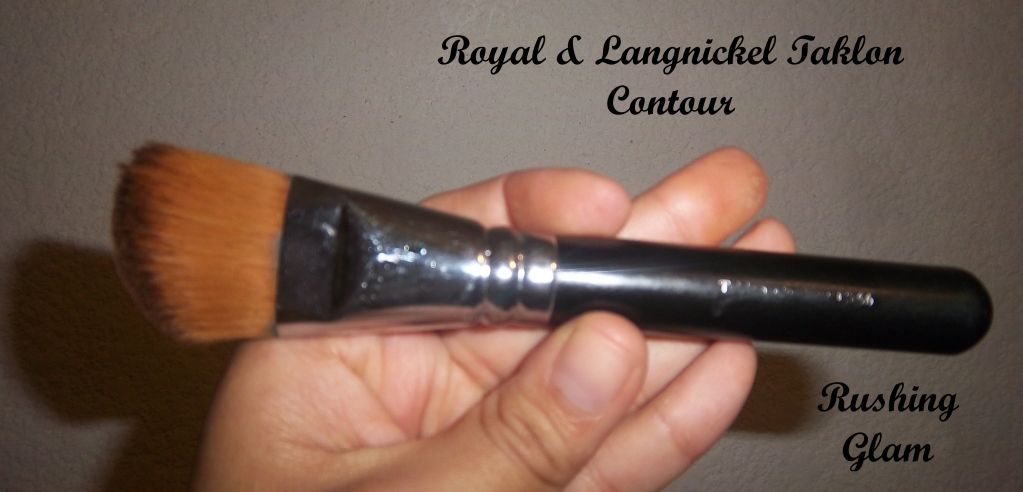 Cuando la ví por primera vez en un catálogo de R&L, la descripción decía "taklon contour", y pensé que mi vida estaba resuelta. Antes de comprar esta, hacía los contornos con una brocha para corrector (algo delgada para la necesidad).
When I first saw a R&L catalog, the description said "taklon contour", so I thought my life was solved!!! Before getting this one, I used to do contouring with a quite thin concealer brush, so it took a longer time.
Royal & Langnickel C240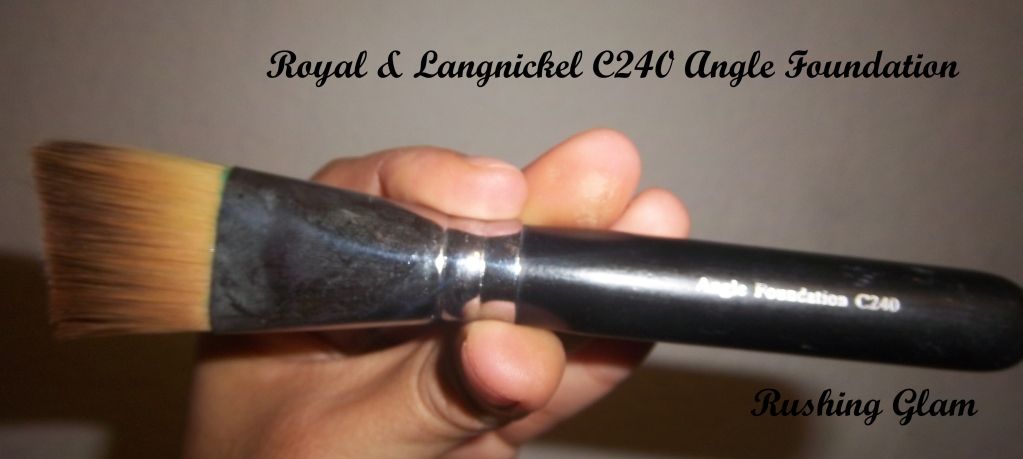 Parecida a la anterior, pero el ángulo en ésta no está redondeado. Esta es de mucha ayuda a los rostros redondos, ya que prácticamente tiene el largo de la distancia que debe tener la línea en el contorno del pómulo. Si tuviera que elegir una sólo brocha para hacer contornos, sería esta.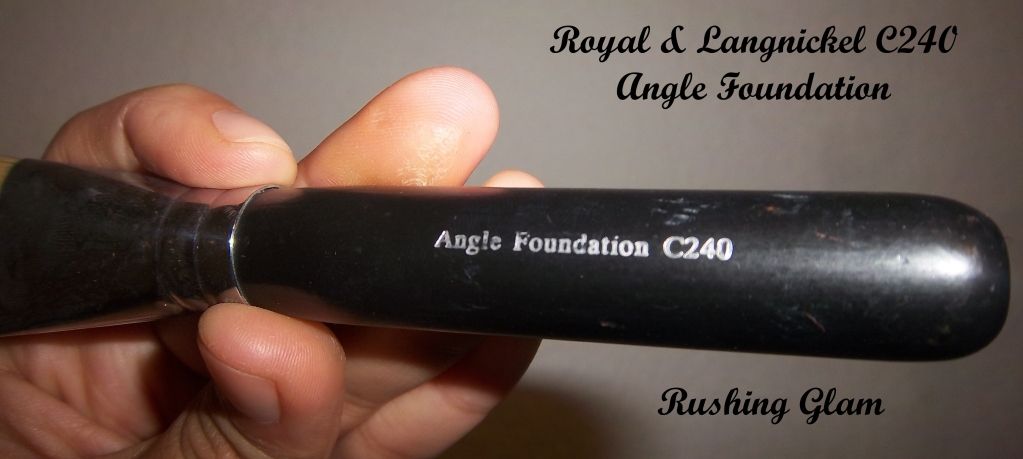 Close to the other one, but this one hasn't the angle rounded. This one is so much help for round faces, since it has almost exact
ly the deep your cheekbone contour must have. If I had to choose one single brush to contour with, it will be definitely this one.
Sé que Mac también tiene una brocha angular, pero me parece muy pequeña para contornos. Tengo una muy parecida de GOC (marca mexicana), que tal vez ayude a mostrar a lo que me refiero.
I know Mac also has an angled brush, but I find it too small to work with this. I have a similar one from GOC (Mexican brand), and maybe that helps you see what I mean.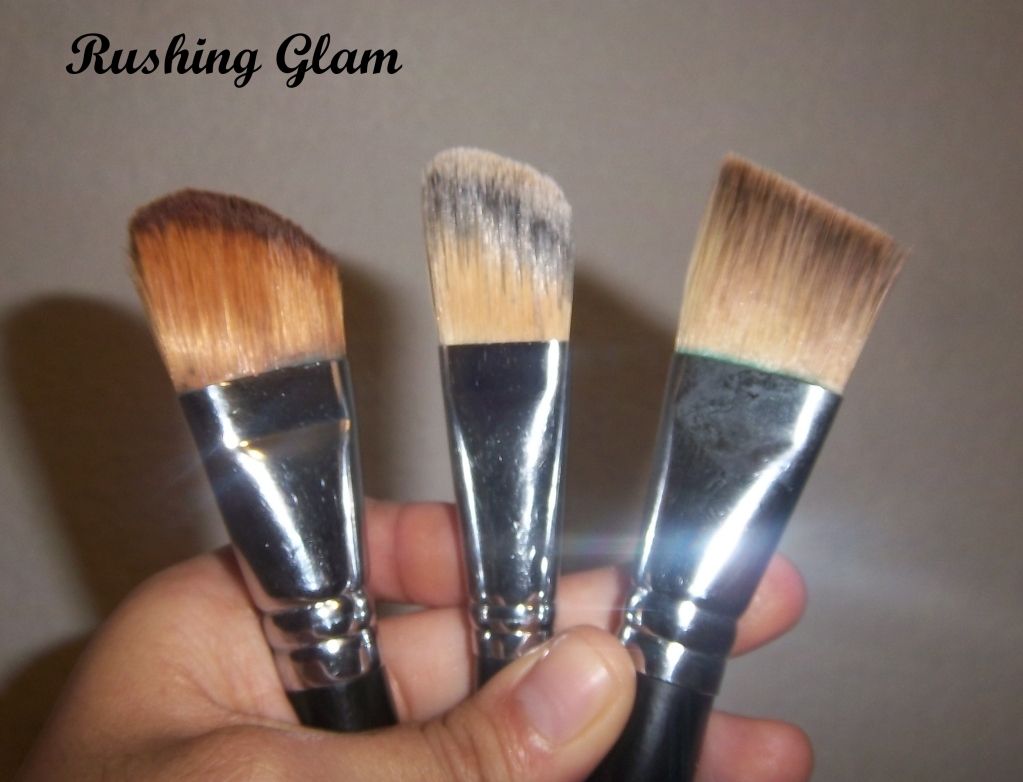 Otra brocha que se me ocurre es la de Shiseido para base, la que es angular, pero debo confesar que nunca la he usado para contornos, la probaré y podré darles mis comentarios.
Another brush I can think of is Shiseido foundation brush, the latest one which is also angles, but I must confess I haven't tried it for contouring so far… but I'll try and let you know my thoughts.