Picture taken from www.herworldplus.com
Following the trend of stick-type cream eyeshadow that Laura Mercier started, followed by Bobbi Brown -none of which I've tried- Chanel comes with their version. Stylo eyeshadow came in 6 LE shades and are part of the Summer 2013 collection.
If you're familiar with Illusion d'Ombre, then think it's the same in a stick form. It's also sparkly and doesn't really need powder setting. However I think these are more practical and longer wearing in my experience.
Out of the 6 available shades, I picked the ones I found more wearable: Moon River (light taupe), Pink Lagoon (pink) and Black Stream (black), all shimmery. Please keep in mind I'm usually in a formal labor environment, so I rarely use very dramatic or colorful looks, so these shades were the most work appropriate I could think of.
Here is a pic using the 3 shades: Pink Lagoon all over the lid, Black Stream on the outer V and Moon River on the center lid. You can also see some more pics in my Instagram account (@florjaguayana).
Here are some comparison pics with some cream eyeshadows (Illusion d'Ombre, Nars multiples and Shiseido) I own.
Pink Lagoon
(from left to right)
1. Chanel Pink Lagoon stylo eyeshadow
2. Chanel Emerveille Illusion d'Ombre
3. Nars Orgasm multiple
4. Shiseido Shell Pink cream eyeshadow
I find the closest is Orgasm multiple, yet it's peachier than Pink Lagoon.
Moon River
(from left to right)
1. Chanel Moon River stylo eyeshadow
2. Chanel Illusoire Illusion d'Ombre
3. Chanel Riviere Illusion d'Ombre
4. Shiseido Sable cream eyeshadow
5. Nars Copacabana multiple
I used the ones I thought could be similar, but I couldn't find any similar shade in my stash, can you think of any?
Black Stream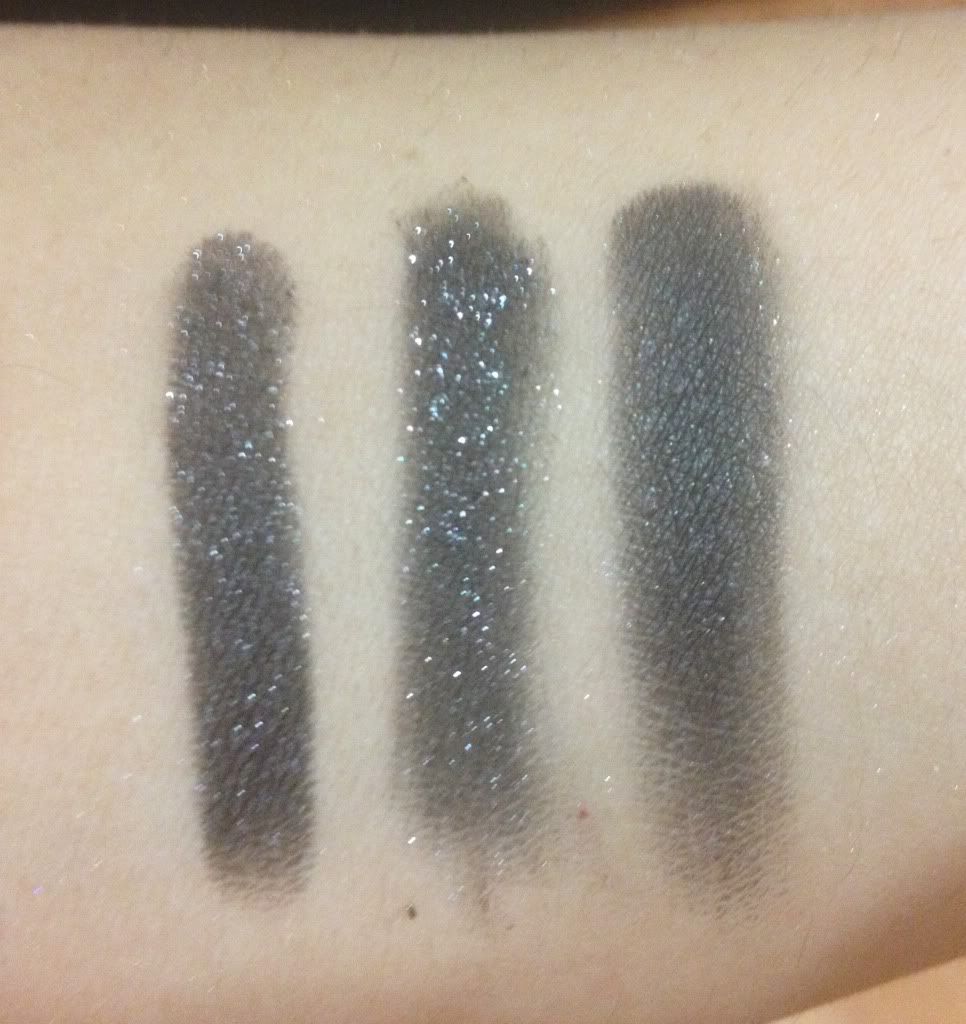 (from left to right)
1. Chanel Black Stream stylo eyeshadow
2. Chanel Mirifique Illusion d'Ombre
3. Shiseido Caviar cream eyeshadow
Mirifique is defintely sparklier than Black Stream, shile Caviar goes towards to matte.
One would think the most wearable is Moon River (and it's the most unique), but I found I reach for Pink Lagoon more often, so if I had to recommend just one, that would be Pink Lagoon.
As for the other shades in the range, I'm quite interested in the blue and mint ones, but I'm still not sure I should. Have you tried these? Is there any other shade you recommend?
Ps... if you own Naked 2, you should try the brush that comes in that palette to apply and blend these e/s, they work wonders.