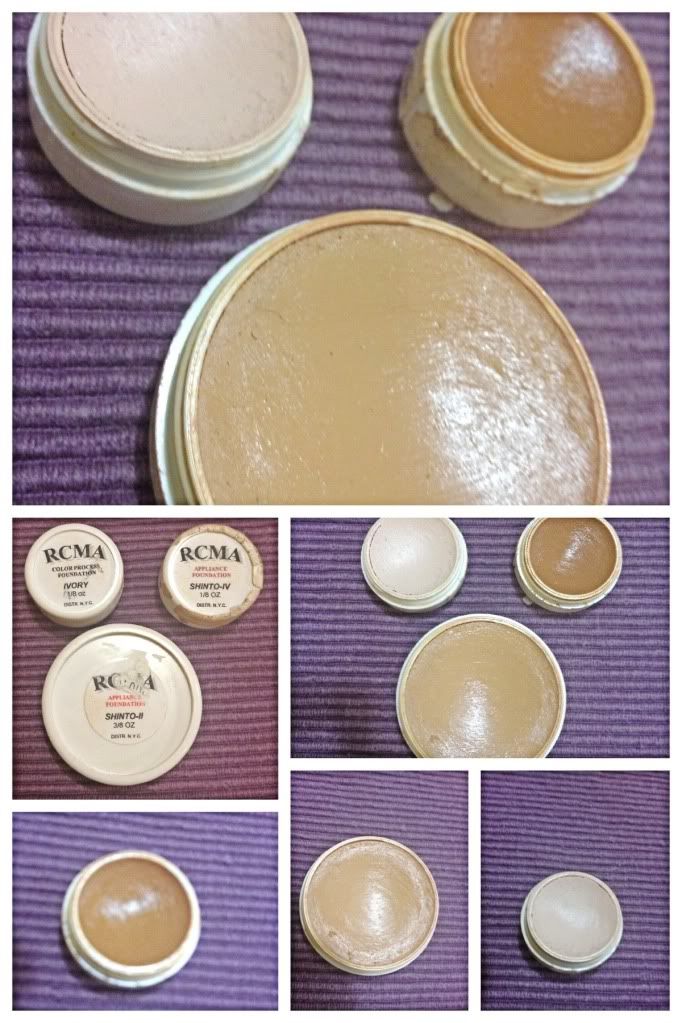 Probably you've watched gossmakeup artist video on what he considers the best foundation in the world: RCMA color process. If you haven't, here's the link:
Si gustan de ver videos de maquillaje en Youtube, probablemente se toparon con este de gossmakeupartist sobre la que él considera la mejor base de maquillaje del mundo. Si no, aquí se los dejo:
I actually own some of these, so I decided to share them with you today. These are: ivory, Shinto II and Shinto IV. Shinto II is a shade closer to my skintone, that's why I got it in the 3/8 oz size, while ivory is a highlighter and Shinto IV as a contour shade, so I got those in the 1/8 oz size. Here are heavy and blended swatches of the three:
De hecho yo tengo algunas de estas bases, así que hoy se las comparto: Ivory, Shinto II y Shinto IV. Shinto II es un tono muy cercano a mi piel y por eso la compré en el tamaño de 3/8 oz, mientras que Ivory funge como iluminador y Shinto IV como tono de contorno, por lo que los compré en el tamaño de 1/8 oz. Aquí hay swatches tanto intensos como difuminados.
Ivory, Shinto II, Shinto IV
RCMA claims its foundation has 50% pigment while regular foundations have between 18-23%. That means you need less product so you get a more natural finish. It's also made with vegetal oils and no mineral, so it's less probable that can cause reaction to it. Here is the ingredient list:
RCMA dice que sus bases tienen el 50% de pigmentos, mientras que las bases normales son entre 18-23%. Ello implica que necesitas menos producto para un acabado natural. Tiene mayoritariamente aceites vegetales y no minerales, por lo que es menos probable que cause reacciones. Aquí está la lista de ingredientes.
IPM (Isopropyl Myristate), Castor Oil, Carnauba, Candelilla, Ozokerite, Titanium Dioxide, Iron Oxides, propyl Paraben, BHT. May Contain: D&C Red #6, D&C Red #7, D&C Red #27, Cos.Green, Cos. Blue.
They have a huge variety of shades, even more than Mac, so if you have problems finding a good foundation match, they may have it.
Tienen una variedad bárbara de tonos, incluso muchos más que MAC, así que si tienes problemas para encontrar una base de tu tono, probablemente aquí la encuentres.
Here are some comparison swatches:
Aquí hay unos swatches de comparación:
Ivory:
Left to right / derecha-izquierda
RCMA color process ivory
Kryolan ultra foundation-3 (the lightest shade)
Ysl touché éclat 1
Bobbi brown cream eyeshadow bone
Shinto II
Left to right / derecha-izquierda
RCMA color process Shinto II
Kryolan ultra foundation-3 (the medium shade)
Chanel Vitalumiere aqua B30
Nars Sheer Matte Punjab
Lancôme Teint Idole Ultra 24h Beige Diaphane
Shinto IV
Left to right / izquierda-derecha
RCMA color process Shinto IV
Kryolan ultra foundation-3 (the darkest shade)
Mac studio finish concealer NC50
Shiseido natural finish cream concealer 5 deep bronze
Bobbi Brown corrector very deep bisque
My personal experience with it is that it does leave a very natural finish and it's lightweight. My only let down is that one of the main ingredients is castor oil, to whom I get reaction (small white heads), so I don't use it for every day wear and only for special occasions. However please remember your mileage may vary and if you don't get reaction to castor oil, this can be a great oundation for you.
Mi experiencia con estas bases es que si te dan una cobertura ligera muy natural. Lo único que no me gusta es que el aceite de ricino es uno de los principales ingredients y a mi me causa reacción (pequeños barritos), así que no la uso del diario sino únicamente en ocasiones especiales. Por favor recuerda que cada piel es diferente y que si no tienes reacciones al aceite de ricino, esta puede ser una gran base para ti.
I apply this foundation with the either of he following tools: beauty blender, Shiseido foundation brush, real techniques expert face brush or Dior foundation brush.
Esta base la aplico con alguno de los siguintes. beauty blender, Shiseido foundation brush, Real Techniques expert face brush o Dior foundation brush.