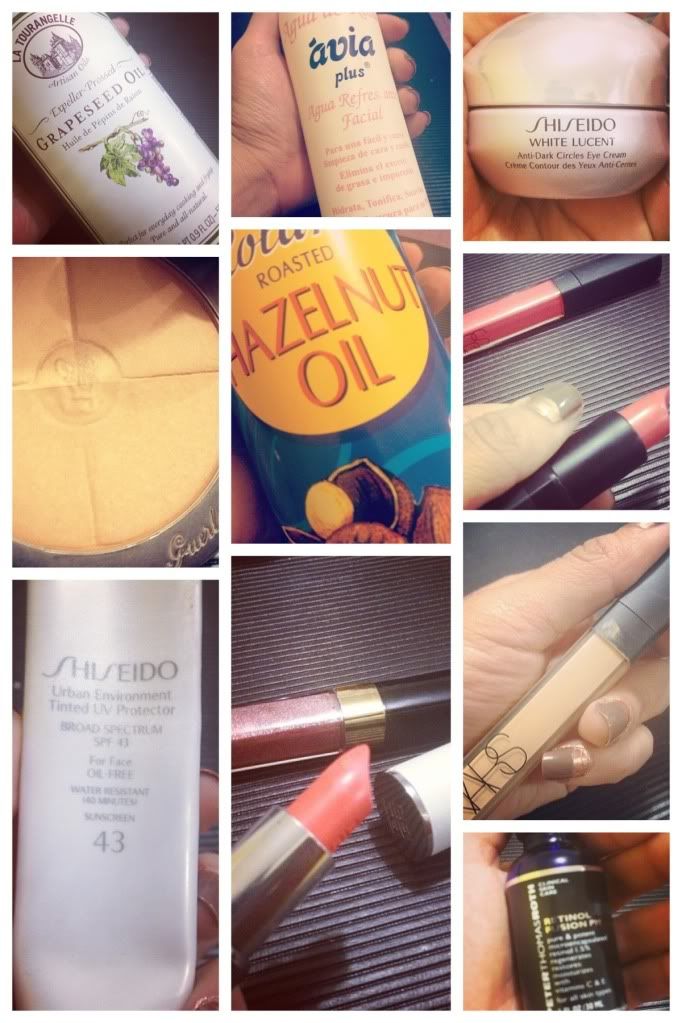 It's been a while since I don't tell you my monthly favorites. I've been a lot into skincare lately, so mostly will be that this time, here we go!
Hace mucho que no compartía mis favoritos del mes. Últimamente he estado más preocupada por skincare que por cosméticos, así que este mes se va más hacia cremas (bueno aceites).
Oils: grape seed and hazelnut / Aceites de pepita de uva y de avellana
Both are astringent, so they work wonders on my combo oily skin. I'm also lucky that I didn't get any reaction to them. I use grape seed oil as a cleanser (
I've wrote about it here, in Spanish
) and then 3-4 drops of hazelnut oil with one spray of rose water as moisturizer. In Mexico, you can find it in the gourmet section of cooking oils.
Ambos aceites son astringentes, así que funcionan de maravilla en mi piel mixta. También tengo suerte de que no tuve reacciones a éstos (como me pasa con el aceite de ricino). El de pepita de uva lo uso como limpiador (en esta entrada comento el método) mientras que el de avellana, con 3-4 gotitas y un poco de agua de rosas me sirven como hidratante. En México, puedes encontrarlos en la sección de aceites gourmet (en particular, yo los he encontrado en Chedraui Select y Superama).
Por favor recuerda que si quieres empezar a usar aceites, primero debes probarlos en una pequeña sección de piel para asegurarte que no tengas reacciones a ellos. No queremos un caos en el rostro.
Rose Water / Agua de rosas
At least here in Mexico, you can find it in almost any drugstore. I use it before oil cleansing and when using oil as moisturizer. It can also be used to first remove makeup, like micellar water.
Aquí en México, el agua de rosas la encuentras casi en cualquier farmacia. Yo la uso antes de la limpieza facial con aceite y cuando uso un aceite como hidratante. También la puedes usar como si fuera agua micelar, como desmaquillante -aclaro, esto no quita por completo el bloqueador solar, por lo que de todas formas es necesario el aceite después o algún otro tipo de limpiador.
Peter Thomas Roth Retinol Fusion PM
Shiseido White Lucent eye cream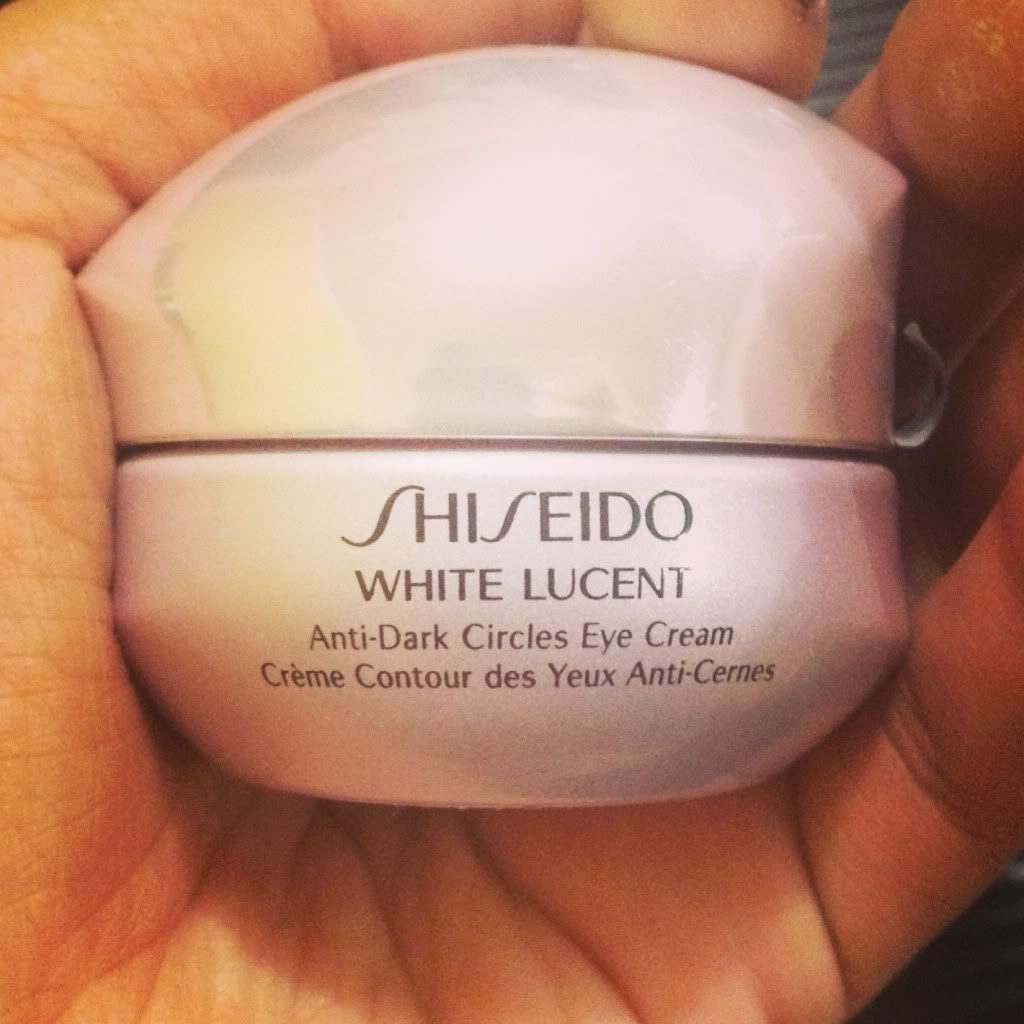 I must admit, I haven't noticed my undereye circles to be less evident. However, this one is a great moisturizer for the area. I've practically solved my problems with lid irritation due to air conditioning after using this one -
I've wrote a bit about this here
.
Les voy a ser muy franca, mis ojeras siguen siendo igual de visibles. Sin embargo, esta crema me parece un gran hidratante para el contorno de ojos. Prácticamente he resuelto mis problemas de párpados irritados por el aire acondicionado desde que la uso -escribí un poco sobre ese tema aquí. Antes usé la Regenerist de Olay, que vale 1/3 de esta y que me pareció muy buena, pero que se terminó en menos de un mes. Con esta, llevo alrededor de 3 meses y aún me queda la mitad del tarro. Esta crema la encuentras en Palacio de Hierro y Sephora.
Shiseido urban environment tinted sunscreen
This one is wonderful since it also works as a sheer foundation -think a sheerer Chanel Vitalumiere Aqua. My skin feels fresh and not cakey. It has SPF 42 and fortunately, the ingredients didn't break me out. My only let down with this one, is that in order to get a proper protection you need to apply around 5 ml, which means you go through a tube in less than a month (it has 30 ml). I think I should write a separate review for this one.
Este bloqueador solar con color es maravilloso, ya que sirve como una base ligera -un poco más ligera que Vitalumiere Aqua de Chanel. La piel se siente fresca y no pesada. Tiene SPF 42 y aortunadamente, los ingredientes no me causaron reacción. Lo único que no me agrada es que los 30 ml que contine te duran para poco menos de un mes -la recomendación de uso de cualquier bloqueador solar es de 5 ml diarios para el rostro. También de este creo debería escribir una reseña.
Complexion stuff: Nars Creamy Concealer (Ginger) & Guerlain Terracotta 4 seasons 04 (medium brunettes)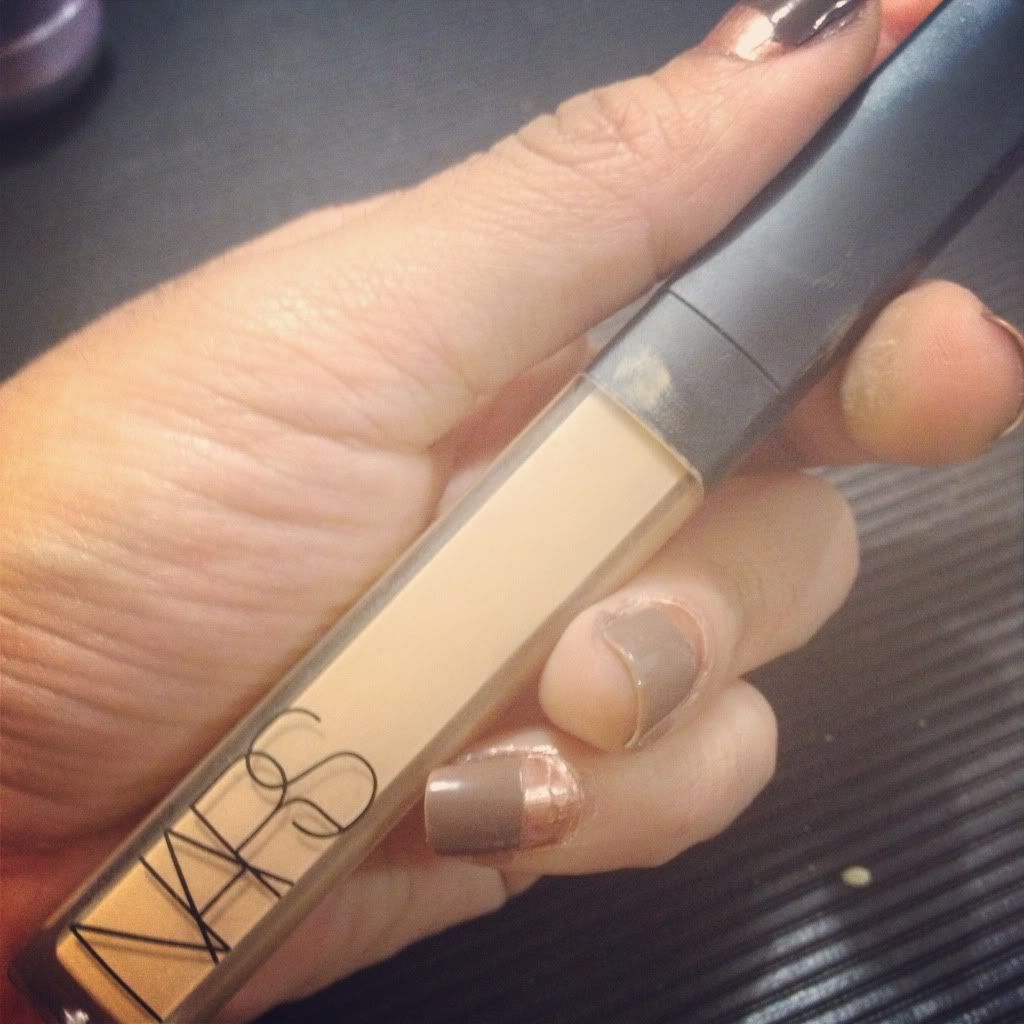 Ginger is a wonderful shade for medium skintones, and it's enough yellow for not looking funny on me. If set with some loose powder, it stays in a good shape after my 12-hour laboral journeys. I also own Custard, but I feel it's a bit too light for me.
No one makes bronzers like Guerlain, and this particular one is wonderful since it has 4 shades that you can use separate or just mix them all (what I do most of the time). I first wanted a brunettes one (since I'm brunette lol), but 03 (natural brunettes) was too close to my skintone and 05 (medium brunettes) was too dark and it made me look muddy, so I had to go with medium blondes. As you can see, it gets daily use and it has taken the place of my former love -Shiseido bronzer medium.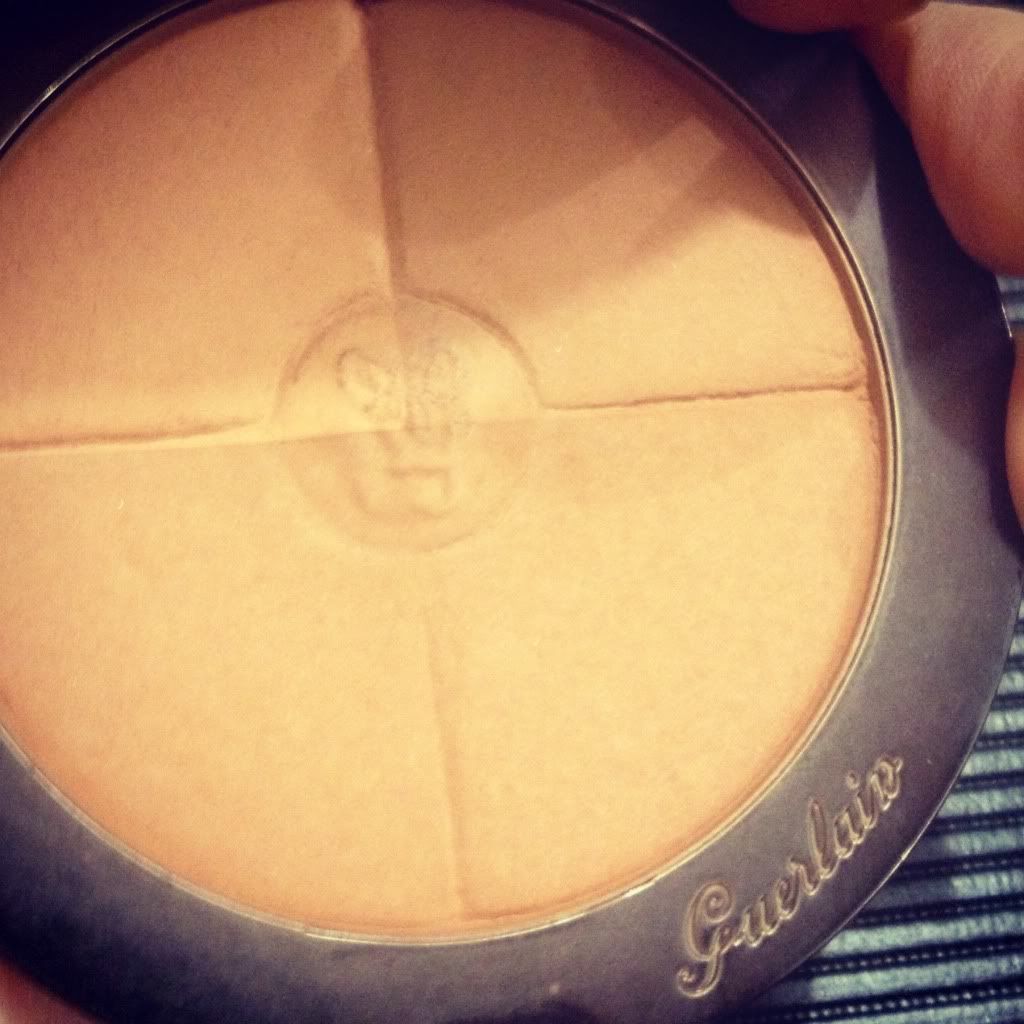 El corrector Ginger es muy buen tono para las pieles medias, y es lo suficientemente amarilloso para no verse raro en mi piel (recordemos que mi piel es de tono base amarilloso verdoso), y además aguanta bien mis jornadas laborales de 12 horas. También tengo el tono Custard, pero me parece un poco claro.
Del bronceador, nadie hace polvos de sol como Guerlain, y este en particular es maravilloso porque incluye 4 tonos que puedes usar por separado y juntos (lo que hago casi siempre). Primero quiso comprar uno de los Brunettes (ya que soy de cabello oscuro) pero el 03 (natural brunettes) era muy parecido a mi tono natural de piel mientras que el 05 (medium brunettes) ya era muy oscuro y me veía como si trajera la piel sucia, así que me fue por el intermedio, 04 (medium blondes). Como creo se nota, le doy uso diario y ha llegado a remplazar a mi anterior bronceador favorito, el de Shiseido.
Lip stuff: Nars Paris Follies, Nars Niagara, Givenchy Croissiere Coral & Chanel Blizzard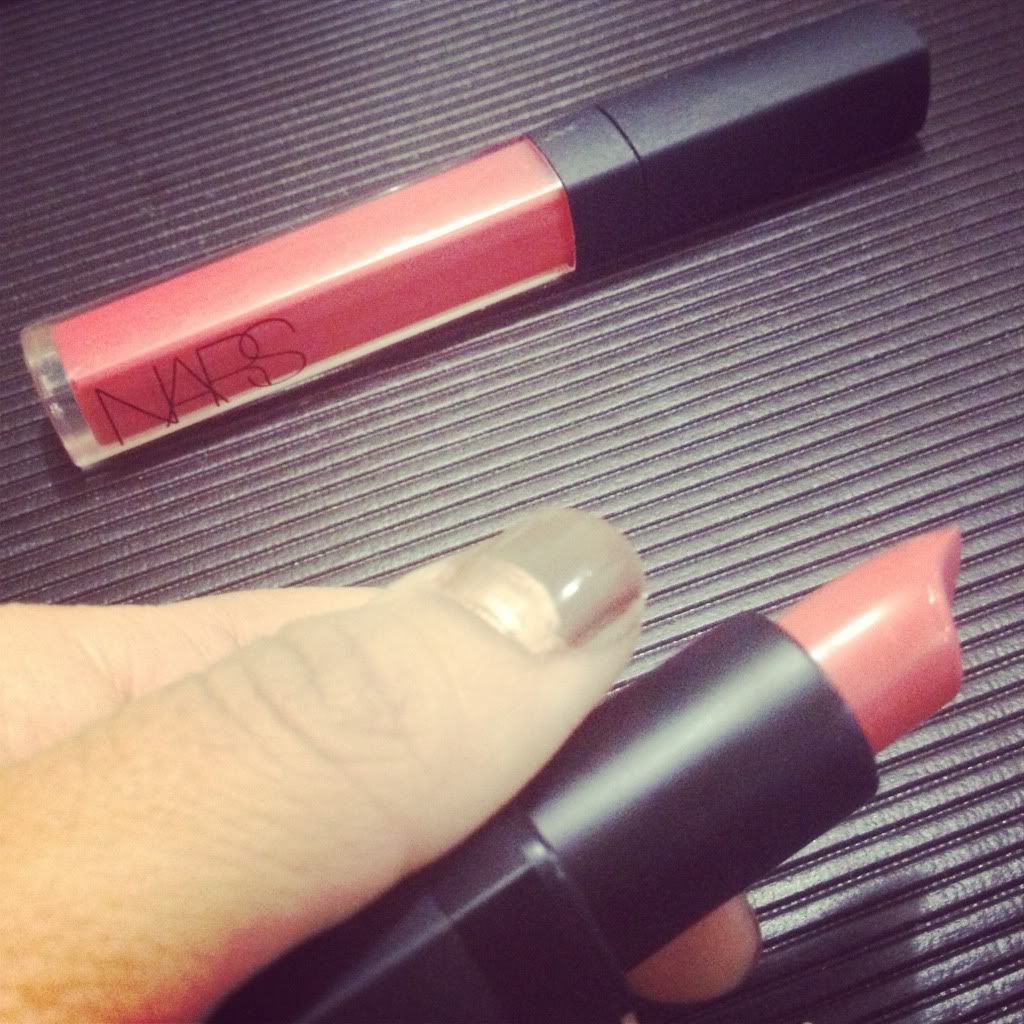 I'm all about coral lips at the moment, 3 out of 4 of my favorites are some shade of coral. While Paris Follies and Niagara are pinky corals, Croissiere Coral is a neon orangey coral. These products might look too bright in the pan, but I beg you remember I have pigmented lips that tone down all shades. As a result, Niagara is almost a MLBB shade on me.
The 4th one is Blizzard, a mauve brown that might look too dark for some, but it's a perfect MLBB shade for me paired with Nude Mordorée lip liner.
Últimamente, adoro los tonos coral en los labios. 3 de mis 4 favoritos de este mes, son un tipo de coral. Paris Follies y Niagara (Nars) son corales rosados, mientras que Croissiere Coral es un coral naranja neón. Pudieran verse muy intensos, pero recordando que mis labios son naturalmente oscuros, en mi caso se ven bastante naturales.
El cuarto es Blizzard, un glossimer de Chanel, que se ve sumamente oscuro pero que básicamente es el tono de mi labios junto con el delinador Nude Mordorée.
So, these were my favorite products for June, let's see what July brings...
Estos fueron mis favoritos de junio, veamos qué trae julio...
Disclaimer: I'm not mentioning eye stuff since I've gone pretty simple with eyes lately. A wash of color, cat eyeliner and mascara, that's almost the only thing I currently do.
Aclaración: no mencioné maquillaje de ojos ya que últimamente he usado un look muy sencillo. Una sombra en todo el párpado, delineador con rabillo y rimmel.