I'm currently in a phase that makes me not feel excited about Mac stuff anymore. I love makeup collections, but seems that Mac comes with a new one almost every week, no one can keep track of that. I also dislike that they are too close, that it doesn't give me enough time to play with the collection, to enjoy it before there's a new one -in fact, I feel like that also about Bobbi Brown's collections. Worst, when you get to the counter, many things are already sold out -in Mexico, that happens especially to brushes. I also used to get Mac stuff when I needed a specific eyeshadow shade, and with all their universe of shades, it was easier to find one. However, since Inglot arrival I'd rather get specific eyeshadows there, they have plenty of variety, good texture and better price. For those two reasons, I rarely buy Mac stuff now -except for the brush cleanser.
Estoy actualmente en una fase en la que los productos de Mac no me llaman la atención. Me gustan las colecciones de maquillaje, pero pareciera ser que Mac sale con una diferente cada semana, es imposible seguirlas todas. Me desagrada que como están tan juntas, no me da tiempo de probar los productos de la colección antes de que salga la nueva -algo muy semejante me pasa también con las colecciones de Bobbi Brown. Peor aún, apenas salió la colección ya está agotado -eso pasa particularmente con las brochas en México. Anteriormente, acudía a Mac cuando necesitaba un tono en específico de sombras, ya que con tanta variedad era más fácil encontrarlo. Sin embargo, desde que llegó Inglot, mejor busco tonos específicos ahí, hay mucha variedad, buena textura y mejor precio. Por esas dos razones, rara vez compro algo en Mac, salvo por el liquido para limpiar brochas.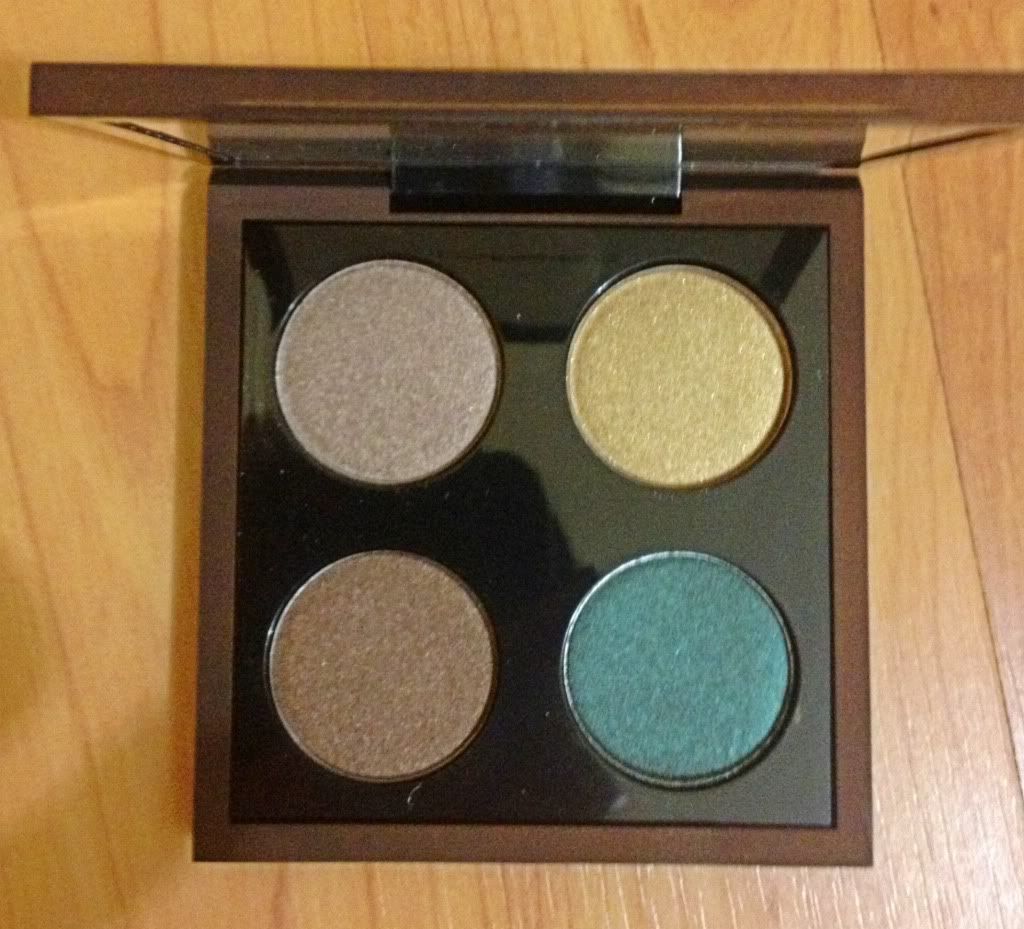 Having said that, I found something that really caught my eye: Bare my Soul palette. I saw it featured in some blogs (
Cafe makeup
,
Temptalia
) but it was until I was Mariella's FOTD (from
Musing on Beauty
) with it that I fell -
you can check her stunning FOTD here
. I must say, when you first look at this, seems like just another Mac quad with neutral shades, but it's way more. The four shades included are Romantico (light taupe bronze, Veluxe Pearl), Bare My Soul (frosted gold, Lustre), Friendly (deep bronze chocolate, Veluxe Pearl), and When in Rio (deep green with copper pearl, Frost). The shades over here are pigmented and soft, which isn't a Mac constant in my experience. If used over cream eyeshadow, they look amazing. They are easy to use and they blend well. Since this quad is sold out almost everywhere, I think I will dive into my stash to see if I can find other similar shades. Here is my first attempt with this:
Habiendo dicho esto, me encontré algo que si llamó mi atención: la paleta Bare my soul. La vi en algunos blogs como Cafe Makeup y Temptalia, pero fue el look que Mariella (de Musing on Beauty) hizo con ella que me enamoré -puedes ver este hermoso look aquí. Debo decir que la primera impresión de la paleta es que es otra paleta de Mac con tonos neutros, pero va más allá. Los tonos que incluye son Romantico (bronce grisaseo claro, veluxe pearl), Bare my Sould (dorado escarchado, lustre), Friendly (bronce chocolate oscuro, veluxe pearl) y When in Rio (verde oscuro con destellos cobres, frost). Son sombras pigmentadas y suaves, características que no son una constante en mi experiencia c on mac. Si se usan sobre una base en crema se ven maravillosas. Son fáciles de usar y se difuminan bien. Debido a que este cuarteto está agotado en casi todos los puntos de venta, creo que daré un clavado en mi colección a ver si encuentró algún tono semejante. Aquí está mi primer intento con los tonos: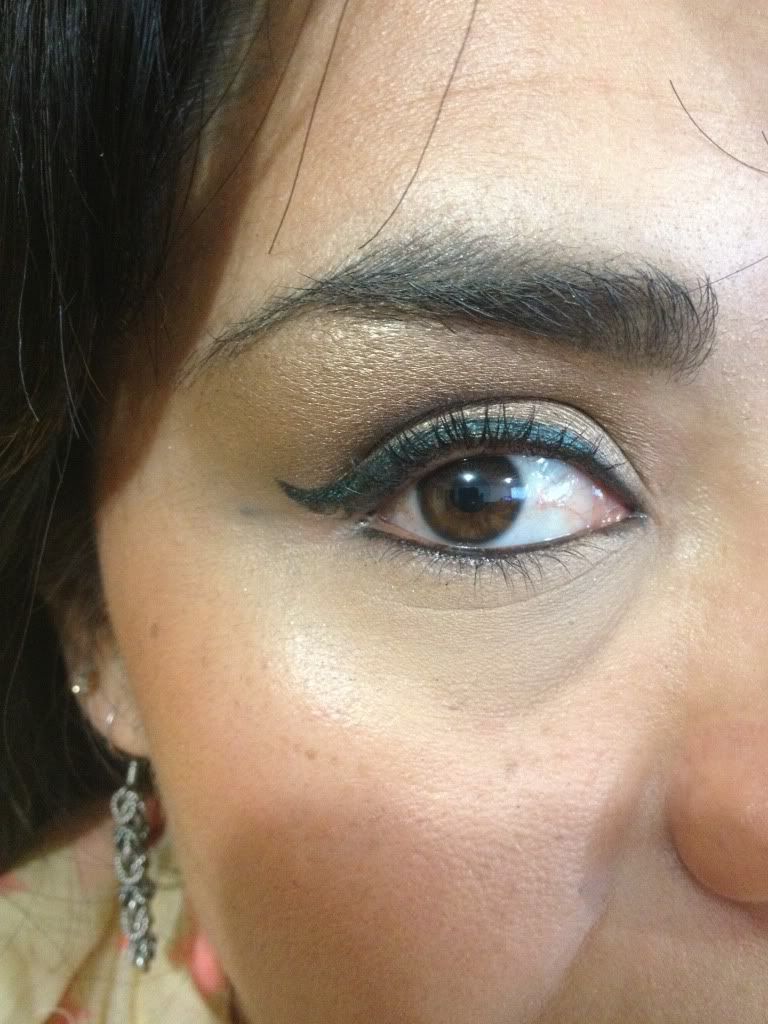 I used Mac Indianwood Paint Pot as base, and applied Bare My Soul all over my lid up to the brow bone, then Romantico on the lid and Friendly on crease and outer V. After that I did a winged line with Nars Carpates stylo eyeliner and placed When in Rio over it. I lined my waterline with Chanel stylo yeux waterproof noir intense and used Maybelline Colossal Volum Express mascara. I really loved the look.
Usé el paint pot Indianwood como base, después apliqué Bare my sould en todo el párpado, hasta la ceja, luego Romantico sobre el párpado móvil y Friendly en la cuenca y como acento. Después de eso, hice un delineado con rabillo con el Carpates de Nars y lo fijé con When in Rio. El delineado negro por dentro lo hice con el tono Noir Intense del Stylo Yeux waterproof de Chanel y usé la Colossal Volum'Express de Maybelline en mis pestañas. Me encanto este look.
I paired that eye with Nars Rotonde blush. As I said before
when writing about this and Boy's Don't Cry
, these blushes are super pigmented. I feel I really need to blend them in order to avoid a clownish look. So far, I've had good results blending them with Guerlain Terracotta Light bronzers (I used Sun Brunettes a couple of days ago in this look) and Shiseido Soft Beam Gold (the one used in today's FOTD). I also feel some bronzer or contouring powder is needed -as when using red blush. Using that, you can achieve a very natural and flattering look.
Como blush usé el Rotonde de Nars. Como lo mencioné anteriormente al referirme a éste y a Boys Don't Cry, son rubores muy pigmentados. Es necesario difuminar muy bien para evitar verse como payasito. Hasta el momento, he tenido buenos resultados difuminando con los polvos bronceadores Terracotta Light de Guerlain (en este look de hace unos días usé el Sun Brunettes) y Shiseido Soft Beam Gold (el que usó en el look de hoy). También me parece que un poco de bronceador mate o polvo contorneador ayuda -lo mismo que usaría para rubor rojo. Creo que con ello se puede obtener un look muy natural y favorecedor.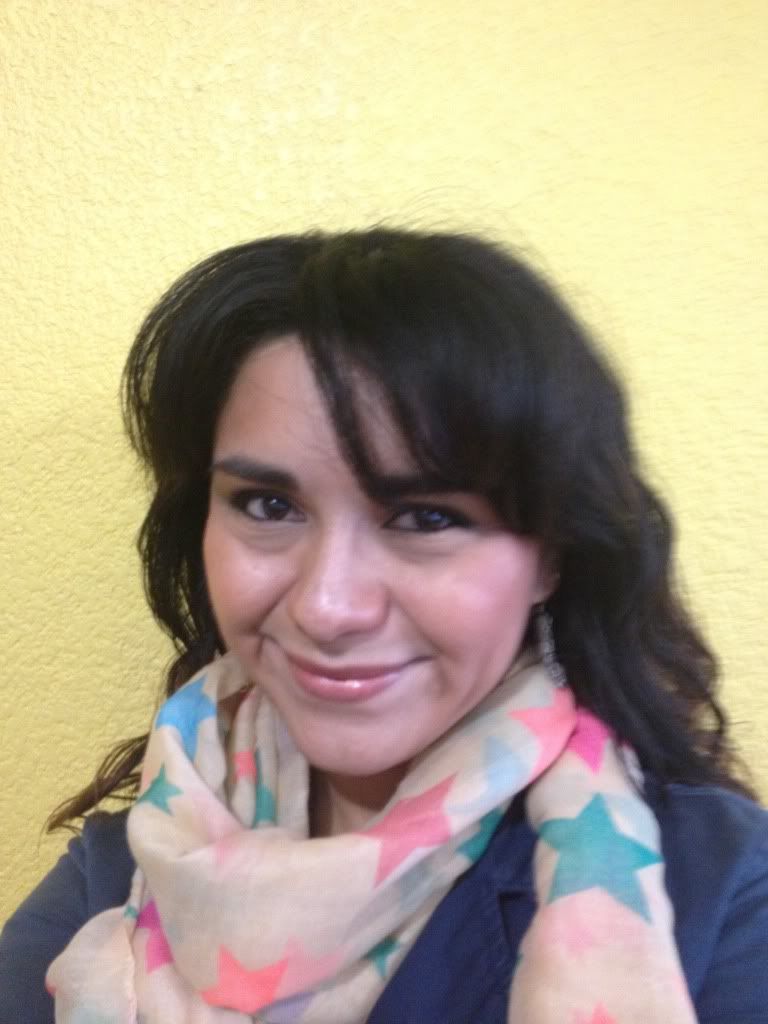 I completed the look with YSL Glossy Stain #6 (Camel Croissiere) which
was featured here
.