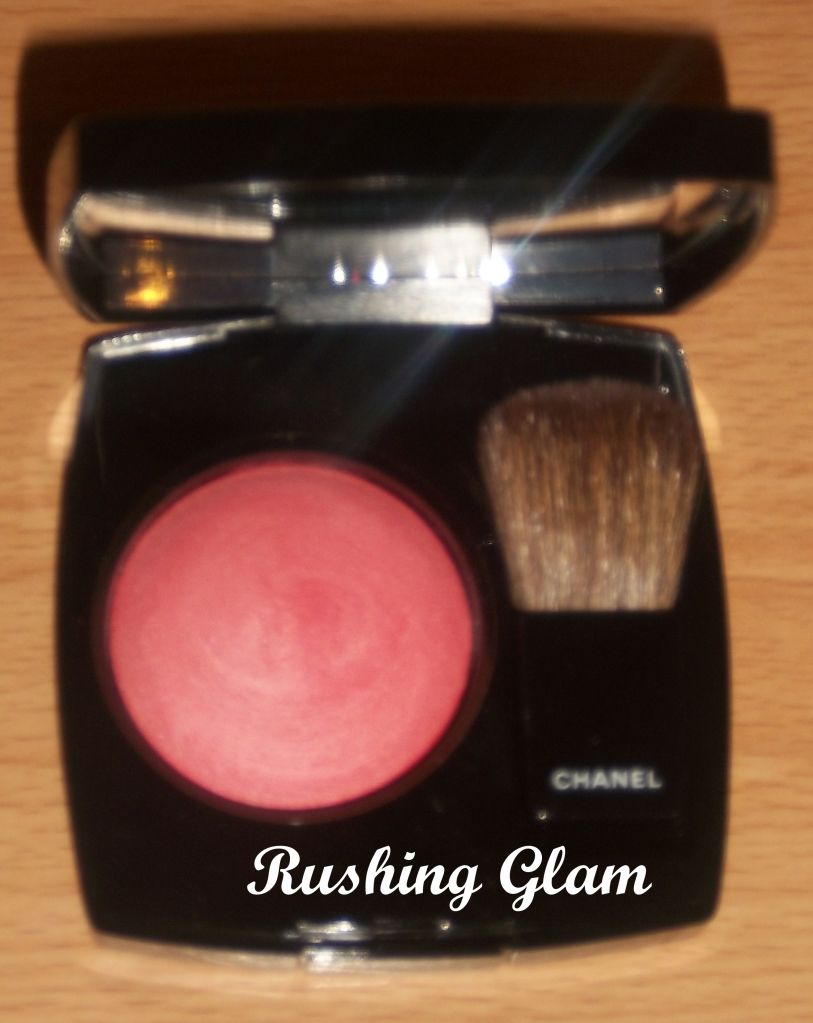 Leí muchos comentarios sobre este blush en el foro de maquillaje de Makeup Alley, pero resultaba que era una colección exclusiva de Asia. Sin embargo, Nordstrom la trajo a América para su venta de aniversario –que inició el 11 de julio. Pero, resulta que Palacio de Hierro también la trajo en exclusiva para este país, y desde principios de julio. De esta forma, ya lo tengo y puedo reseñarlo.
Many people was raving about this particular shade at makeup board (
Makeup Alley
), but it was only an Asia exclusive –lucky asians!!!! However, Nordstrom brought it to it's anniversary sale –starting on July 11th. But guess what??? Palacio de Hierro (yes, here in Mexico) brought it since the beginning of July!!!! That's why I got it.
Ya lo he usado varios días y debo confesar que es adorable. Le da un aspecto sonrojado a las mejillas. Se aplica fácilmente, de hecho muy fácilmente, por lo pigmentado que es a uno se le puede pasar la mano y parecer Heidi. Yo uso la brocha Yachiko de Nars, pero algo como la 187 de
Mac
también puede funcionar. Este blush tiene un fuerte olor a rosas, lo cual puede ser un tema para los sensibles a los aromas.
I've been using it for a couple of days now, and I must tell you it's adorable. It gives a nice glow to your cheeks. It applies easily, very easily. It can actually be overdone. I use
Nars
Yachiko to apply this or a stippling brush like Mac 187 could work as well. It's pretty scented –that can be an issue for some people.
En el personal, no me parece un tono único, sino que puede tener clones. Al revisar entre mis blushes, descubrí dos tonos similares: Torrid de Nars y Blossom de Burberry. También me percaté de la tendencia que tengo a usar blushes en tonos coral.
I personally don't find this shade unique, but rather dupable. When looking at my stash, I realized I already have two similar shades: Nars Torrid and Burberry Blossom. I've also realized I tend to like coral-y blushes.
En particular, me parece que Blossom es el más cercano a Fleur de Lotus, ya que Torrid tiene algo de brillitos. Tal vez el nuevo tono Líberté de Nars también se parezca, ya que para muchos es "Torrid sin los brillitos". Me gustaría incluirlo en la comparación, pero desafortunadamente no lo tengo. Aquí hay unos swatches:
I especially
find Blossom to be the closest to Fleur de Lotus, since Torrid has some glitter. It's possible that Nars Liberté is also close, since many people consider it's Torrid without the glitter. I wish I could do the comparison with this one, but unfortunately I don't own Liberté. Here are some swatches:
En conclusión, si te gusta el tono y esta colección no va a llegar a tu ciudad, trata de conseguir Blossom de Burberry o Torrid de Nars.
In conclusion, if you like the shade and the collection is not arriving to your city, try getting Burberry Blossom or Nars Torrid.