Rara vez escribo sobre iluminadores, y me parece extraño ya que me gustan mucho. La primera vez que percaté de su existencia fue cuando vi los shimmer bricks de Bobbi Brown. Me encantó el beige y desde entonces es un lemming –que aún no sé por qué no lo he comprado, si ya tengo otros shimmer bricks. En fin, uno de mis primeros iluminadores fue el High Beam de Benefit, que vi en una revista justo cuando Benefit llegó a México. No tenía idea de cómo usarlo, así que terminé por mezclarlo con mi base. A medida que pasó el tiempo, aprendí los beneficios de iluminar algunas partes del rostro, y dejé de comprar iluminadores sólo porque "son lindos". Debo admitir que no me encantan los iluminadores de terminado frost o muy brillosos, sino algo más sutil. De hecho, mi forma favorita de iluminar es con un corrector más claro o de tono marfil, justo como mi forma favorita de contornear es con un corrector más oscuro. Pero en esta ocasión no voy a escribir sobre ese tipo de iluminación, sino sobre iluminadores en polvo o crema –que me parecen más fáciles de identificar. Hoy me voy a referir a los siguientes:
I rarely write about highlighters, and it's strange since I seem to like them a lot. The first time I realized their existence was when I first saw Bobbi Brown shimmer bricks. I just fell in love with the beige one, and had a huge lemming for it –but I don't know why I don't have it yet, if I have like 4 shimmer bricks in my stash. Anyway, one of my first highlighters was Benefit High Beam, which I saw in a magazine when Benefit just arrived in Mexico. I had no idea of how to use it and I ended up mixing it with my foundation. As time went by, I learned the benefits of highlighting, and stop buying highlighters only because "the shade looks pretty". I must admit I'm not fond of very glittery or frosty highlighters, but rather prefer subtle. In fact, my very best favorite way to highlight is still with a lighter (or ivory) concealer, just as my favorite way to contour is with a darker concealer. But I won't write much about that this time, but about powder and cream highlighters –which I think are easier to find. The ones selected are: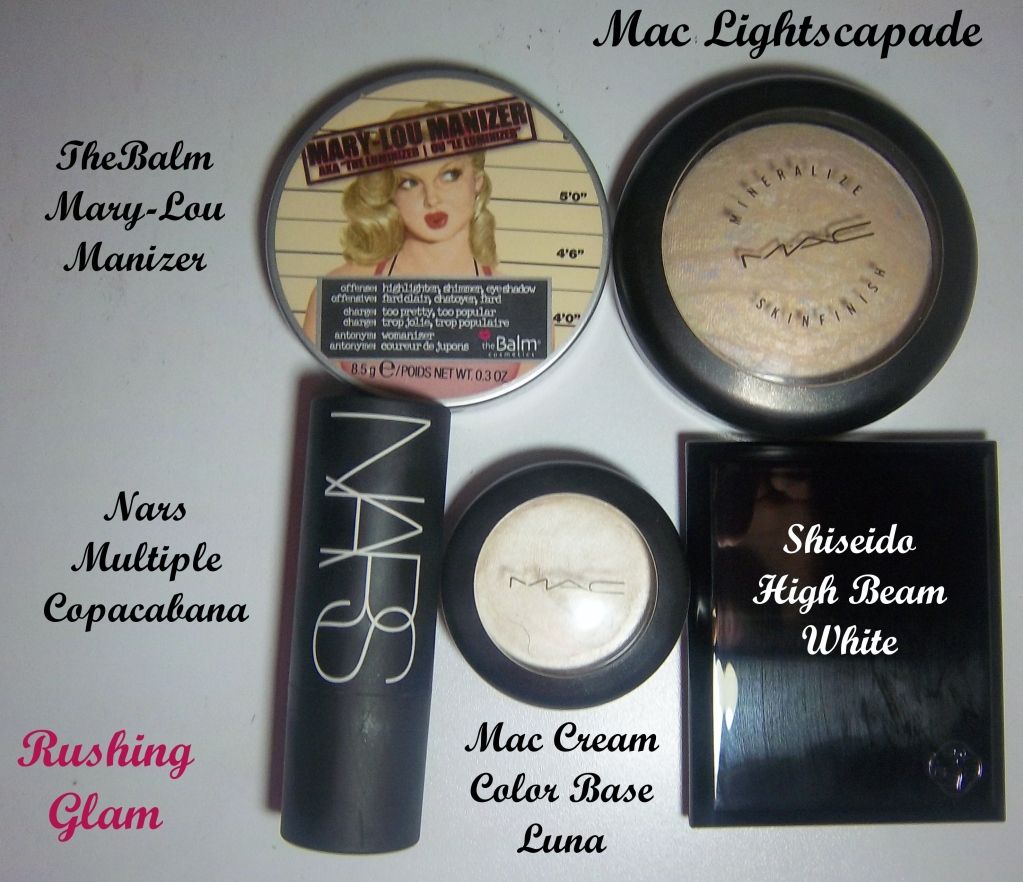 · Shiseido High Beam White

· Mac Lightscapade

· TheBalm Mary-Lou Manizer

· Mac Cream Color Base Luna

· Nars the Multiple Copacabana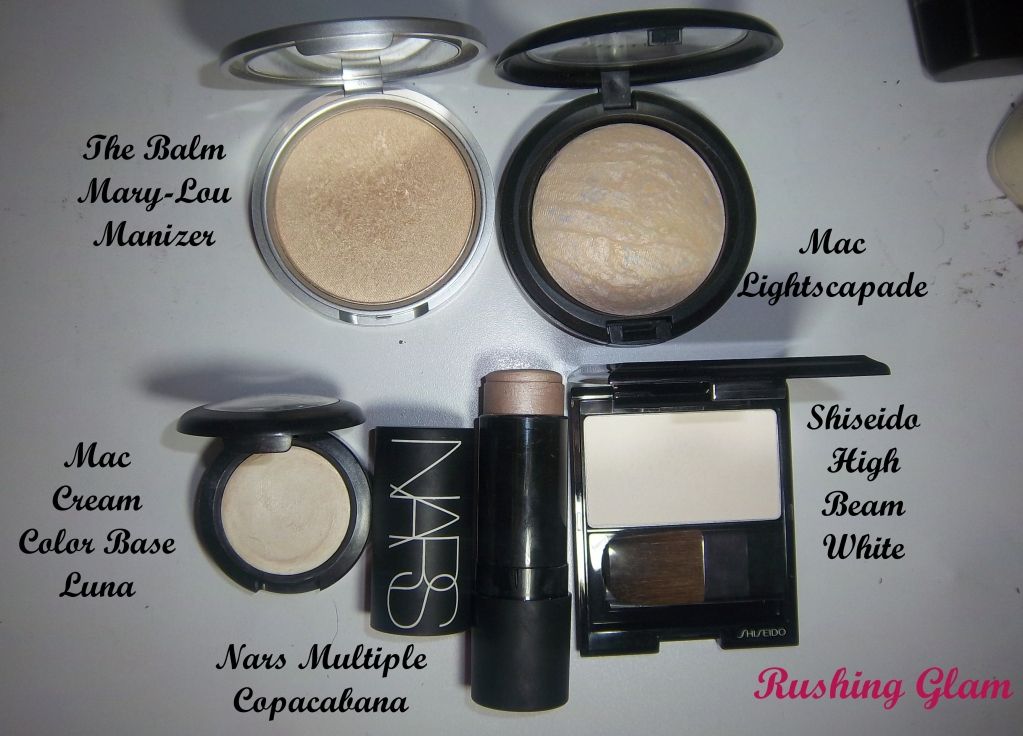 No son los únicos que tengo (me faltan los shimmer bricks), pero decidí empezar por estos ya que antes mencioné que me gustan los tonos blancos-marfil. Aquí hay unos swatches:
These are not the only ones I had (I'm missing the shimmer bricks), but decided to start with these since I said I tend to prefer white-ivorysh highlighters. Here are some swatches: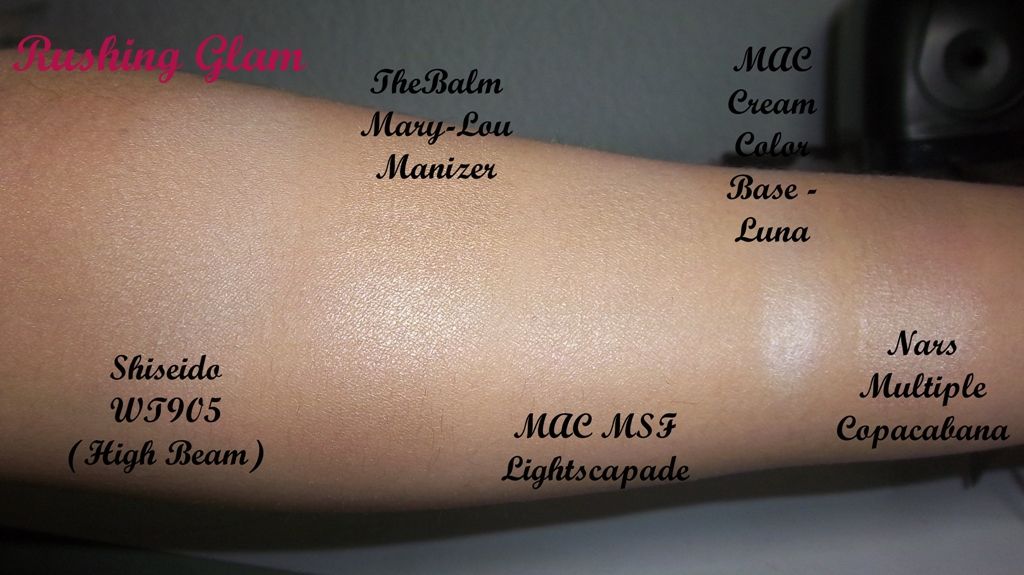 De éstos, los que más me gustan son el de Shiseido y Nars. El High Beam White fue una recomendación de MUS (puedes visitar su blog, Drivel about Frivol aquí). Me comentóe que es un iluminador muy sutil, y que no es super brilloso ni de terminado frost (escarchado?). ¿Por qué es eso importante para mí? Dado que tengo poros visibles, los acabados muy brillosos tienden a hacerlos más visibles –y eso es algo que nadie quiere que suceda, no? Debido a que éste es casi mate, los poros no son tan visibles.
From these 5, my personal favorites are Shiseido High Beam White and Nars Copacabana. I got the Shi one after MUS' recommendation (you can check her blog, Drivel about Frivol here). She told me it's a subtle highlighter and that it's not super glittery nor frosty. Why is that important to me? Since I tend to have large pores on my cheeks, a glittery or frosty highlighter can make them more evident –which is something nobody wants, right? So, since this one is almost matte, pores are less visible.
El Copacabana lo compré luego de una clase en Nars, donde lo usaron en combinación con el polvo bronceador Laguna para contornear e iluminar. También tiene un terminado sutil, aunque un poco más brilloso que el anterior. Me gusta usarlo como base –lo que significa, después de la base, antes de fijar con polvo. Muchas veces hago el combo con el High Beam White de Shiseido.
I got Copacabana after a master lesson at Nars, where they used it in combo with laguna bronzer (the powder one) to contour and highlight. It's also a subtle finish, but a bit more shimmery than Shi HBW. I actually like to use this one as a base –that means, place it right after foundation, before setting- and then set with a powder highlighter. I usually do this combo with Shi HBW.
Mi tercer favorito de éstos es Lightscapade. No estaba del todo convencida de comprar este, y de hecho no fue sino hasta la tercera vez que Mac lo sacó que lo compré. El primero que vi tenía como venitas azules y se me hacía muy extraño. Este ya se ve más mafil, y después de ver un look de spookydeuce de MakeUpAlley con éste, fue que me decidí (tenemos tonos de piel semejantes). Es un poco más brilloso que el High Beam White, pero no es extremadamente brilloso. Es mi tercera opción porque es de edición limitada, por lo que luego si me encanta y me lo termino, ¿dónde voy a encontrar otro? Salvo, claro está, que Mac lo saque por cuarta vez.
My 3rd personal favorite here, is Lightscapade. I was very reluctant to buy this one, so I got it like in the 3rd repromotion. The first one I saw had too much blue veining, and didn't felt I would like it. This one seems more ivorysh so after watching some FOTD by spookydeuce at MakeUpAlley (we have similar skintone) I decided I would go for it. It's a bit more shimmery than Shi HBW, but I do like the finish, it's a nice sheen. What makes it my 3rd option is basically that is LE, so if I love it and ever finish it, I won't be able to repurchase it (unless of course there's a 4th repromotion).
Sobre Mary-Lou & Luna. Luna es un iluminador en crema, más cremoso que Copacabana. Me parece más sencillo de difuminar y se nota más que el de Nars. Creo que este sería maravilloso para alguien con piel normal a seca, pero como yo soy de piel mixta-grasa, mi piel y Luna no siempre son buenos amigos. Si Copacabana te parece muy sutil o seco, entonces Luna es tu opción. TheBalm es una marca que no está disponible en México (hasta donde yo sé). Este lo conseguí en Montreal en Jean Coutu. Es un tono marfil con un brillo dorado. Sin embargo, si llega a hacer más evidentes los poros. El uso que le doy a este, es como sombra para iluminar.
Last but not least: Mary-Lou & Luna. Luna is a cream highlighter, creamier than Copacabana. I think it's easier to blend and more noticeable than the Nars one. I think this one would go great with normal to dry skin, but since I have combo-oily, my skin and Luna aren't always good friends. If you find Copacabana too sheer or dry, try Luna instead. Mary-Lou Manizer, TheBalm is not available in Mexico –or at least I've never found it. I got this one in Jean Coutu, at Montreal. It's a gorgeous ivory with golden sheen highlighter. However, it does emphasize pores. The new use I'm giving to this one is as highlight eyeshadow.
Trataré de hacer una entrada sobre algunos iluminadores en tonos bronze, ya que tengo algunos cuantos, lo mismo sobre correctores que uso para iluminar. Estoy tratando de evitar mencionar productos de edición limitada que ya no están disponibles (como Rose Rendezvous de
Laura Mercier
o Cruel Gardenia de
Guerlain
), pero si quieren ver swatches de esos, con todo gusto.
I'll try to post later some bronzey highlighters, since I also have a few to show and also concealer shades I use to highlight. I'm trying to avoid showing LE items that are no longer available (like LM Rose Rendezvous or Guerlain Cruel Gardenia) but if you want to see swatches of them, I'll be pleased to do it.
Nota: no se si se hayan percatado que no mencioné el iluminador más conocido de
Nars
: Albatros. Ello se debe… a que no lo tengo. Desde tu perspectiva, es algo que todas deberíamos tener o podemos prescindir de él??
Disclaimer: you may have noticed that I didn't write about a very well know highlighter: Nars Albatross, and that is… because I don't own it. Do you think it's a must in one's stash or I could just pass?