Terminé comprando el No. 01 también, después de mucho pensar durante el fin de semana llegué a la conclusión de que me iba a arrepentir si no lo hacía. En fin, ¿para qué pienso usar éste? Me parece muy claro para usarse en todo el rostro, y algo rosa. Pero creo que puede funcionar como un rubor sutil que funciona muy bien con el No. 02 –y se supone que así fue como los usaron en la imagen promocional. En fin, todavía no lo he probado porque tenía que tomar las fotos antes.
I ended up getting No. 01 as well, after too much thinking over the weekend I came to the conclusion that I would regret not getting it. So, what am I planning to do with this one? It's too light to use as an allover powder for me, and also quite pink. Yet, I think it makes a nice subtle blusher that pairs amazingly well with No. 02 –and that's supposedly the use for this one in the promo ad. Anyway, I haven't been able to use it since I had to take pictures first.
Aquí hay algunos swatches hechos con el dedo que pude hacer durante mi horario de comida, pero aún me falta pensar en tonos similares. Como pueden ver, el tono de en medio es prácticamente el mismo tono de mi piel –alrededor de NC30 de Mac. El tono más claro me parece es cercano al NC15 y no se me ocurren tonos similares para el rosado.
Here are some finger swatches I was able to do during my lunch hour, I still need to figure out possible similar shades. As you can see, the middle shade is practically my skintone –that's around NC30. I think the lighter shade would be around NC15 (my guess) while I still can't figure a possible similar shade to the pinky one.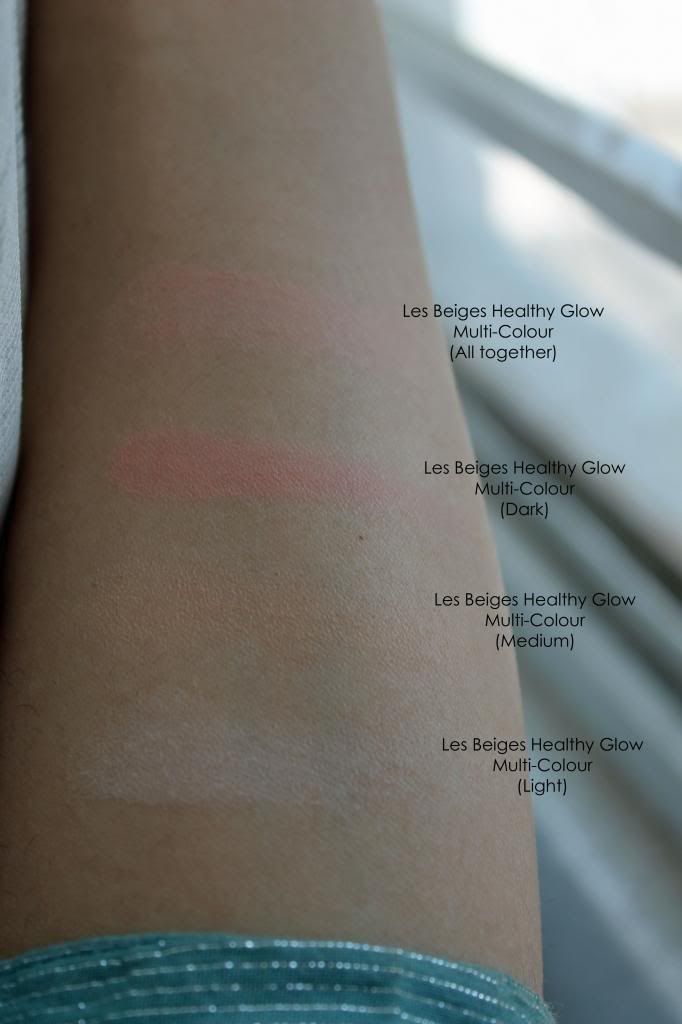 Les seguiré informando de mis experimentos con estos.
Will keep posting about my experiments with these.