Aun cuando la verdad no estoy muy feliz con mi bronceado actual, parece ser que va a estar por un tiempo ya que usé una técnica secreta para obtener un lindo bronceado que dure, sin quemaduras y sin que se descarapele la piel. La verdad la usé porque me desagrada que la piel como de víbora que se me forma a los pocos días de regresar de la playa. En fin, mi bronceado temporal es un buen pretexto para intentar looks que normalmente se verían algo raros en mí –estoy pensando en looks a la JLo. Sigo usando la tendencia del cate ye, pero en esta ocasión regresé a los verdes –la paleta Bonne Etoile de Dior. En esta ocasión es más olivo que cuando usé la
Bavaria de Nars
, menos oscuro que con la paleta
Mystere de Chanel
y definitivamente más verde que el de ayer con
TheBalm Nude'tude
. Incluí un poco del plateado en el lagrimal para asemejarse al look del video "on the floor" de JLo –que es uno de los mejores looks que le he visto en mi humilde opinión. También tuve algo de tiempo para jugar con iluminación natural, lo cual me hizo considerar la opción de hacerme de algún equipo de iluminación para mejorar las fotos de este blog, aunque en realidad mi conocimiento es escaso sobre el tema, así que cualquier recomendación al respecto es bien recibida.
Even when I'm not really happy with my current tan, it seems it will stay for a while since I used a secret technique for getting a nice longlasting tan without getting snake skin and sunburns. I used it because I really dislike getting snakeskin just a couple of days after leaving the beach since it's just so annoying. Anyway, my temporal tan is a good to try looks that would normally look odd on me –I'm thinking JLo looks. I'm staying with the graphic cat eye trend but this time, I decided to go back to greens –Dior Bonne Etoile quint. This one is more olive than the cat eye with Nars Bavaria, less dark to the one with Chanel Mystere and greener than the one with TheBalm Nude'tude palette. I added the silver shade in the quint on inner corner of the eye, to get that look from JLo's look at "on the floor" video –which is one of her best looks in my humble opinion. I also had some time to play with natural lighting, so I could show a couple of more angles of the look. This actually made me think about acquiring some lightning equipment to improve this blog's pics, but I'm totally numb about it, so any advice will be really appreciated.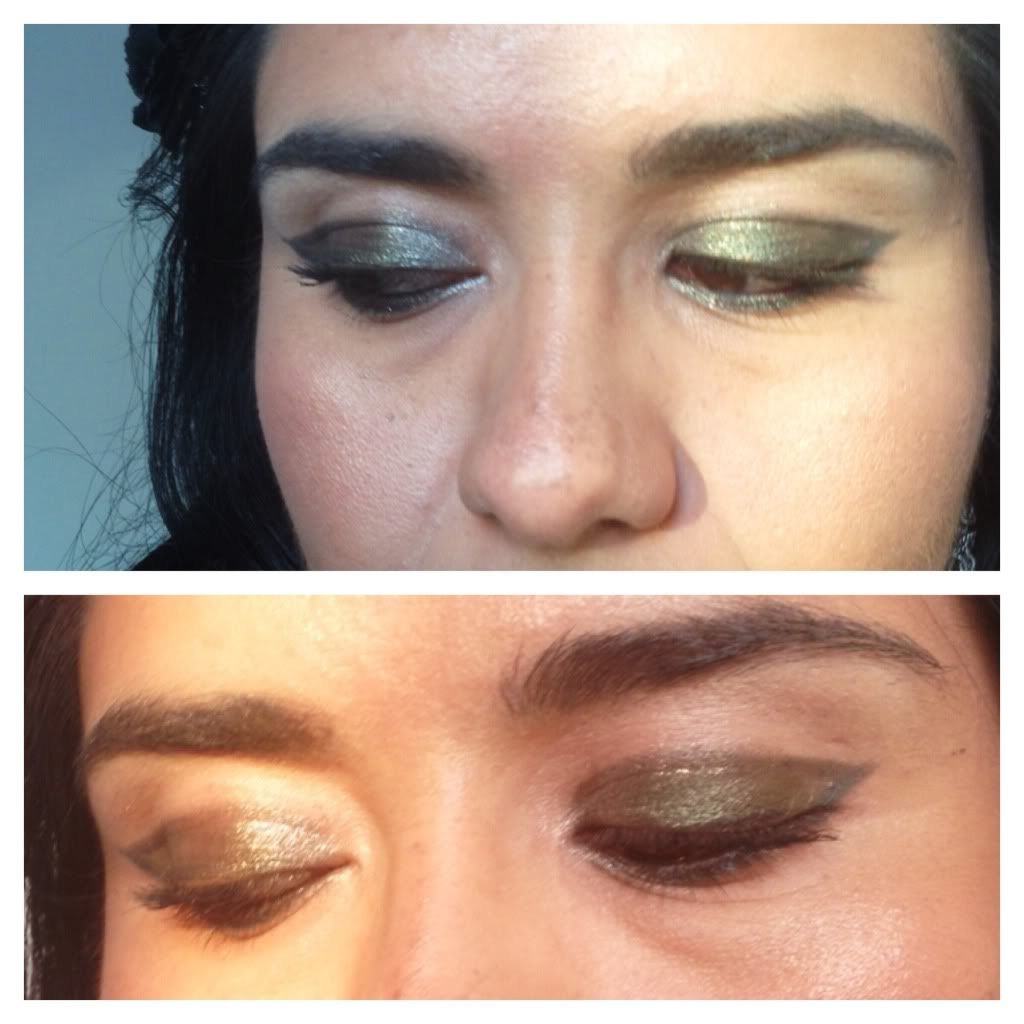 Productos / Products.
Skin79 Come on cream eyeshadow
Dior Bonne Etoile quint: olive all over cat eye, silver on inner corner and dark teal as lower lash liner
Skin79 green eyeliner to define cat eye
Shi nourishing mascara base
Maybelline one on one mascara
A combo to achieve a natural shade to my current skintone: Skin79 CC cream (correcting), Skin79 orange BB cream and Laura Mercier compact Tinted Moisturizer in Tan (I got a mini as a GWP, never thought I would use it!)
Lancome Star bronzer #4
Laura Mercier Spellbound highlighter
Dior Addict Extreme Lucky