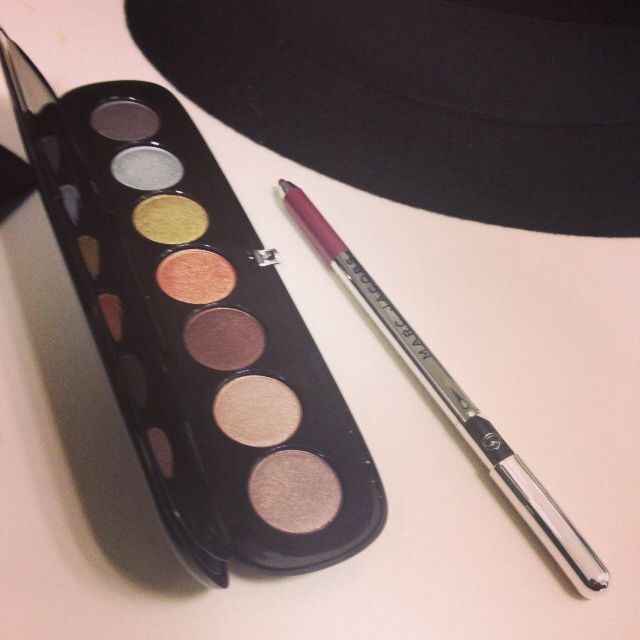 Marc Jacobs Beauty está disponible en México desde ayer. Decidí darme una vuelta para ver la colección y poder compartir algunas impresiones. Me pareció linda, pero no me atrapó y dudo que vaya a volverme devota a la marca –lo cual significa que seguiré visitando primero Nars, Guerlain y Hourglass en mis visitas a Sephora. Tal vez Marc Jacobs sea la cuarta o quinta parada. De primera vista, lo que más llamó mi atención fueron las sombras y los delineadores, ya que había leído comentarios positivos sobre esos productos. Los rubores y polvos bronceadores se ven interesantes también, pero pasé de largo ya que estoy contenta con mi colección actual de productos para los pómulos aunque a veces me ofusco. La variedad de tonos en bases me resulto un poco limitada, y algo clara para los tonos que en promedio usan las mexicanas. Una vez mencionado todo esto, sólo me llevé dos productos, ya que fueron los que parecieron relativamente únicos dentro de la mi colección: Style Eye-con No. 7 Starlet y Highlighter Gel Crayo Jazz(bery). Les comparto mis primeros experimentos con estos productos:
Marc Jacobs Beauty became available here in Mexico since yesterday. I decided to go take a look and see if I could share some impressions. I thought it's a nice line but I wasn't completely mesmerized and I don't think I will be completely devoted to it –so I will keep Nars, Guerlain and Hourglass as my first stops when visiting Sephora. Marc Jacobs will probably be the fourth or fifth stop. At first glance, the most interesting items were the eyeshadows and eyeliners, since I heard good things about those. Blush and Bronzer seem interesting as well, but I passed since I'm quite happy with my current cheek stash, and sometimes even feel overwhelmed by it. The foundation shade range seems to me quite limited and particularly light for the average Mexican skintone. Lip products seemed nice, but I couldn't find a shade that I fell for. Having said this, I only took two items with me, since those the ones I found to be fairly unique in my stash: Style Eye-con No.7 Starlet and Highliner Gel Crayon Jazz(berry). I share you here my first experiments with my new pretties:
El look se complete con el delineador Carpates de Nars y la mascara One on One a prueba de agua de Maybelline, mientras que en el rostro se usó el blush Madame Rougit y los polvos bronceadores Terracotta 4 seasons 04, ambos de Guerlain y el Lip Injection Color Bomb de Too Faced en el tono Bigger Berry. Compartire swatches y más información posteriormente.
EOTD was completed with Nars Carpates eyeliner and Maybelline One on One WP mascara, while the rest of the face includes Guerlain Madame Rougit and Terracotta 4 Seasons Bronzer 04, and Too Faced Lip Injection Color Bomb Bigger Berry. Will post swatches and more info on this latter on.