He llegado a la conclusión que mi estilo de maquillaje para esta temporada ese el cat eye –y algo me dice que será parte de mi estilo de forma casi permanente. Creo que es una forma muy favorecedora para las que tenemos ojos almendrados. En oposición a lo que hacía anteriormente, que era únicamente el delineado, recientemente opto porque todas las sombras tengan esta forma. Ya lo he mostrado en entradas anteriores, empezando por un cat eye gráfico con un solo color, pasando por uno de diferentes tonos pero dentro de la misma familia y ahora uno con tonos contrastantes. Hoy les muestro mis más recientes experimentos usando dos de las paletas que poco a poco se ganan un lugar en mi colección, y en mi corazón: the Starlet de Marc Jacobs y Vintage Romance de Sleek.
At this moment, I can definitely say my signature fall look is the cat eye –and something tells me it might become part of my signature everyday look. I just find it's a very flattering placement shape for the almond-shaped-eye. In opposition to the only eyeliner cat eye I used to do before, I'm turning into the cat eye eyeshadow shape. I've show it in several posts before, starting from a single shade graphic cat shape, a graphic one using different tones in the same color range and recently I'm trying a cat eye shape with contrasting colors. Here are my latest essays using two palettes that are winning a place in my stash and heart: Marc Jacobs the Starlet and Sleek Vintage Romance.
Cat Eye 1: Blue-ish
En este use los caviar sticks de Laura Mercier como base, Amethyst en todo el párpado y Sapphire para hacer la forma del cate eye. Use los tonos de los extremos de la paleta the Starlet, el tono taupe en todo el párpado y el gris para la forma del cat eye –repitiendo lo hecho con los caviar sticks. De ahí apliqué un poco del azul claro de la paleta en el lagrimal, lo cual terminó siendo el tono más evidente en el look. Hice el delineado con rabillo con el Carpates de Nars, el cual está por jubilarse luego de un año de constante uso, y apliqué máscara. Los tonos se veían más intensos y contrastantes en la vida real, y tuve dificultades para capturar eso en las fotos –al parecer el cielo me grita que debo conseguir otra cámara y mejorar la iluminación-pero les dejo dos intentos con diferente luz.
For this one I used Laura Mercier caviar sticks as bases, Amethyst all over lid and Sapphire on the outer v/cat eye wing. I used the two extreme shades from the Starlet palette; the taupe was all over the lid and the gray on the outer V, I then placed some of the lighter blue on the inner corner and it turned out to be the most noticeable shade in the look. I then did winged eyeliner with Nars Carpates, which seems after a year of love is ready for retirement- and applied mascara. Shades looked more intense and contrasting in real life, and I had difficulties to capture that –the sky is shouting out loud I need a better camera and lighting, lol- but I leave you with two attempts under different lightings.
Luz natural de la mañana / Natural morning light
Luz artificial / Artificial light
Completé el look con dos productos que me han gustado mucho últimamente, que son el blush Antique de Sleek y en los labios Rouge G Girly de Guerlain. La base es una prueba de la BB Cream perfect cover de Missha en el tono #27, que le va muy bien a mi tono actual entre NC30-35 –el bronceado aún no se va del todo.
I completed the look with some beloved items like Sleek Antique blush and Guerlain Rouge G Girly. Foundation is a test driving of Missha Perfect Cover #27, which turned out to be a really good shade match for my current NC30-35 skin –tan hasn't completely faded.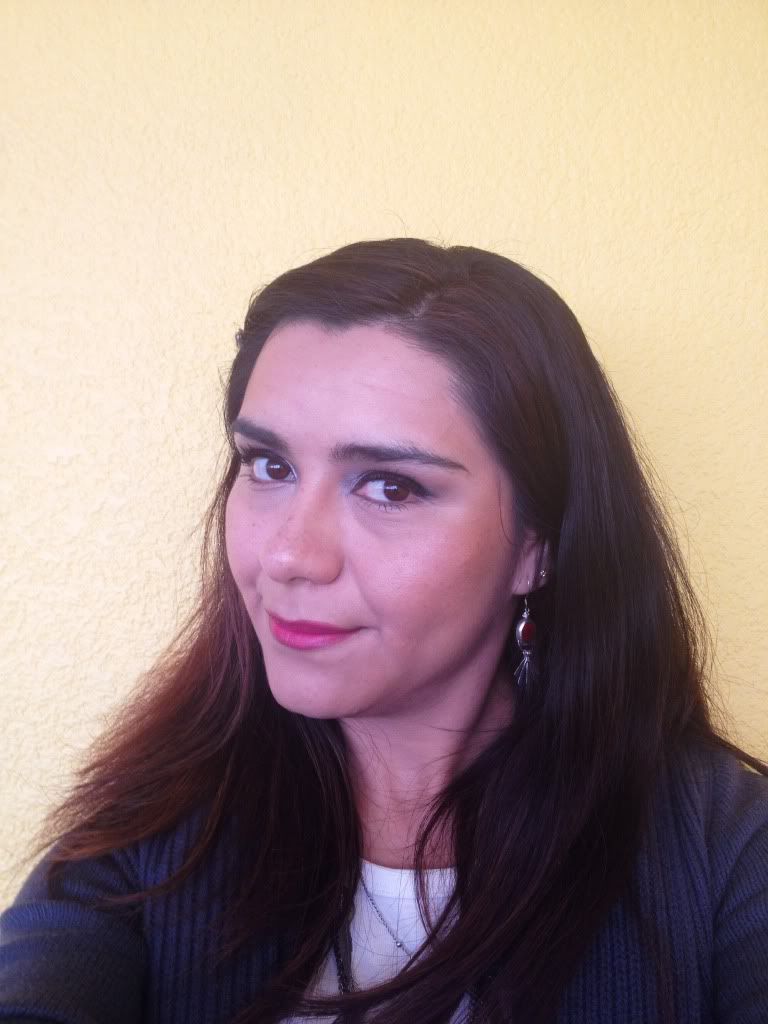 Cat eye 2: Bronze with a hint of mauv-ish shades
En este caso usé otra base: Stylo Eyeshadow de Chanel en el tono Moon River. De la paleta Vintage Romance de Sleek usé el tono bronce en todo el párpado y luego el azul violeta oscuro como acento para formar el cate ye –este es uno de los tonos que más me gusta de la paleta. Hice el delineado con rabillo casi en todo el ojo con el delineador en gel de Bobbi Brown, el tono fue Black Mauve Shimmer Ink, aunque retoqué el delineado inferior con el Egyptian de Clinique, pero dejé un pequeño espacio que llené con el Jazz(Berry) de Marc Jacobs –un tono bastante peculiar en mi opinión. Esta vez solo pude tomar fotos en luz natural de la mañana –sé que me hace ver algo rosada, pero es el único momento disponible para tomar fotos.
In this case, I used a totally different base: Chanel Stylo Eyeshadow Moon River. I then took Sleek Vintage Romance palette and used the bronzey shade all over the lid and placed the dark blue violet on outer V to make the cat shape –this particular one is among my favorite shades in the palette. I did an almost full winged line with Bobbi Brown Black Mauve Shimmer Ink eyeliner and Clinique Egyptian on lower lash, yet I left a blank space that I filled in with Marc Jacobs Jazz(berry) eyeliner –a pretty unique shade in my opinion. To make it a tad more fun, I added the light blue shade from Marc Jacobs the Startlet palette and placed it over browbone. I was only able to take pics in natural morning light –sorry, I know that kind of light makes me look a tad pink, but it's the only possible moment for taking FOTD's pics.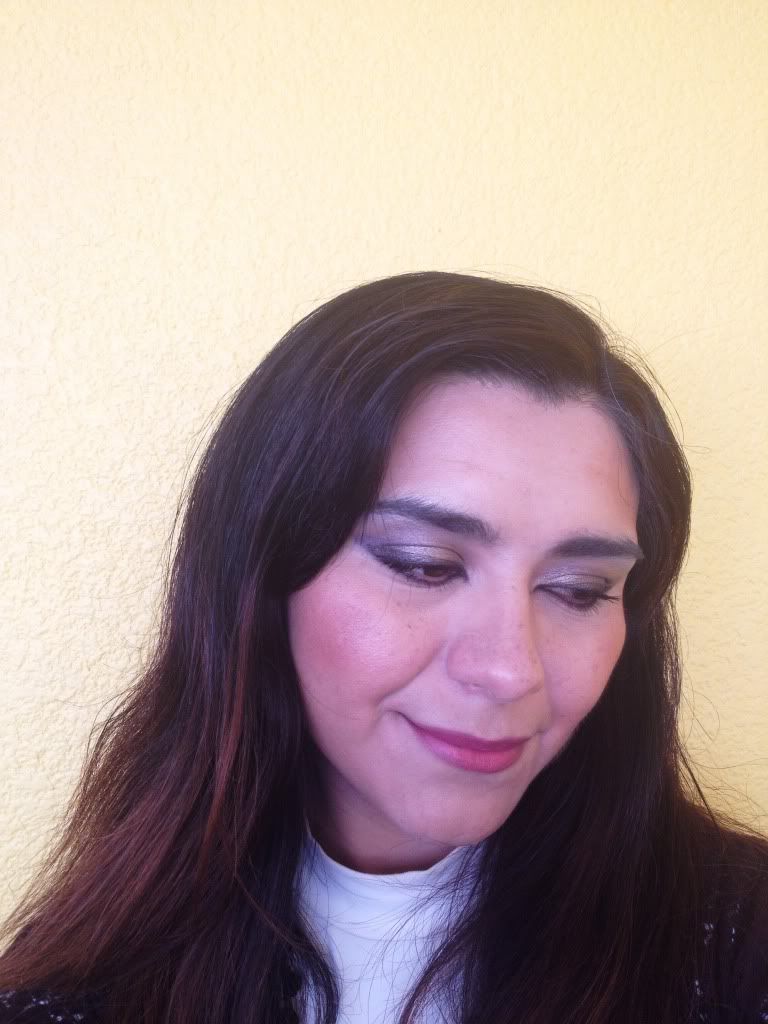 Completé el look de Nuevo con el blush Antique de Sleek, los blushes nude están siendo mis favoritos esta temporada y en los labios el Rouge G Madame Reve de Guerlain.
La base es la BB Cream Orange de Skin79.
I completed the look –again- with Sleek Antique blush, I'm definitely loving nude blushes for this season and Guerlain Rouge G Madame Reve lipstick.

Foundation is Skin79 Orange BB Cream.
Si segues visitando este blog, seguramente podrás ver más looks de cat eye.
If you hang around this blog, you might see a lot more of these cat eye looks.