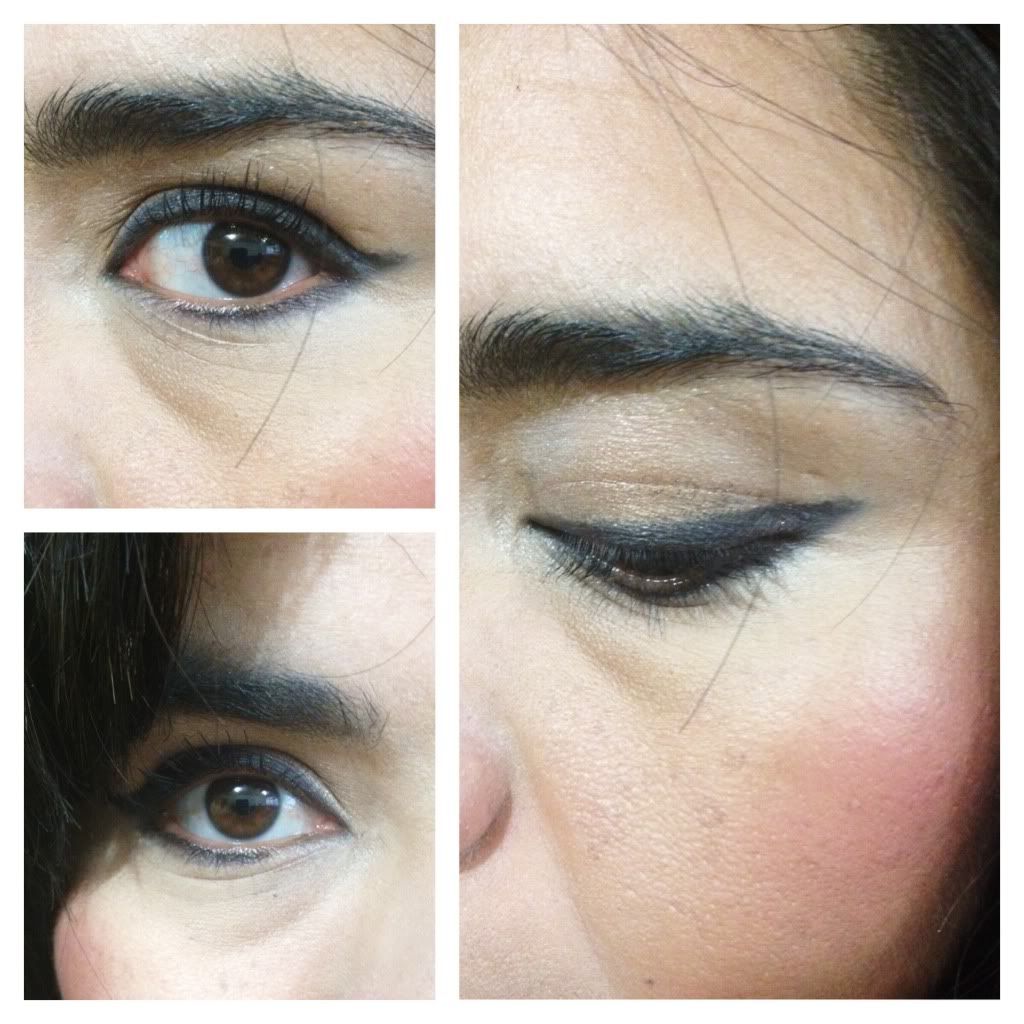 He estado algo ausente, sin muchas entradas. La primera razón es que terminó por no gustarme my reciente bronceado, lo cual ha hecho que tampoco me agraden recientes FOTDS. Otra razón es que últimamente le he prestado más atención a mi cabello y los cuidados faciales que al maquillaje. De hecho, he estado haciendo algo de investigación y sufriendo para lograr un poco de orden mental para empezar a escribir sobre skincare, y eso me ha tomado casi todo mi tiempo de blog. Espero tener listos esos textos esta semana. En fin, yo les dejo un FOTD muy sencillo que me parece muy apropiado para ambientes laborales formales –los cuales no son exactamente amigos del color. Traté de mantenerlo neural y discreto, excepto por los ojos. Quise agregarle algo divertido y opté por el delineado con rabillo. Probablemente parece que desentona con la idea de sencillez, pero no es así si se considera el hecho de que yo uso lentes a diario. Necesito que mis ojos estén delineados para que no se escondan detrás de las gafas, aunque rara vez incluyo fotos con ellas puestas –las entradas están pensadas para todas, no sólo para las ususarias de lentes.
I've been quite quiet lately, without many posts. The first reason is that I ended up no liking my tan, so I'm not happy with my recent FOTDS. Another reason is that I've been taking a bit of more attention to my hair and skincare than to makeup. In fact, I've been doing some reading and making up my mind to start writing about skincare, and that took most of my blogging time. I will hopefully get those texts up this week. Anyway, I'm leaving you today with a very simple FOTD that I find it's very work appropriate –office environments aren't exactly very keen on color. I tried to keep it all neutral, except for the eyes. I thought I should keep some fun in my look, so went for the classic black cat eye. You may think that the eye clashes with the idea of simplicity and work-environment-friendly, but it doesn't if you count the fact that I wear glasses on a daily basis. I need strong eyes so they don't hide behind the glasses but I rarely post the pics with glasses on, since the post are meant for everyone, not just glass wearers.
En los ojos usé la sombra en creama Come on de Skin79, que es una formula ligera maravillosa que dura bastante –se siente más ligera que los Color Tattoo de Mayblline or las sombras en crema de Bobbi Brown, es parecida las Stylo eyeshadow de Chanel pero se siente el hormigueo refrescante de Chanel y su duración es mayor. En cuanto a pigmentación, es semejante a las Dior Fusion Mono pero es más fácil darle intensidad al color. Come on es un dorado pálido frío con brillos muy delicados casi imperceptibles, así que funciona perfectamente como base para una sombra en polvo sin afectar el tono. En cuanto al tono, me parece que es un punto medio entre la Bone de Bobbi Brown y la Illusion d'Ombre Convoitise de Chanel. Aquí hay algunos swatches de comparación:
On eyes I used Skin79 come on cream eyeshadow as a base, which is a wonderful lightweight formula that stays on my lids –I find it lighter feeling than Maybelline Color Tattoos or Bobbi Brown cream eyeshadows, it feels a little bit like Chanel stylo eyeshadow, but you don't get the refreshing feeling and it stays longer. As for pigmentation is on the sheer side close to Dior Fusion Mono eyeshadow, but it's easier to build the shade. Come on is a pale cool gold with fine shimmer, so it works as a great canvas for powder eyeshadow without changing the color in the pan. I would say it's a middle point between Bobbi Brown Bone and Chanel Illusion d'Ombre Convoitise. Here are some comparison swatches:
Sobre esta sombra, usé la Dior 3-couleur glow Luminous Graphic Eye Palette Eyeshadow, Highlighter & Liner Nude 651. Pensé que era edición limitada, pero se ve disponible en la página de Sephora Estados Unidos –espero que también en México. Apliqué el tono nude sobre todo el párpado mientras que la que tiene brillitos abajpo de la ceja. El tono nude es un "mi párpados pero mejor" de base neutral, mientras que la sombra con brillitos es lo que yo esperaba de las Sparkle de Bobbi Brown. Se puede considerar una versión neutral de la paletta Liu de Guerlain (de la colección de invierno 2012, considerando el delineador y las dos sombras más claras). El delineado con rabillo se hizo con el tono negro que viene en la paleta. Normalmente lo uso para fijar un delineador en gel, pero esta vez lo usé solo. Por favor recuerda que para este delineador no es necesario agregarle agua como al cake eyeliner de Laura Mercier, ya que simplemente es una sombra negra pigmentada que puede usarse como delineador. Aquí algunos swatches:
Over that, I used Dior 3-couleur glow Luminous Graphic Eye Palette Eyeshadow, Highlighter & Liner Nude 651. I thought this was Limited Edition, but it seems still available at least in Sephora US site –I hope also in Mexico. I used the nude shade all over lid and the sparkly light one on browbone. I find the nude to be a "my lids but better shade", on the neutral side, while the sparkly is what I wanted the Bobbi Brown sparkle eyeshadow to be. You can consider this one is a neutral version of Guerlain Liu Palette (from 2012 Holiday collection, considering the liner and the two lightest shades). The cat eye was entirely done with the liner that this palette includes. I sometimes use it to set gel eyeliner, but this time I decided to use it on its own. Please keep in mind this one doesn't need to add water for it to work –as opposed to LM cake eyeliner- it's just a very pigmented black eyeshadow you can use as eyeliner. Here are some swatches:
Al ver la imagen es evidente que el trio de Dior ha tenido mucho uso desde que lo tengo hace aproximadamente un año. No son tan fan de los quintetos de Dior pero este trio me encanta. La sombra de Skin79 es relativamente nueva, ya que hace poco descubrí que se vende la marca aquí en México -aunque ellos tienen más de 3 años vendiendo en línea.
It's quite evident in the pic that my Dior trio has got a lot of love since I got it about a year ago. I've not fond on Dior quints, but I really love this trio. Skin79 is fairly new, since I found out the brand is sold here quite recently.

Completé el look con un clásico: el Orgasm de Nars en las mejillas mientras que en los labios usé el Lip Injection Color bomb en Bigger Berry de Too Faced y encime el Glossimer Amour de Chanel. Más allá de mi maquillaje para que los ojos no se me pierdan con los lentes, creo que aún en los looks naturales o neutros vale la pena agregar algo divertido, ya sea un delineado interesante o algo de color.
I completed the look with a classic: Nars Orgasm on cheeks and Too Faced Lip Injection Color Bomb in bigger berry with Chanel Amour Glossimer layered on top. Aside from me and my glasses, even when doing neutral FOTDS I do believe one should add something fun, either an interesting shape or a tiny bit of color.
Productos / Products
Skin79 Come on cream eyeshadow (base)
Dior 3-couleur glow Luminous Graphic Eye Palette Eyeshadow, Highlighter & Liner Nude 651
Maybelline One on One Mascara
Skin79 Orange Vital BB cream
Skin79 Hot pink BB powder
Lancome Star Bronzer #4
Nars Orgasm blush
Too Faced Lip Injection Color Bomb.
Chanel Amour Glossimer