Al parecer tengo muchos colores con los cuales jugar últimamente. Hoy les presento mis primeros experimentos con la paleta Vintage Romance de Sleek. Anteriormente ya había escrito sobre los blushes de esta marca, pero no había probado las sombras aun cuando he leído y escuchado comentarios positivos sobre ellas. Estoy bastante contenta con lo que llevo probado, por lo que les diría que si buscan paletas de sombras a precios accesibles y que tengan buena calidad, fíjense en esta marca. Las paletas contienen 12 tonos y su precio aquí en México es de alrededor 1/3 de un quinteto de Dior, un cuarteto de Chanel o una paleta de Marc Jacobs –also así hará muy feliz a tu cartera. Además tienen muchas opciones de combinaciones de colores, desde algo muy intenso y neon hasta tonos muy neutrales. La paleta que tengo es la Vintage Romance que tiene básicamente tonos parecidos a los de las joyas –principalmente morados y burdeos. También estoy probando el blush Antique de la misma marca, que es un tono muy natural con algo de brillos. Necesito encontrar tiempo para hacer swatches, ya que me parece este tono puede ser una alternativa al Madly de Nars. En fin, pasemos a las fotos de inspiración y los experimentos:
Seems I'm really having many things to play with lately. I'm showing you today my first experiments with Sleek Vintage Romance palette. I've written before about this brand's blushes, but never really tried their eyeshadows even when I read and listened to great stuff about them. I'm fairly happy so far with what I've tried so far, so I would say if you want affordable eyeshadow palettes, take a look at these. You get 12 shades and the price here in Mexico is around 1/3 from what you pay for a Dior quint, a Chanel 4 pan palette or a Marc Jacobs palette, your wallet might be happy with this. They also have tons of combinations from very bold and bright to fairly neutral. The one I got is Vintage Romance, which features mostly cool toned jewel tones –purple and burgundy are the main shades here. I'm also trying Antique blush, that's a nude-ish sparkly shade. I need to find some time do some swatches, since I think this might be pretty similar to Nars Madly. Anyway, let's move onto experiments and inspiration pictures: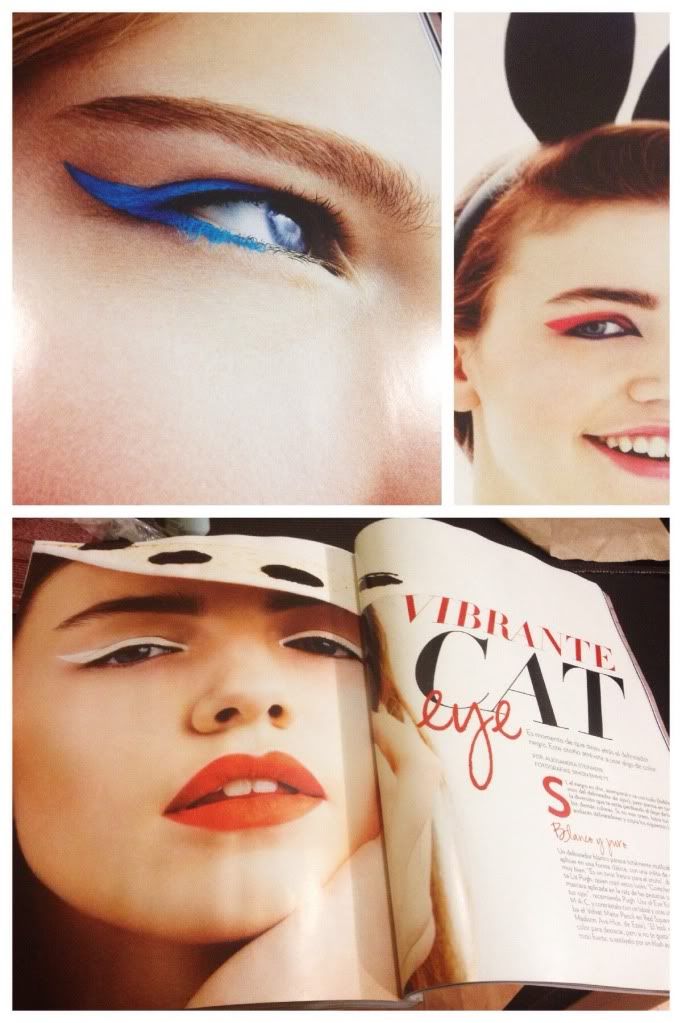 Imágenes tomadas de la edición de Noviembre 2013 de Glamour Mexico
Images from Mexican Glamour November 2013 issue
Cat Eye 1 – Silver & Violet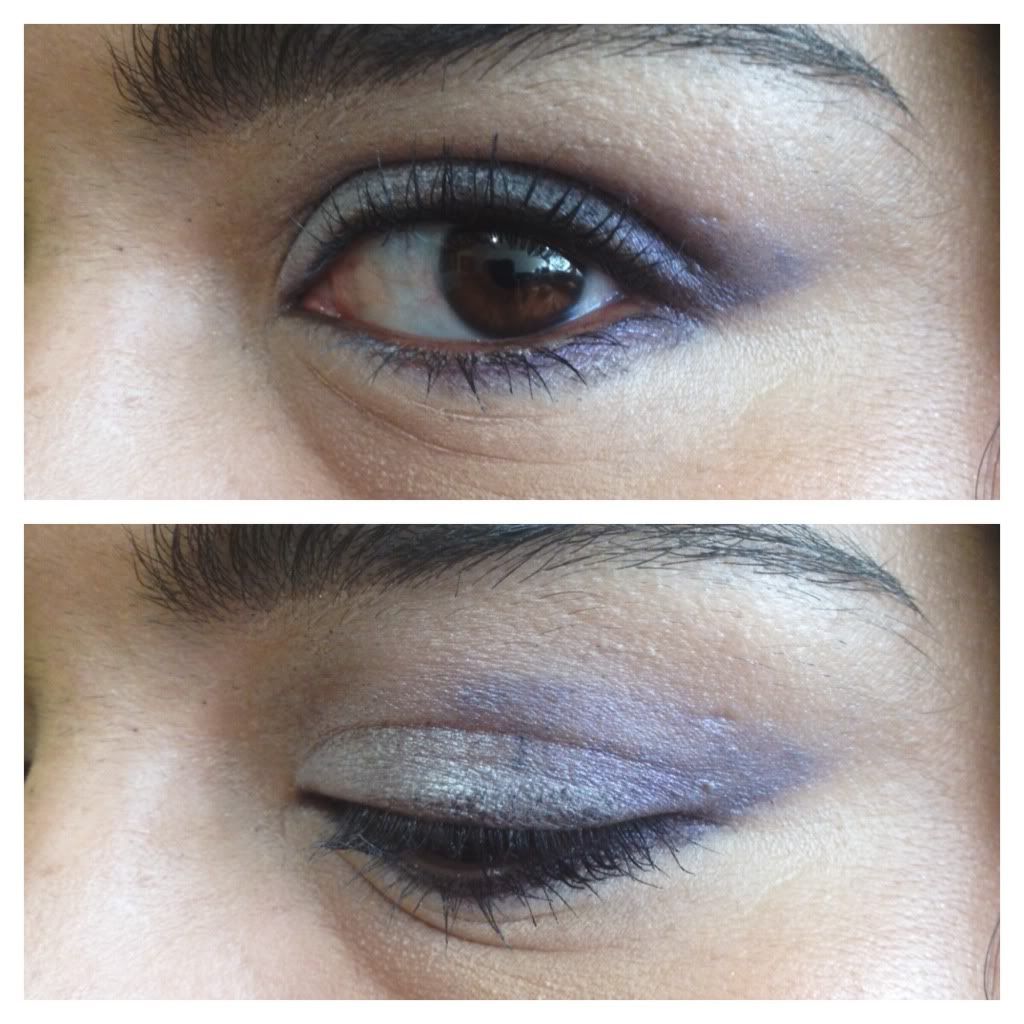 Tome inspiración de la foto con el cat eye blanco y los labios rojos de Glamour, pero me fui por plateado y fuchsia. Apliqué la sombra en crema Come on de Skin79 como base y luego definí el cat eye con un delineador plata de Nyx, el cual tristemente era muy duro y me costó trabajo lograr que se viera como yo quería –me temo tendré que buscar otro tono plata. Luego apliqué encima el tono plata de la paleta Vintage Romance. Apliqué mascara y me pareció muy soso, el cate ye plata ni siquiera se notaba, se veía el ojo luminoso pero nada de delineado con rabillo. De esa forma, decidí incluir algo de morado hacia el rabillo, primero delineé con el Mesmeric purple de Skin79 y luego apliqué el tono azul violeta de la Vintage Romance. Difuminé y concluí el look con el blush Antique de Sleek y el labial Hibiscus de Mary Kay.
I got inspired from the white and red pic from Glamour, but decide to go for silver and fuchsia instead. I used Skin79 Come on cream eyeshadow as an allover base and then defined the cat eye with Nyx silver eyeliner, which unfortunately was too hard and pretty difficult to get decent pay-off –seems I need to get a replacement for this. Then I applied the silver shade in Vintage Romance. Applied mascara and felt it was too blah, I mean, silver wasn't very noticeable so it seemed I just had some luminous eye but no cat eye. So decided to add some purple on the outer corner to make it more visible… I started lining with Skin79 Mesmeric Purple eyeliner and then applied the blue-violet shade in Vintage Romance. I blended and conclude the FOTD with Sleek Antique blush and Mary Kay Hibiscus lipstick.

La combinación del blush y el labial me encantó, pero el ojo simplemente no. Me siguió pareciendo soso y algo polvoso. Parece que la base que usé no ayudó en lo más mínimo, y mis ojos todos hinchados menos. Un look para guardar en el olvido.
I must say I didn't like it… the lip and the blush were great, but there was something I just didn't enjoy about the eye. It still felt blah, and it looked a bit chalky. Seems my eyeliner base didn't help to improve the look, nor did my puffy eyes. It has a huge fail in my opinion.
Cat Eye 2 – Burgundy & Purple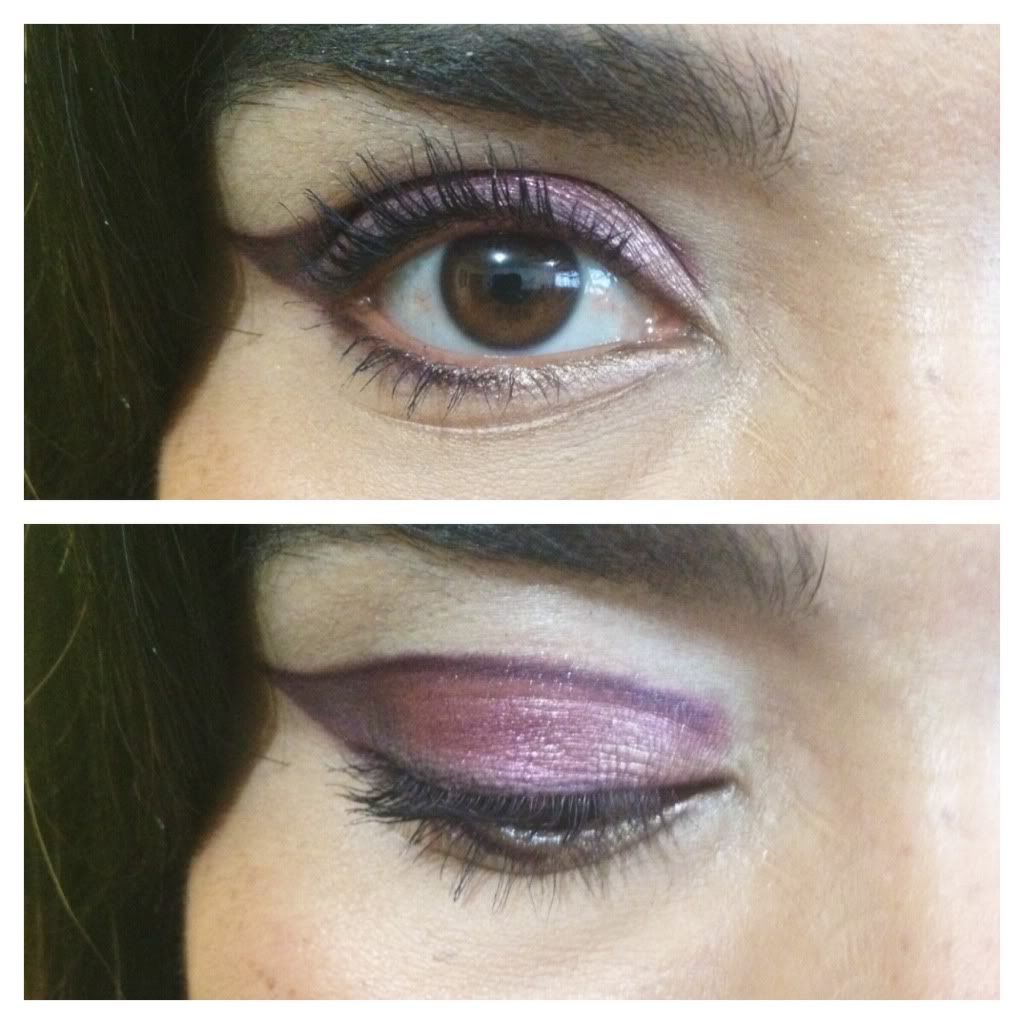 Para este intent de plano opté por mi base para sombras holy grail: la sombra en cream Bone de Bobbi Brown, que es una base maravillosa y que no reseca mis párpados. La apliqué en todo el párpado y luego empecé a definir el cat eye con el tono burdeos más oscuro de Vintage Romance. Luego rellené con el tono burdeos medio de la paleta (que ya se va hacia el fucsia), apliqué un poco del dorado en el lagrimal y el mismo azul violeta del look anterior en el rabillo. Complete exactamente con lo mismo del look anterior: el blush Antique de Sleek y el labial Hibiscus de Mary Kay.
For this one I decided to my well trusted holy grail eyeshadow base: Bobbi Brown Bone cream eyeshadow, which is a wonderful base and primer that doesn't dry my lids. I applied all over the lid and then started lining the cat eye with the darkest burgundy in Vintage Romance. I then filled with the middle burgundy-rather fuchsia shade in the palette, added a bit of the golden shade on inner corner and the same blue-violet shade from the other EOTD on outer V. I completed exactly with the same cheek and lip products: Sleek Antique blush and Mary Kay Hibiscus lipstick.


Este look me hizo mucho más feliz, los tonos se ven vibrantes y adoré la combinación. La calidez del tono dorado complementó muy bien los otros tonos que son fríos, y me recordó un poco a los tonos del amanecer. No obstante me parece es que demasiado color para mis días de oficina, aunque mis lentes ayudan a disimularlo. Eso si, una maravillosa combinación para un evento de noche en fin de semana.
I'm very much happy with this one, the shades look vibrant and I totally loved the combo. The warmness of the golden shade balanced the rest of the eye that's mostly cool. I think this might be too much color for my working days, but fortunately my glasses helped me to hide it a bit. Yet, I think this combo could be wonderful for a weekend evening event.
Hasta el momento me está gustando la paleta y necesito probar otras combinaciones. También necesito hacer swatches de comparación –si logro encontrar tonos similares en mi colección.
So far, I like this palette and I need to try other combos. I hope to be able to do comparison swatches sometime soon –if I manage to find similar shades to the burgundy ones in my stash.