La primavera está por llegar y de alguna forma, siento la necesidad de usar labios rojo oscuro –como si el otoño y el invierno estuvieran por empezar. Pensé que había un faltante en mi colección para este tipo de colores, pero decidí revisar antes de ir a comprar uno nuevo. Aquí está lo que encontré:
Spring is coming but I somehow felt the need to wear dark red lips –as if fall or Winter were about to come. I thought there was a gap in my stash for these colors, but decided to take a look before going to the mall and buy a new one. Here's what I found: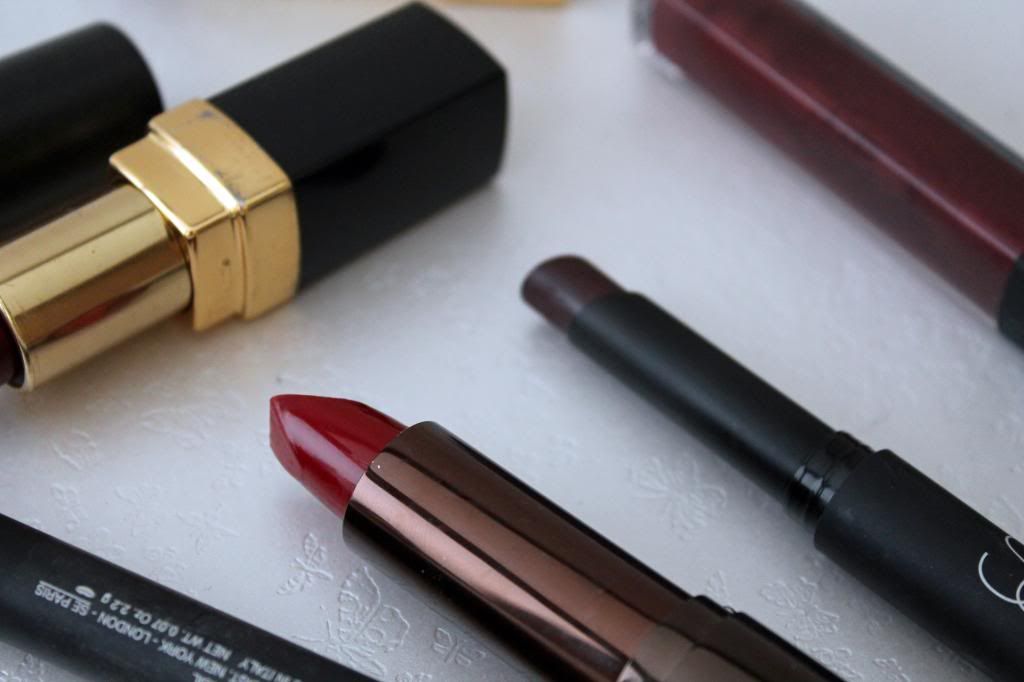 Luz de sol directa / Direct Sunlight
Luz natural / Natural light
Algunas ideas sobre esto:
El primer tono de este tipo que usé fue el Lune Rousse de Chanel, ahí empezó mi amor.
Orgueil de Guerlain es maravilloso, tiene un termiinado mate pero no reseca los labios.
Volga de Nars me parece un poco oscuro para mi, siento que para usarlo debo usar maquillaje mínimo para evitar el look goth.
Diva es hermoso, creo que debo usarlo más seguido.
Some thoughts about it:
The first lipstick I used from this shade range was Chanel Lune Rousse, and love started there.
Guerlain Orgueil is gorgeous, has a matte finish but it's not drying.
I feel Nars Volga is too dark for me, so I need to use it with almost bare makeup to avoid a gothic look.
Diva is gorgeous, I think I should use it more often.
Después de todo, creo que no necesito comprar otro más, ¿tú qué opinas?
After all, I think I might not need another dark red lip product, what do you think?