Estoy totalmente encantada con esta técnica de los 45°, aun cuando me toma un poco más de tiempo maquillarme en las mañanas. Claro, en los próximos looks verán los resultados de esta técnica hechos algo de prisa. No es tan maravilloso como mi primer intento, pero está bastante decente. En ambas pruebas usé un tono teal oscuro para sombrear el extremo exterior del ojo –la Fusion Mono Cosmos de Dior, finalmente le encontré un uso en el que si me gusta esta sombra. También usé delineador dorado –el Campo de Fiori de nars para la parte inferior interna del ojo y en los labios el mejor tono para este invierno desde mi perspectiva: Rouge Automatique Reflex de Guerlain.
I've totally fallen for this 45° degree technique, even when I take a longer time to do my makeup in the mornings. However, today you'll see the results of this technique done in a rushing time. It might not look perfect like the first one I posted, but it's pretty decent in my opinion. In both case I'm using a dark teal to do the outer corner shading –Dior Fusion Mono Cosmos, I finally found a way to use this that I actually like. I'm also using golden eyeliner –Nars Campo de Fiori as the inner lower lash liner and for lips a must have for the Holiday season in my opinion: Guerlain Rouge Automatique Reflex.
45° EOTD #3: Teal & uber sheer pale gold
Pensé esta combinación como un punto intermedio entre mis intentos anteriores –usar un tono dorado pálido, pero el extremo exterior no tan oscuro. Así me fui por la sombra en crema Come on de Skin79 y la Cosmos de Dior, mientras que usé el delineador Stylo Yeux Noir de Chanel para los rabillos. Desde luego, volví a olvidar que primero aplico las sombras y de ahí el delineador, así que tocó aplicar dos veces el delineador. El resultado me parece menos aburrido que el del 45°EOTD #2, pero no tan impresionante que el 45° EOTD #1, me temo que debo regresar a aumentar el contraste.
I tried with this one to achieve a middle point between the two previous attemps –using a pale gold eyeshadow, but a not-so dark outer corner. So I came up with Skin79 Come On cream eyeshadow and Dior Cosmos as eyeshadows and Chanel Stylo Yeux Noir for eyeliner. I keep doing light shade first, eyeliner second, dark shade later and then redo the eyeliner –I keep forgetting dark goes before eyeliner lol. Anyway, I find the result is less flat than 45° EOTD #2 but still not as astonishing as 45° EOTD #1, I will definitely need to go back to a bigger contrast.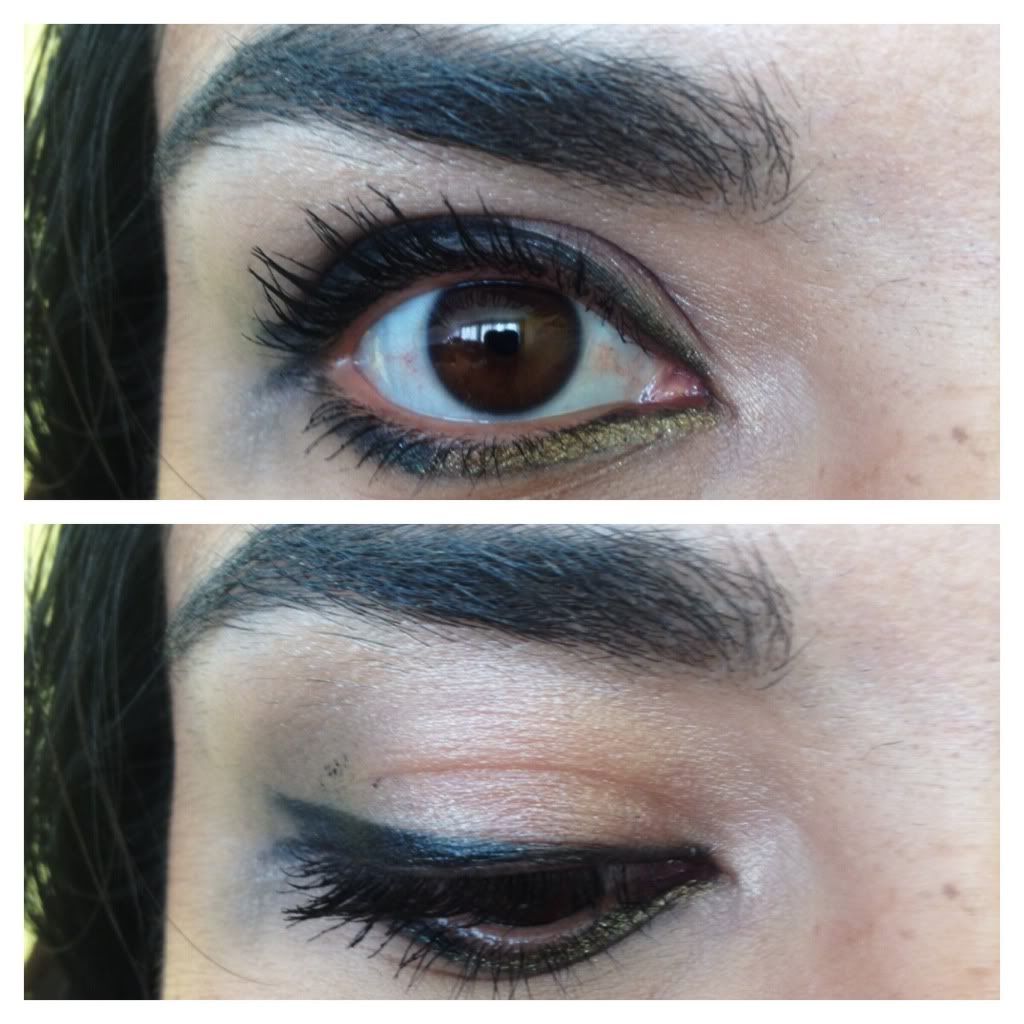 Omití usar blush y únicamente usé el polvo de sol #26 de Couleur Caramel para contornear, y desde luego el Rouge Automatique Reflex en los labios –que en mis labios pigmentados se ve menos neón "destrózame la pupila" y más un coral bastante usable. Sin embargo, me parece que le faltó un blush.
I forgot to use blush in this FOTD, and just used Couleur Caramel Bronzer (Terre Caramel) #26 to contour and Rouge Automatique Reflex on lips –which on my pigmented lips looks less frightening neon and more lovely wearable coral. However I got the feeling some blusher was missing.
45° EOTD #4: Teal & Peach
Para este de nueva cuenta usé un tono claro durazno, pero con el fin de lograr un mayor contraste me fui por un durazno mate (Couleur Caramel #123) y en la parte oscura un tono con brillitos –si, de nuevo el Cosmos de Dior. Para el delineador me fui con el nuevo que sacó Couleur Caramel en crema. Sigue sin ser tan contrastante que el 45° EOTD #1, pero me gusta más que el 45° EOTD #3 y desde luego que el 45° EOTD #2 –un digno segundo lugar.
In this one I went back to peach light shade, but in seeking a bigger contrast I went for a matte peach (Couleur Caramel #123) and used a sparkly darker outer corner shader –again, Dior Cosmos. For the eyeliner I tried this time Couleur Caramel new cream eyeliner. It's still not as contrasting, but I feels it goes better than 45° EOTD #3 and of course 45° EOTD #2 –a decent 2nd place.
Ahora si usé blush, el Madame Rougit de Guerlain, que espero se note en las fotos que ayuda a lograr un efecto 3D, puesto que parece que usé iluminador cuando la verdad no lo usé –esto de arreglarse para ir a trabajar hace que uno omita varios pasos. Me parece que se ve mejor que el intento anterior, pero aun así algo no se ve bien. Me parece que el polvo de sol es algo cálido para el tono de los labios, voy a probar después con otro tono.
This time I did use a blush, Guerlain Madame Rougit which you'll see in the pics is quite dimensional since it seems I'm wearing highlighter –and I completely skipped it, getting ready for work makes you skip many steps. I think it looks better than the later, but still there's something wrong. I'm afraid my current bronzer is just too warm for this lip shade. I guess I'll try next changing the bronzer.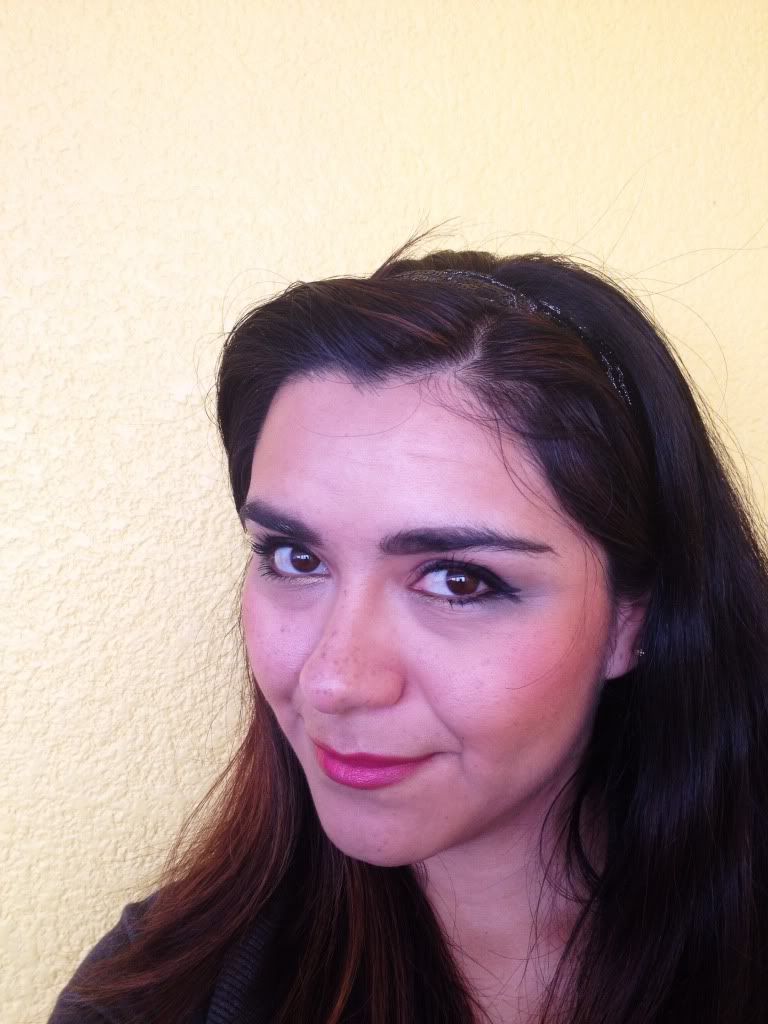 Justo cuando pensé que había encontrado mi técnica de maquillaje para ojos Santo Grial, me encuentro con otra que me encanta –aunque claro, incluye el delineado con rabillo. Al parecer los dioses del maquillaje quieren que siga experimentando, probablemente pruebe ahora esta variación que
Kate de Drivel about Frivol
publicó.
Just when I thought I had found my Holy Grail eye technique (the cat eye) I found this one that I totally fell for –it includes cat eye, of course! Seems the makeup gods want me to keep experimenting, and try next this variation Kate from Drivel about Frivol has posted.