Este gel es parte de un kit de minis para el verano que Skin79 tenía a la venta –que la última vez que visité Skin79 aún estaba disponible. Me gusta iniciar con paquetes de minis, ya que contienen suficiente producto para usarlo varias semanas y eso te da tiempo de evaluar si te funciona y te sirve. Desgraciadamente las muestras en sobrecitos trae muy poco producto, así que salvo que tenga varios sobrecitos para probar mejor paso de largo. Tuve que buscar en los sitios de Skin79 de otros países para la descripción, ya que la página de México tiene muy poca información:
I first got this one in a summer value pack with minis that Skin79 had for sale –I think the Mexican store might still has in stock. I personally prefer to start with mini sets since they are big enough to use for many weeks and give me enough time to evaluate if it's absorbed by my skin, if it feels greasy, if I get any reaction to it and so on. Unfortunately, sachet-type samples don't give me enough quantity of product to properly test, so I rarely use them unless I get many sachets from the same product to give a fair try. I had to look up several Skin79 country sites for an official description, since unfortunately the Mexican site had little information on it:
Ingredientes naturales generan una barrera de hidratación en la piel seca, manteniéndola durante todo el día.
Natural ingredients that create a moisture barrier on dry skin, keeping it during the entire day.
Ingredientes como Phyto Calciferol y Aloe, forman una barrera de hidratación en las pieles deshidratadas, relajando las pieles cansadas por la exposición a agentes irritantes, mientras mantiene su hidratación y vitalidad a lo largo de todo el día.
Ingredients like Phyto Calciferol and Aloe create a moisture barrier on dehydrated skins, relaxing tired skins from their exposition to irritants, while keeps hydration and vitality all day long.
Con los complejos Hydra-ngc y phyto-marine que contienen componentes que activan la piel, este gel hidratante crea una banda de hidratación en la piel, proveyendo una sensación de humectación y manteniendo la piel suave por largo tiempo.
With Hydra-ngc and phyto-marine complex that contain skin activating components, hydrating gel forms moisture band on the skin, thereby providing some fresh sense of moisture and maintaining the skin soft and sleek for a long time.
Todas las descripciones suenan diferentes, aunque tienen un punto en común: es una barrera para la humectación. Así que si tu rutina es del tipo Asiático, este producto funciona como una barrera para mantener los productos que te aplicaste antes. En el caso de una rutina del tipo occidental, esto sería un hidratante. Veamos la lista de ingredientes:
All descriptions seem different, but their common point is that this is a moisture barrier. So, if you're going for an Asian skincare routine, this can work as your moisture lock, while in the Western skincare routine it could be a moisturizer. Let's take a look at the ingredient list:
Ingredients: Water, Dipropylene glycol, Glycerin, Betaine, Dimethicone, Cyclomethicone, Ethanol, PEG-40 HydrogenatedCastor Oil, Carbomer, acrylates/c10-30 alkyl acrylacrylate crosspolymer, Chamomilla Recutita, Matricaria Extract, Butylene Glycol, Lentinus EdodesExtract, Althea rosea, Methyl Paraben, Phenoxyethanol, Propyl Paraben, Trisodium EDTA, Fragrance, FD&C Blue No.1, Dimethiconol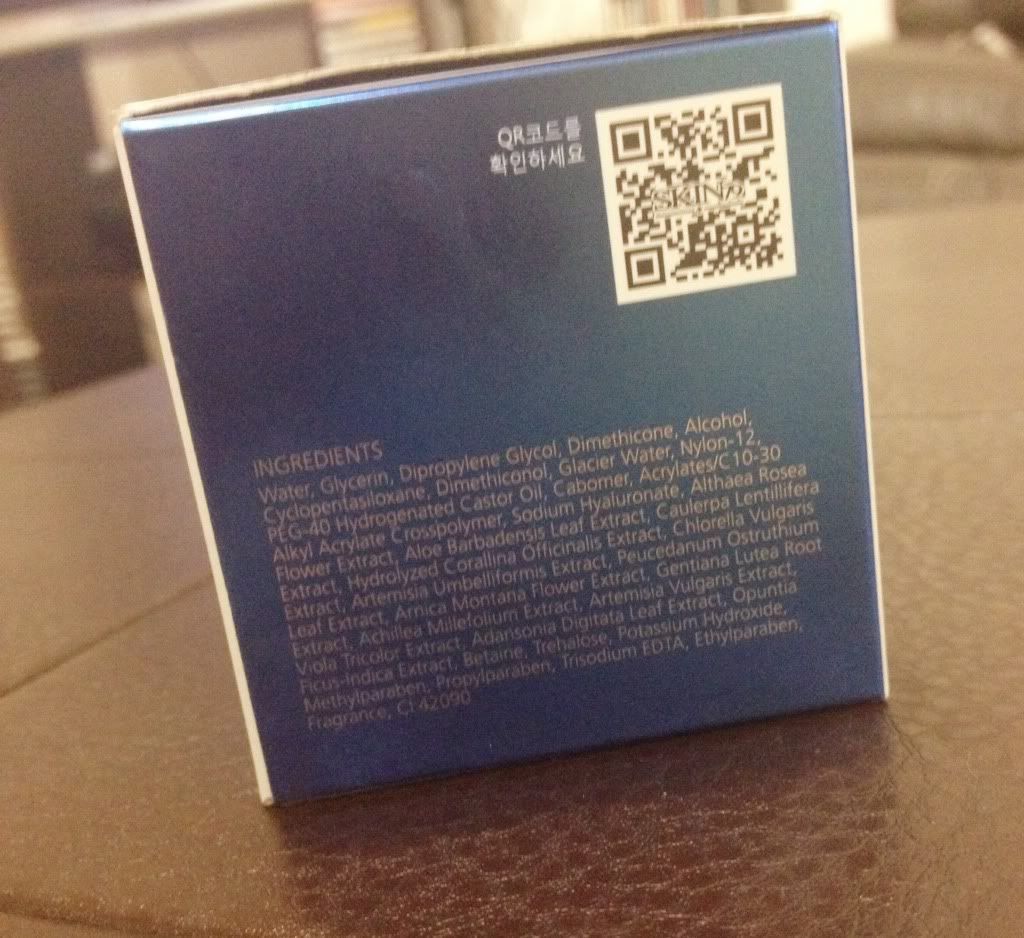 La idea de hablar de ingredientes es ayudar a identificar cuales ingredientes funcionan con la piel de cada quien –tanto la mía como de quien lee esto- pero es algo que siempre toma su tiempo.
The idea of talking about ingredients is to help find out which ones work for each of me –me and the readers- but it's a matter that takes some time.
El análisis de CosDNA muestra que los ingredientes son relativamente seguros, aunque hay algunos que pueden ser irritantes o comedogénicos:
http://www.cosdna.com/eng/cosmetic_80441807.html
. En particular fijarse en Dimethicone, Ethanol (otra forma de llamar al alcohol), Carbomer, y Buthylene Glycol. Sin embargo, no pude encontrar Vitama D (el phyto-calciferol es vitamina D de origen animal) ni aloe. El Hydra-NGC es una mezcla de agua de diferente fuente (esto está explicado con fotos en la página de Norte América) y nunca pude entender qué es el complejo phyto-marino –sólo sé que el nombre implica que proviene de plantas del mar. El ingrediente de origen vegetal que encontré fue la manzanilla y sólo eso. La mayor parte de los ingredientes que encontré funcionan para mantener la hidratación –justo el punto en común de las tres descripciones. Una función muy similar, puedeas lograrla usando un aceite como hidratante. Mi preocupación es que tiene alcohol (etanol), ya que aunque es un ingrediente al que mi piel no tiene reacción, siempre suele ser mejor evitar –
puedes leer estetexto de Paula Begoun sobre el alcohol en los productos de cuidado facial (eninglés)
.
CosDNA analysis showed most ingredients are fairly safe with a couple of slight irritant or comedogenic ingredients: http://www.cosdna.com/eng/cosmetic_80441807.html. Take a look at Dimethicone, Ethanol (another way to call alcohol), Carbomer, y Buthylene Glycol.However, I couldn't find vitamin D (Phyto-calciferol is plant derived vitamin D) nor aloe. The Hydra-NGC is just a blend of water from different sources (the US site explains it) while I couldn't find the description for the phyto-marine complex –the name means it comes from ocean plants. The plant derived ingredient I could find was chamomile and that's all. Most of the ingredients I've found were meant to lock the moisture, the common point in all descriptions. You can achieve a similar effect by using oil as moisturizer. My only concern is the alcohol (etanol) since it's an ingredient that's better to avoid –you can read this article byPaula Begoun about alcohol on skincare.
Habiendo dicho todo esto, me gusta el producto como una barrera para mantener la hidratación. Dado que actualmente mi rutina es del tipo Asiático, me ayuda a mantener la hidratación que obtuve de los productos que usé antes de este (básicamente un tónico, una emulsión y un serum, casi todos de la misma línea y espero haya reseña pronto). Creo que no lo usaría si estuviera bajo una rutina del tipo occidental, ya que no hidrataría lo suficiente mi piel. Su precio es razonable, desde luego que hay alternativas más accesibles pero digamos que no está en los precios de los hidratantes milagrosos que te venden en las tiendas departamentales.
Having said all of this, I do like the product as a moisture lock. I'm currently using an Asian skincare routine, so this product helps lock the moisture and the products I use before this, which are usually a toner, an emulsion and a serum (many from the same line and review forthcoming). I wouldn't use it if I was in the Western routine, since it wouldn't provide enough moisture to my skin. It's also at a reasonable price point, there are definitely cheaper moisturizers out there but it doesn't get to the stratospheric High End prices.
¿Cuándo se usa? / When to use it?
Conclusión: es un buena barrera de hidratación para fijar los productos que usaste antes, sólo me gustaría que no tuviera alcohol para que pudiera incluirse en mi lista de Holy Grails.
Bottom line: it's a good moisture lock for your previous layers, I just wished it didn't have alcohol so it could become HG material.