Puede sonar extraño, pero la piel grasa o mixta grasa pueden beneficiarse del uso de aceites. Al parecer Clarins encontró los correctos y los agregó a su Lotus Face Treatment Oil. He aquí lo que dice la marca de este producto:
It may sound weird, but oily and combo-oily skin can get benefits from using oils. Seems Clarins found the right ones and added them to their Lotus Face Treatment Oil. Here is what the brand says about it:
Aceite de tratamiento purificante que hidrata, tonifica y balancea los tipos de piel grasas. El concentrado exclusivo de Clarins de Rosewood, Geranio y Lotus reducen los poros y refinan la textura de la piel. El aceite de avellana suaviza y mantiene la hidratación para minimizar la apariencia de las líneas de expresión. No deja manchas y es libre de preservativos.
Purifying treatment oil hydrates, tones and balances oily skin types. Clarins' exclusive concentrate of Rosewood, Geranium and Lotus extracts tightens pores and refines the skin texture. Hazelnut Oil softens, soothes and seals in moisture to minimizes the appearance of fine lines. Non-staining. Preservative-free.
Después de algunos intentos, al fin encontré una descripción un poco más desarrollada de un producto, desgraciadamente fue en el sitio de Clarins para Estados Unidos. Así que tiene aceites de Rosewood, Geranio, Lotus y Avellana, pero qué más? El sitio de Estados Unidos sólo nos muestra algunas imágenes de ingredientes, pero pude encontrar toda la lista en CosDNA:
http://www.cosdna.com/eng/cosmetic_de1d105063.html
After a while, I found a more conscious description of a skincare item, too bad it was in the US site instead of a Mexican site. So, this has rosewood, geranium, lotus and hazelnut oil, but what else? The US site only shows us some pics, but I've found the entire ingredient list in CosDNA: http://www.cosdna.com/eng/cosmetic_de1d105063.html
Corylus Avellana Seed Oil, Pelargonium Graveolens Flower Oil, Parfum, Rosemary, Helianthus Annuus Seed Oil, Anthemis Nobilis Flower Oil, Salvia sclarea, Nelumbium Speciosum Flower Extract, Tocopherol, Citronellol, Linalool, Geraniol, Limonene, Citral, Coumarin, Benzyl Benzoate
Es una lista corta, con casi todos ingredients seguros salvo por el Coumarin (que es fragancia) y Tocopherol que puede ser comedogénico e irritante (nivel 2) pero recuerda que justo este ingrediente es un nombre para la vitamina E. Este lo he probado por un buen tiempo ya, y en verdad me ha gustado. Al contrario de lo que recomienda Clarins de usarlo sólo por la noche, yo lo he usado día y noche después del serum (Peter Thomas Roth Retinol Fusion PM en las noches en el momento que use este). Sólo usaba 3 gotas de aceite luego le di un spray de agua de rosas y lo aplicaba en mi rostro. Esto parecía una maravilla hasta que me di cuenta de algo.
It's a fairly short list, with mostly safe ingredients except for Coumarin (that's a fragrance) and Tocopherol that can be a slightly comedogenic and irritant (rating 2) but keep in mind that's vitamin E. So, I actually like this one and did use it for many months (you can see in pics how much I've used so far). A phase called "I love my skin and want to use the sheerer foundation available" started short after trying this one. But, on the contrary to what Clarins recommends I used it day and night as moisturizer, after serum (Peter Thomas Roth Retinol Fusion PM at nights at that moment). I just used 3 drops of oil and then sprayed a mist of rosewater before applying to my skin. This sounds like heaven until I realized one thing: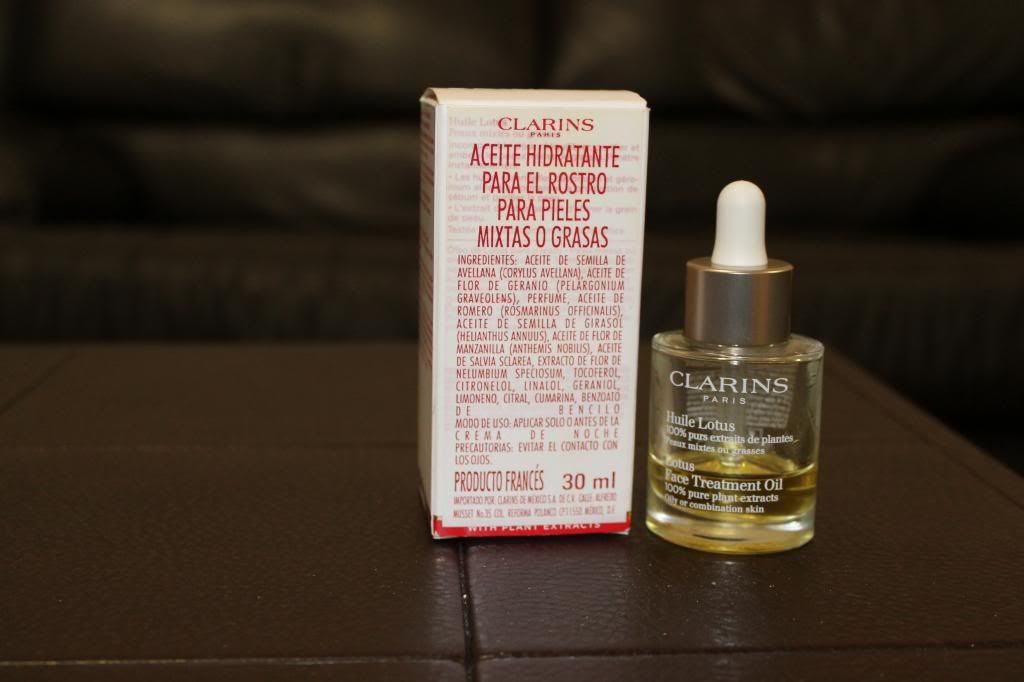 Corylus Avellana es simplemente avellana, así que el producto es básicamente aceite de avellana. Por lo que, ¿estoy pagando una fórmula o sólo la etiqueta? Si consideras que los aceites esenciales (como rosewood, geranio, lotus) no se aplican directamente en la piel y se deben mezclar en un aceite portador en un porcentaje de 1-2%, entonces me parece que simplemente se paga por la etiqueta (alrededor de $600 pesos mexicanos).
Corylus Avellana is hazelnut, so this product is mostly hazelnut oil. So, is paying for this mix worth or am I just paying for a label? If you think essential oils shouldn't be applied directed but with carrier oil in a ratio around 1-2% essential oil 98-99% carrier oil, I'm afraid you're paying for a label (around $600 Mexican pesos).
Como alternativa uso aceite de avellana (que 500 ml cuestan alrededor de $250 pesos mexicanos) y lo uso como si fuera el Lotus Oil de Clarins, o le puedes agregar algunas gotas de aceites esenciales para hacerlo más cercano al de Clarins –me gusta para esto la mezcla rejuvenating de Bomb Cosmetics (que cuesta alrededor de $180 pesos mexicanos). Esto implicaría que por unos $430 pesos mexicanos (unos $170 menos, un poco más de $10 dolares) puedo obtener una mezcla muy similar y que en lugar de obtener 30 ml tengo 500 ml de producto (es decir, aproximadamente 16 veces más producto). Desde luego, tú decides si quieres el producto elegante de Clarins o simplemente hacer tu mezcla.
An alternative is buying straight Hazelnut oil (I've found 500 ml for $250 Mexican pesos) and use it as you would use Clarins Lotus Oil, or you can add a few drops of essential oils to make it closer –I like Bomb Cosmetics rejuvenating blend for this (around $180 Mexican pesos). That means for $430 Mexican pesos ($170 less, that's a little bit more than $10 USD) I can get a blend that works in a very similar way, but instead of 30 ml I'm getting 500 ml (so, getting like 16 times more product). Of course, it's up to you if you prefer the elegant Clarins oil or just make your blend.
Conclusión: es muy Bueno, pero puedes obtener lo mismo por mucho menos.
Bottom Line: It's really good, but you can get almost the same for a lot less.