Siguiente la propuesta de Cecy de
BellezaMX
(les recomiendo mucho su blog), después de las sombras taupe, ahora voy con swatches de tonos dorados / ambar. Este tipo de tonos también me agradan mucho para usarlos solos en todo el párpado, ya que iluminan la mirada. De hecho, me parecen ideales para el
California Girl Look
que tanto me gusta y les mostré hace poco. Hoy les presento 6 tonos de sombras doradas, de las cuales 3 tienen tonos cálidos y tres fríos. Los tonos de hoy son:
Following Cecy's idea (I highly recommend taking a look at her blog Belleza MX), after swatching some taupes, I'm now going for some gold / amber shades. This shades are great for using them as a wash of color all over the lid, since they can give light to your eyes. They are great for the Californian Girl Look I've been loving lately. oday I'm showing you 6 shades of gold eyeshadow, out of which 3 are cool gold and 3 are warmer muted gold. The ones featured today are: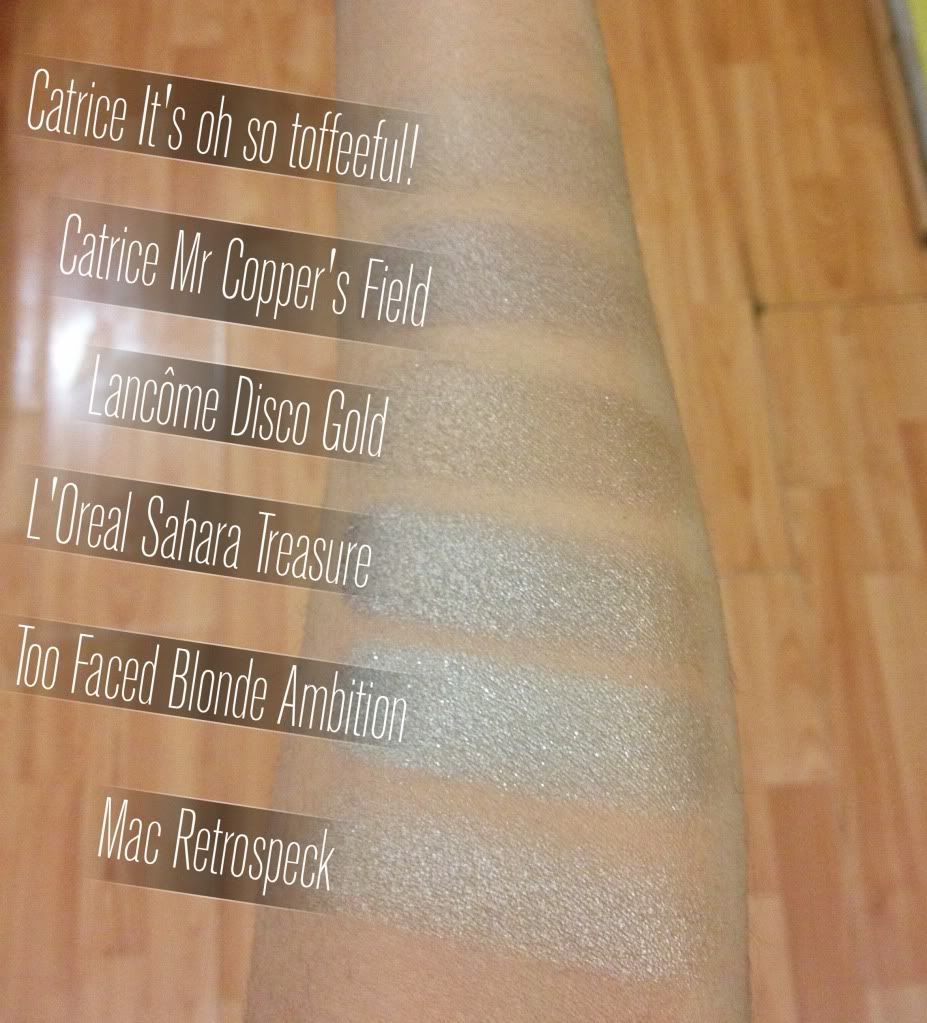 Catrice it's oh so toffeeful!!!: Esta apareció dentro de los taupes, pero me comentaron que se veía más dorada que taupe, así que de nuevo su swatch. // This was in the taupe post, but some people pointed me out that it looked more gold than taupe, so here it is again.
Catrice Mr. Copper's Field: Es un dorado neutral, no muy frío ni cálido. Es un tono lindo, pero no es tan pigmentado como otras sombras de Catrice, tuve que darle algunas pasadas para que se pudiera ver el tono en los swatches. // This one is a neutral gold, not too cool and not too warm. I must say, it's a nice shade, but it isn't as pigmented as other Catrice eyeshadows, I had to build a bit the shade so it could be noticeable in swatches.
Lancome Disco Gold: No sé si esta sombra sigue disponible, pero es la versiónde Lancome de las sombras L'Infallible de L'Oreal y las Eyes to Kill Intense de Giorgio Armani. En tonos de piel medios, funciona como un tono "mis párpados pero mejor", y puede servir como un ligero toque bling bling -si es que eso es posible. // I'm not sure if this one is still available, but it's the Lancome versión to L'Oreal L'Infallible eyeshadow and Giorgio Armani Eyes to Kill intense. At least on medium skin, this can work as a "my lids but better" shade, and it could work for a sublte bling bling look -can bling bling be sublte?
L'Oreal Sahara Treasure: Mucho más frío que Disco Gold, es un tono que funciona de maravilla por sí mismo. Una vez lo probé sobre el Color Tatto dorado y el resultado fue horrendo, pero una vez que lo usé solo, me enamoré. // It's far more cool than Disco Gold, and this shade works wonders on its own. I once tried it over a golden base (a maybelline color tatoo) and looked completely cheesy, but once I used it on its own, it was love.
Too Faced Blonde Ambition: Un lindo tono dorado frío, muy parecido al Sahara Treasure pero con mucho más brillitos // A nice cool gold shade, similar to Sahara Treasure but with way too much more glitter.
Mac Retrospeck: Una versión más sutil de las sombras anteriores, también es una de las sombras más populares de Mac // A slightly subtler version of the other 2, it's one of these famous Mac eyeshadows.
My Recs: Mac Retrospeck, L'Oreal Sahara Treasure, Catrice it's oh so Toffeeful!
Les mostraré más dorados, y agregaré algunos tonos ambar también, ya que ambos funcionan de maravilla para el
California Girl Look
.
I'll keep on with other golds, but adding a bit of amber shades as well, since they work wonders for the California Girl look.