Si, todavía tengo más tonos taupe que mostrarles y eso que no participo en
The Battle of the Taupes
. Al menos me queda una entrada más de taupes, salvo que descubra que aún me faltan más y entonces habría una sexta. En fin, estos son los taupes de hoy:
Yes, I still have more taupe eyeshadow swatches to come -and this is not The Battle of the Taupes. Actually, I still have at least one more post on taupes, unless I find more taupes while shopping my stash, so then there will be a 6th post. Anyway, here are today's taupes: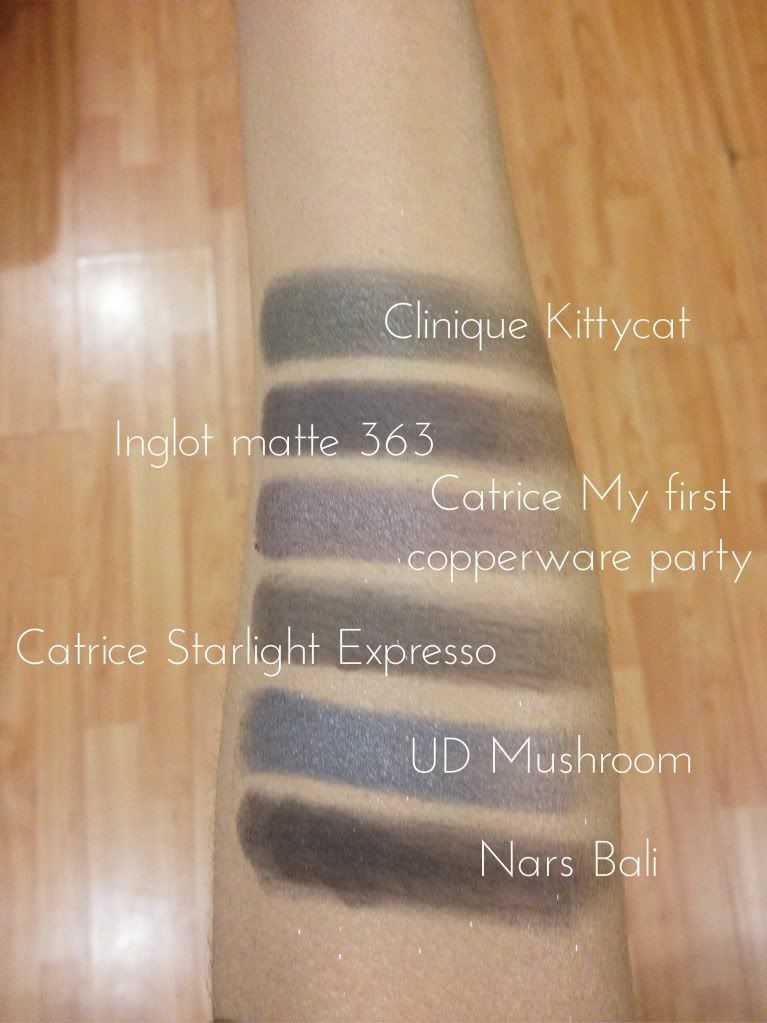 Nars Bali: Me encanta el tono, pero no la textura -es algo seca y parece gis, necesita una base en crema para funcionar. No sé si se deba a que es de una paleta y la sombra sola es mejor. // I love the shade but feel it's a bit dry and chalky. However, I wonder if it's because I got it in a palette or the single is also like that.
UD Mushroom: De la paleta Smoked, obviamente un gran tono para smokey eyes. Creo que después, me iré hacia los smokey eyes :) // From the Smoked palette, a great shade for smokey eyes... after I finish with natural, I should definitely go for smokey.
Catrice Starlight Expresso: Parece un clon de la sombra Copperplate de Mac, creo que debo hacer swatches comparativos para asegurarme de esto // It seems it's a dupe for Mac Copperplate, do you think it is? I should do comparison swatches
Catrice My first copperware party: Este se supone que es un clon de Satin Taupe, aunque aún no estoy segura.. más pares para comparar // It's suppossed to be a dupe for Mac Satin Taupe, not sure yet... now I have a second pair for comparison swatches.
Inglot Matte 363: Un tono parecido al Bali de Nars, pero de mejor textura. En mi humilde opinion, las sombras mate de Inglot y de Laura Mercier son las mejores. // I feel it's close to Nars Bali, but with a better texture. In my humble opinion, the best matte eyeshadows are made by Inglot and Laura Mercier.
Clinique Kittycat: Es mi primer tono taupe y mi favorito de todos los tiempos. Lo tengo desde hace mucho y me encanta, me parece cercano al delineador Egyptian de Clinique que también me encanta. Clinique, por favor vuelve a producir este tono // This is my all time favorite taupe, I got it many, many years ago and I think it's now discontinued. It's very close to Egyptian eyeliner, another favorite... I think Clinique should bring this shade back.
Mis recomendaciones: Clinique Kittycat (si aún la encuentran), UD Mushroom e Inglot 363


My recs: Clinique Kittycat (if you can find it), UD Mushroom, Inglot 363.
Después de los taupes, estoy pensando en las sombras doradas / ambar, o debería regresar a las sombras rose gold??? Tu qué opinas??
After taupes, I'm thinking about golden / amber swatches, or should I go back reviewing my rosegold eyeshadows??? What do you think???
Entradas previas de taupes //
Previous taupe posts