Por más que lo intento, creo que los tonos nude y yo somos como el agua y el aceite: no nos llevamos. Mis labios son naturalmente muy pigmentados, así que a veces siento que los tonos nude me borran la boca. Pero no puedo negar que just los tonos nude o MLBB van muy bien con los looks California Girl y con los Smokey Eyes. Por ello, y para completar este blog, hice algunos swatches de algunos para que vean opciones, espero les gusten.
As much as I try, I've realized nudes and I are almost like water and oil: we just don't get along. I have naturally pigmented lips, so I tend to feel nudes will erase my mouth, aka, concealer lips. Anyway, I can't deny nudes or MLBB shades go pretty well with California Girl and Smokey Eyes look. For that reason and for the sake of this blog, I decided to swatch some and show them to you as options. Hope you enjoy.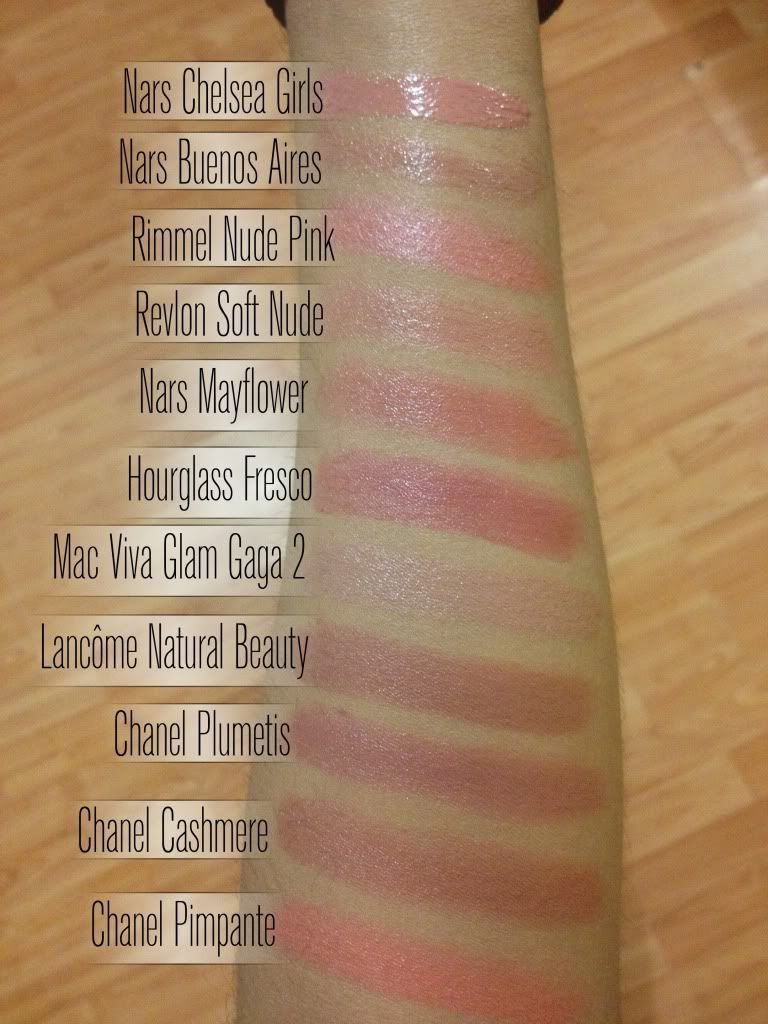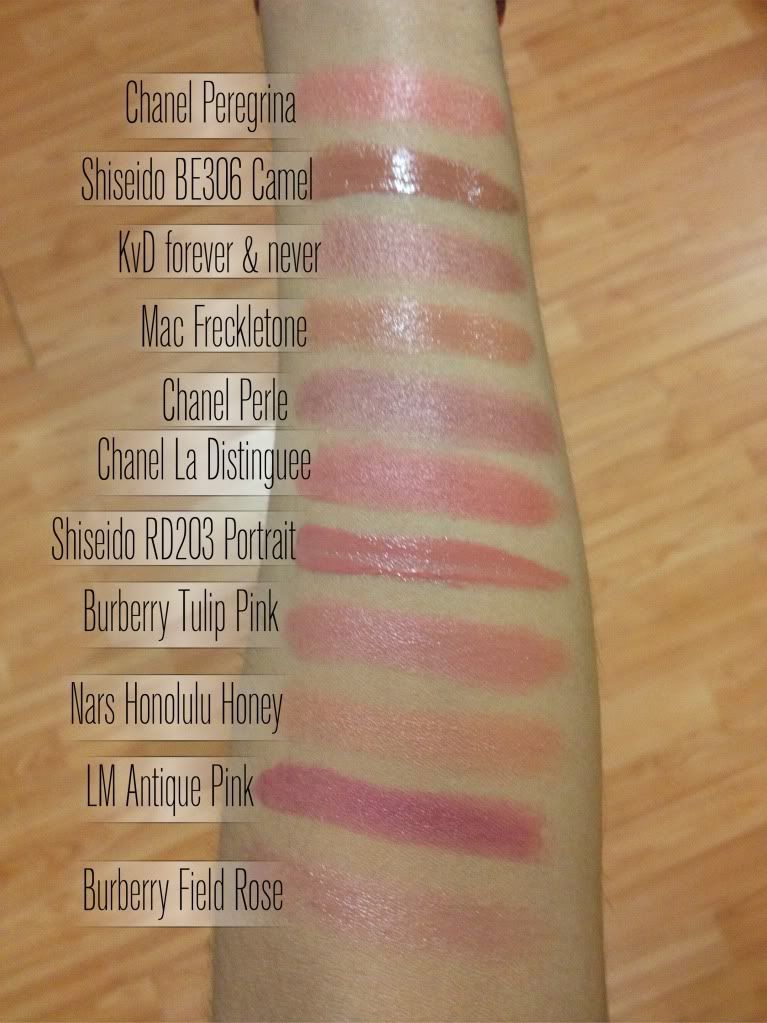 No puedo decir mucho de cada tono, salvo que me borran la boca, aunque si puedo compartir algunas ideas sobre texturas:
Can't give a work on each shade since I will write about all: they erase my mouth. However, I can tell you a bit about some brands shown here:
Los labiales de Hourglass tienen una gran textura, suave y no te reseca los labios. Caros pero valen cada peso pagado // Hourglass lipsticks have a great texture, expensive yes, but worth the money.
Les muestro mucho Chanel, y entre ellos, la mejor textura es la de los Rouge Allure... Rouge Coco y Rouge Allure Velvet pueden resecar un poco los labios. Esto implica, que de todos los que muesto, yo catalogaría como el mejor a Pimpante. // I've shown much Chanel, and among them, the best texture are Rouge Allure... Rouge Coco and Rouge Allure Velvet can be drying for some. This means, among the ones I've shown here, I would cataloge Pimpante as the best texture.
El terminado metálico de Forever and Never de Kat von D me parece muy interesante. Creo que esta gama es muy buena, pero casi no recibe atención, se van más por las paletas // Kat von D forever and never has a foiled finish, that makes it interesting. I think her foiled lipsticks are great but usually nobody pays much attention to them -except for me of course.
Nars Chelsea Girls es un bálsamo para labios algo pesado en un botecito. El olor no me encanta, pero es el tono nude que mejor funciona para mi // Nars Chelsea Girls is a lacquer, so it's like a heavy balm with color. The smell isn't great, but it's the one nude that works for me.
Nude Pink de Rimmel y Soft Nude de Revlon son labiales muy buenos a buen precio // Rimmel Nude Pink and Revlon Soft Nude are great affordable nudes.
Portrait y Camel de Shiseido son tonos maravillosos, me encantaría que mi tono natural de labios no se lo comiera. No se sienten pegajosos, aunque según yo no duran tanto como las versiones de Guerlain y Armani. // Shiseido Portrait and Camel are gorgeous, I wish my natural lip wouldn't tone them down to almost invisible. They don't feel tacky, but I wish they would stain longer like their Guerlain and Armani liquid lipstick counterparts.
Burberry tiene tonos nudes y MLBB maravillosos. Aquí les muestro uno casi traslúcido y uno más pigmentado. Me encanta la textura, esta marca está en mi top 5 de labiales // Burberry has great nudes, I'm showing a sheer and a more pigmented one. I love the texture, this brand is in my top 5 for lipsticks.