Esta es la segunda muestra de mis sombras doradas, en la que incluí alguans ambar también. Creo que son buenos tonos para usarse solos, y definitivamente ideales para el California Girl Look.
This is the second part of my gold eyeshadows, where I included some amber ones as well. I really belive these kind of shades are great to be worn on it's own, and defnitely perfect for a California Girl Look.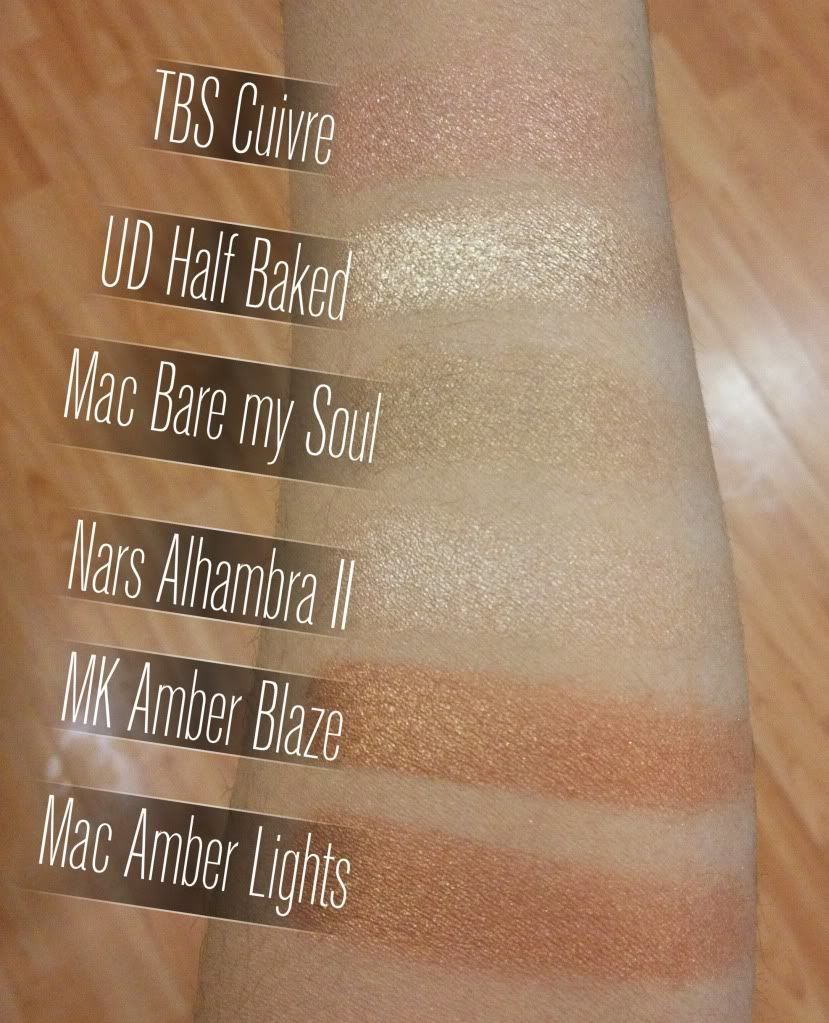 The Body Shop Cuivre: El tono claro de este duo, que se va más como un cobre claro que dorado. Muy lindo tono // The light part of this baked duo, which actually looks more like a light cooper than gold to me, pretty nice shade tho.
Urban Decay Half Baked: Es el más dorado de esta serie. Me parece algo frosty, por lo que no la uso sola sino en combinación con otros tonos. // I think this is the more gold among the ones in this series. I feel it a bit frosty for my liking, so I tend to not use it alone but in a combo.
Mac Bare my Soul: De la paleta Bare my Soul, es un dorado algo apagado, idéal para un look sutil // From the Bare my Sould palette, it's a muted gold, great for a subtle look.
Nars Alhambra II: ESte tono está algo claro y casi no se nota en mi piel, creo que funciona mejor para pieles más claras // This is quite light and it barely shows on my medium skin, so I think this works better on lighter skintones.
Mary Kay Amber Blaze: Esta ha sido una sorpresa maravillosa!!!! Tiene una gran textura, muy suave y pigmentada. Tonos como este, demuestran que se pueder ser linda sin gastar tanto // This one has been a nice suprise!!! It has a great texture, it's very soft and pigmented. Shades like this show us we can be pretty on a budget.
Mac Amber Lights: Me encanta este tono!!! Ilumina mucho mi mirada. Espero que ya se hayan dado cuenta que es muy parecido al Amber Blaze. // I totally love this shade, it enlightens my eyes in a lovely way. I hope you may have already realized it's very close to Amber Blaze.
Recs: Mac Amber Lights, Mary Kay Amber Blaze, Mac Bare my Soul.