Hoy son menos swatches, pero espero les sean de utilidad.
Today there aren't as many swatches as the past days, but I hope this helps.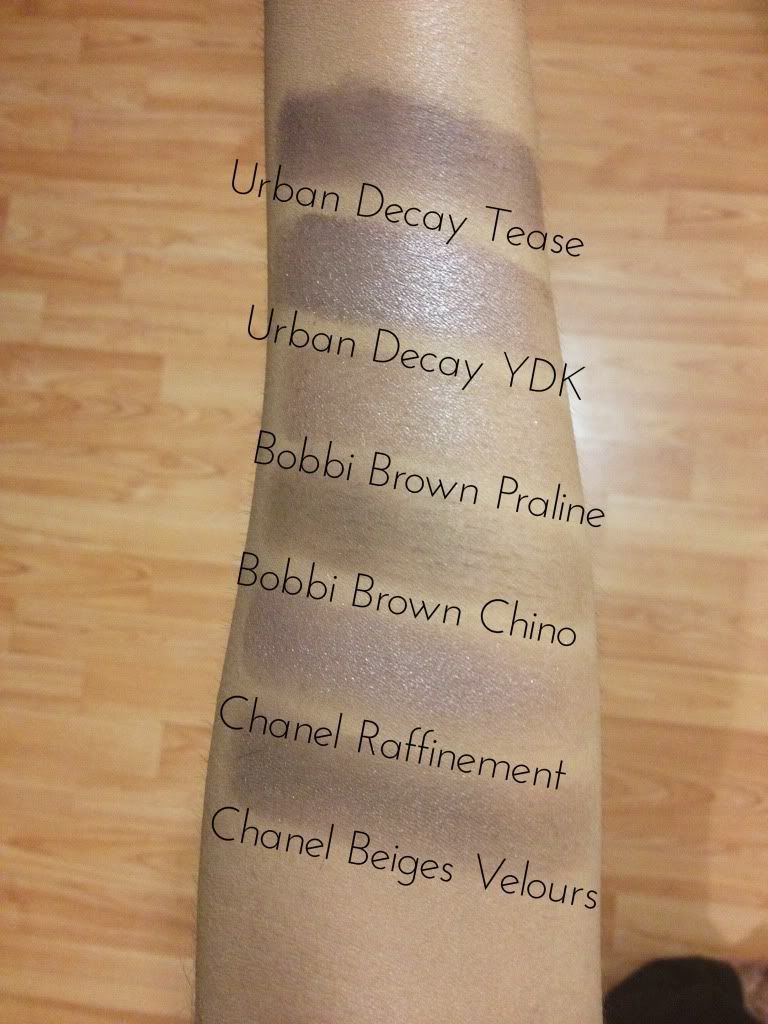 De abajo hacia arriba // From down to the top
Chanel Beige Velours: It's just the taupe shade in that quad, not sure if it's still available or it was limited edition // sólo es el tono taupe del cuarteto, no estoy segura si aún está disponible o si fue edición limitada.
Chanel Raffinement: It's just one of the shades, I promess to swatch the entire quad since I find it a great taupe quad. // sólo es un tono del cuarteto, pero próximamente les mostraré todo el cuarteto porque me parece que vale mucho la pena, sus tonos taupe son hermosos.
Bobbi Brown Praline & Chino: from the Ultra Nude palette, gorgeous shades in a terrible texture. // de la paleta Ultra Nude, hermosos colores en una terrible.
Urban Decay YDK: from Naked 2, it's a frosty brownish taupe. // de la paleta Naked 2, un taupe cafesoso algo frosty.
Urban Decay Tease: from Naked 2, a brownish taupe. // también de la paleta Naked 2, un taupe cafesoso.
Mis recomendaciones: salvo las de Bobbi Brown, todas.


My recs: except for the Bobbi Brown eyeshadows, all.
No olvides los demás swatches, puede que encuentres un tono que ya tienes o que te hace falta.
Don't forget to take a look these other taupe swatches, you probably will find a taupe you already own or the one you're missing.
Ps.. I'm now writing in English again, so my dear friend Diana can visit this blog more often :)