Aun cuando estaba interesada en algunos productos, terminé únicamente con el gloss y esmalte de unas Stardust. El cuarteto no estaba ya disponible en donde usalmente compro Guerlain, y tampoco el Rouge Automatique Insolence -el tono en el que estaba interesada. Pese a ello, hice swatches en la tienda de los Rouge Automatiques y debo decirles que no sentí que me estuviera perdiendo de algo. Ya tengo tonos similares y desafortunadamente, tanto los tonos para labios como los rubores tienen una base blanca (pastel) muy fuerte -
como Bellyhead lo notó en esta entrada
- y eso provocó que perdiera el interés. El año pasado tuve maravillosas experiencias con las colecciones de Guerlain, pero lastimosamente 2014 no empieza bien en la relación entre Guerlain y yo. Swatches y reseñas próximamente durante la semana.
Even when I was interested in other items, I ended up with only Stardust lipgloss and nail polish. The quad wasn't available anymore at my counter nor Insolence Rouge Automatique -the one I was interested in. However, I did swatch in store both Rouge Automatiques and I must say I felt I'm not missing such a big deal. I already own similar shades and unfortunately, lipsticks and blushes are too white based -as Bellyhead noted here- which made me loose interest. I had great experiences with Guerlain collections last year, unfortunately 2014 is not starting well for Guerlain and me. Swatches and reviews forthcoming later this week.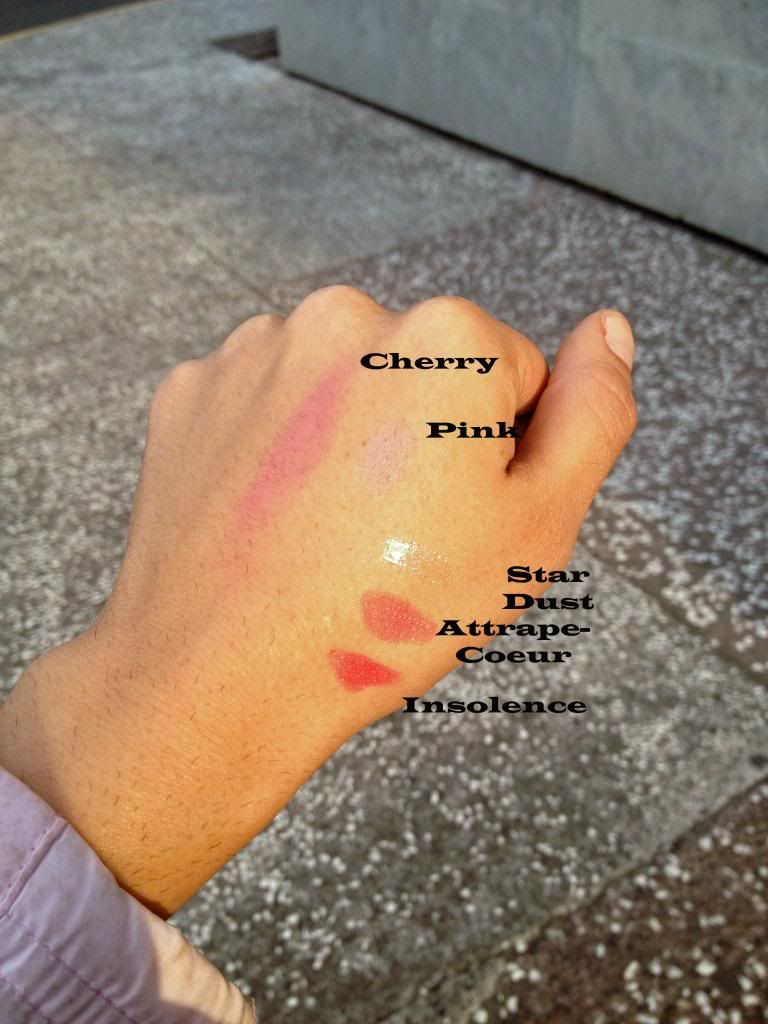 Swatches en luz natural de algunos de los productos, tomados con mi teléfono después de dejar la tienda.
Natural afternoon swatches of some items, phone picture taken when I left the counter.