L
a entrada de Bellyhead sobre el duo de Addiction Love Satisfaction
hizo que regresara mi interés en las sombras azules con tendencia al marino.

Dado que no puedo comprar Addiction en tiendas por acá, me tengo que conformar con lo que está disponible.

También en ese momento recordé la canción "I guess that's why the call it the blues" de Elton John (1983) que personalmente me parece un clásico –y la harmónica la toca Stevie Wonder.
Bellyhead's post on Addiction Love Satisfaction
duo got my interest back into blue to navy eyeshadows, and since I can't buy Addition in stores here, I have to stick with what's available.

I also immediately remembered Elton John's 1983 song: "I guess that's why they call it the blues" which I personally find it a classic –and Stevie Wonder plays the harmonic.
Hoy les comparto mis dos favoritos (Laura Mercier Sapphire & Chanel Apparition) y dos looks usándolos, pero primero algunos swatches:
I'm sharing you today my two favorite ones (Laura Mercier Sapphire & Chanel Apparition) and two FOTD's using them, first of all some swatches:
Luz de sol directa / Direct Sunlight
Luz natural interior / Natural light indoors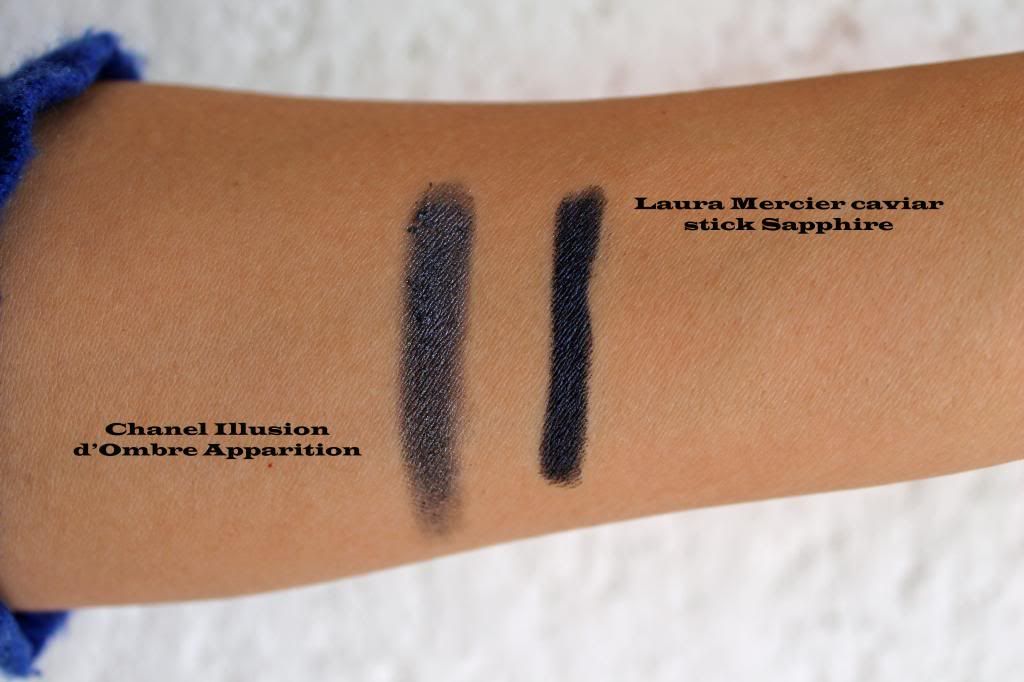 Las sombras Illusion d'Ombre de Chanel son, por así decirlo, cremosas esponjositas y particularmente con muchos brillos.

Apparition es un azul marino que encuentro dentro de las menos brillosas, o de las que tienen los brillos más finos dentro de la gama.

No estoy segura que esta siga disponible, ya que era parte de una colección y luego volvió a aparecer en otra colección de Chanel.

Sin embargo, la sombra Fusion Mono Cosmos de Dior es semejante, aunque un poco hacia el verde.

Para quienes no son gustosas de los brillitos, este tipo de sombras sólo les vendrá bien para looks de noche.
Chanel Illusion d'Ombres are foamy cream eyeshadows that are in particular very sparkly.

Apparition is a navy blue that I find it's on the less / finer sparkly side of the IdO spectrum.

I'm not sure this is still available since it was part of a collection –yet, it was repromoted in another one.

However, you can find a close teal-ish cousin in Dior Fusion Mono Cosmos (review here).

For those who are not keen on sparkles, this might be more suitable for evening wear.
Sapphire es un azul zafiro (tal cual lo marca su nombre) que viene en forma de barra, lo que hace muy sencilla su aplicación para el uso diario o como base para otras sombras.

A diferencia de Apparition, no es brillosa sino luminosa.

Ello lo hace un tono más adecuado para el diario, en particular para quienes gustan de usar sombras oscuras de día.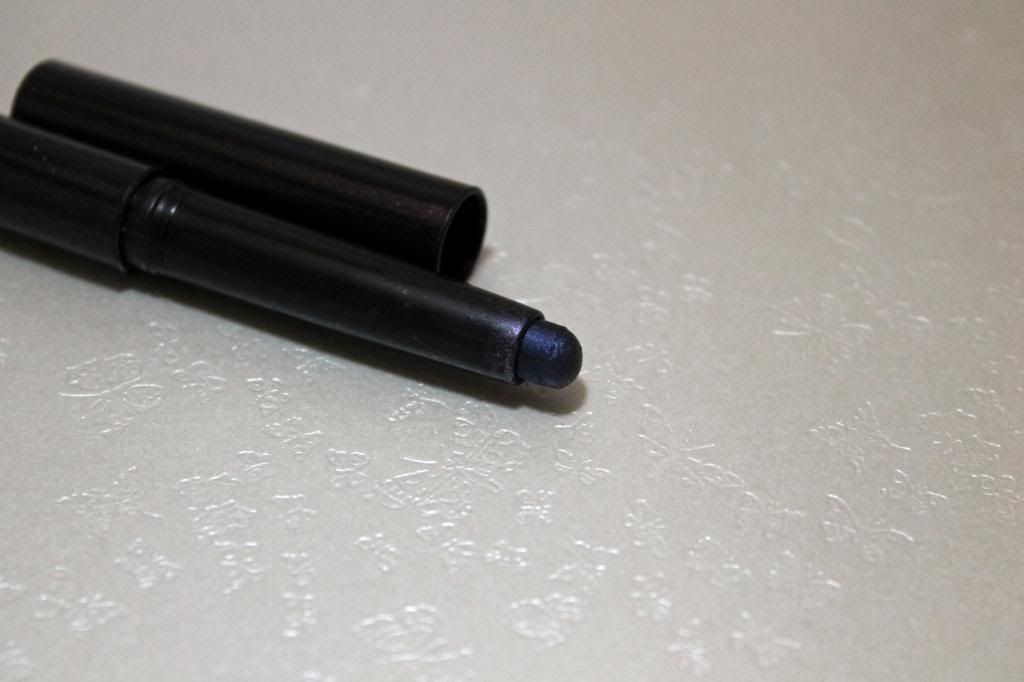 Sapphire is a jewel blue cream eyeshadow that comes in stick form, which makes it easier to apply for everyday wear or as a base.

Unlike Apparition, this one isn't sparkly but shimmery.

That makes it more wearable for everyday wear, especially for those who like quite dark eyes on a daily basis.
FOTD 1: using Laura Mercier Sapphire to add depth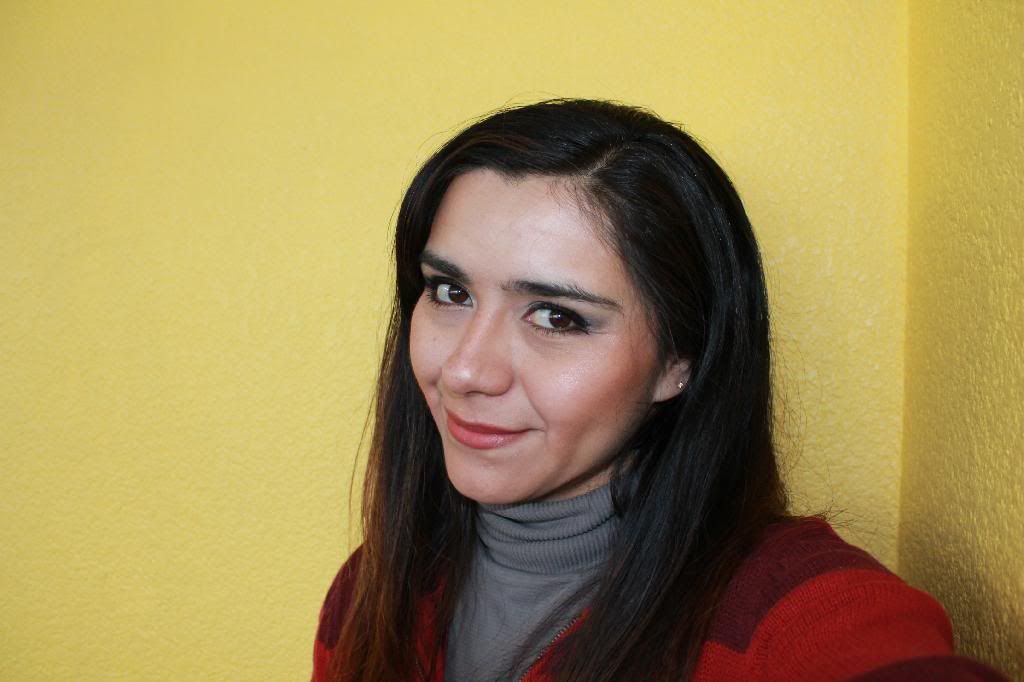 Laura Mercier Free Spirit palette (baby and darker blue) and caviar stick Sapphire to add depth.

Usual eyeliner and mascara (Dior, Clinique, KvD)

Chanel Vitalumiere Douceur B30

Chanel Terre Epicé (bronzer)

Laura Mercier Rose Bloom blush

Bobbi Brown Rose Gold Shimmerbrick

Couleur Caramel l/s #118 (holiday collection)
FOTD 2: Chanel Apparition with Illusion
Chanel IdO Illusion on inner corner and Apparence on outer v and as eyeliner

Diorshow WP & Clinique Bottom lash

Chanel Vitalumiere Douceur B30

Chanel Terre Epicée

Laura Mercier Rose Bloom blush

TheBalm Mary-Lou Manizer (trying to see if I make this frostiness work)

Laura Mercier Creme Smooth Antique Pink