Estoy trabajando en mejorar mi voluntad para tomarme un poco más tiempo para elegir mi atuendo, y salir de mi zona de confort aventurándome a usar más color.

Es una tarea algo complicada, tomando en consideración que si me he vuelto difícil para elegir maquillaje, lo soy más aún para elegir ropa.

Me gustan los atuendos clásicos, simples y con estilo –piensen en una combinación de la Princesa Diana, Gwyneth Paltrow y Victoria Beckham, pero con algo de flojera para recrear el estilo preferido.

Además, casi siempre tengo la impresión de que si combino más de dos colores o estampados voy a terminar como piñata.

Por ello casi siempre me voy por el negro que es algo seguro.
I'm working on improving my will to take a little more time to choose my outfits, and go out my black comfort zone adventuring into a little bit more color.

That is a pretty difficult task, counting the fact that if I turned picky for choosing makeup, I'm even pickier for choosing clothes.

I love classic simple stylish outfits -think a combo Princess Diana, Gwyneth Paltrow and Victoria Beckham, but in a pretty lazy mood to recreate the preferred style.

Also, most of the time I feel that if I combine more than 2 colors or patterns, I will end up looking like a piñata.

That makes me go for safe black.
No obstante, dado que empezó un nuevo año tengo el propósito de salir un poco del negro y experimentar con la ropa en combinación con el maquillaje –aunque ello implique un par de minutos menos de sueño.

Este es el primer intento, agregando animal print a negro de siempre, y también algo de rojo.

La inspiración proviene de Pauline de Oh MyDior (les recomiendo mucho leer su blog) quien amablemente publicó algunas ideas para usar animal print con otros colores que no sean negro en sus cuentas de Facebook y Twitter.

También traté de que el maquillaje fuera acorde al atuendo y aquí está el resultado:
However, since a new year is starting I have to purpose to leave a little bit my safe black and start experimenting with clothes in combination with makeup –even when that might mean a couple of less minutes of sleep.

Here is the first attempt, including leopard print to my usual black and red.

Inspiration came from Pauline from Oh My Dior (I highly recommend you reading her blog) who kindly posted some ideas of how to use leopard print with other colors than black on her facebook page and Twitter.

I tried to match makeup to the outfit and here is the result: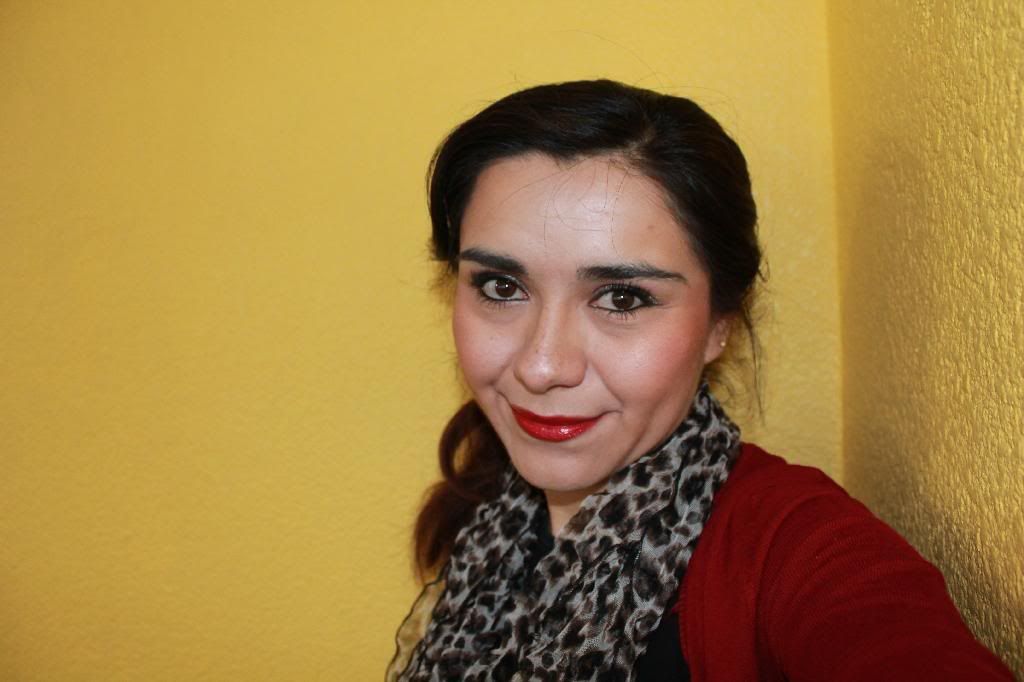 Una disculpa de antemano porque no hay fotos de todo el atuendo completo, supongo que debo encontrar una solución a ello en el futuro próximo.
I apologize I can't take pictures of the entire outfit, I guess I'll have to manage doing that sometime in the near future.
Skin79 CC cream as primer

Chanel Vitalumiere Douceur B30

Chanel Correcteur Perfection concealer

Chanel Initiation & Mirifique Illusion d'Ombre

Diorshow WP & Clinique Bottom Lash

L'Oreal Kajal

Chanel Terre Epicée bronzer

Mac Love Thing mineralized blush

BB shimmerbrick Bronze

Hourglass Icon lipstick & lipgloss

Anastasia brow gel brunette