Uno de mis labiales líquidos favoritos es de Giorgio Armani, en particular los rojos. No resecan los labios aunque son mates y tienen buena duración. Lo único que no me gusta es que deja marcas y puede correrse un poco. Uno de mis tonos favoritos es el 400, un rojo verdadero –también me gusta este tono en Rouge d'Armani.
One of my favorite liquid lipstick formula is by Giorgio Armani, in particular the red ones. They are not drying even when it's matte and wears quite well. My only let down is that stains cups and can bleed a bit. One of my favorite shades is 400, a true red –I also love Rouge d'Armani 400.
Aquí hay unos swatches comparativos con otros labiales líquidos o glosses pigmentados.
Here are some comparison swatches with other red liquid lipsticks or pigmented lipsglosses.
Luz de sol / Sunlight
Luz natural interior / Natural light indoors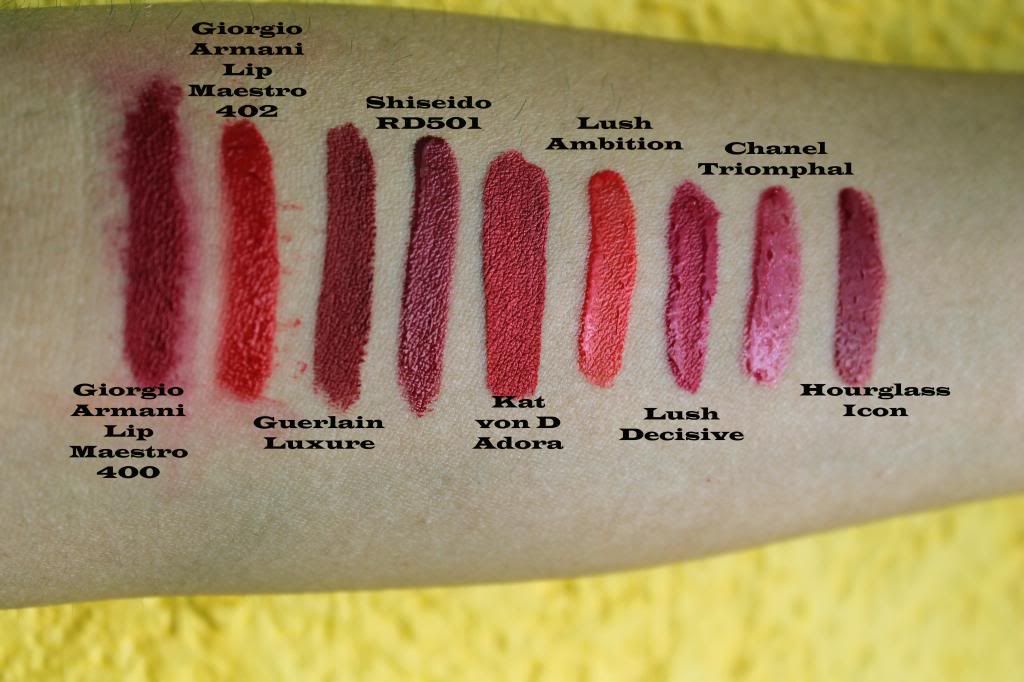 The Borgias FOTD
Ahora aquí hay un look en el que usé ese tono inspirado en la serie "The Borgias" –una de las pocas que más me han gustado. Probé flores en mi cabello como se mostró en
Oh My Dior
, y les apuesto a que no adivinan qué elemento de maquillaje no uso en este look.
Now here is a FOTD I did with this shade inspired on the show "The Borgias" –one of the few I'm really enjoying lately. I tried flowers on my head as seen on Oh My Dior, and I bet you can't figure out which makeup item I didn't use.