Hoy es mi segundo intento de hacer un look con el Rose Ballerine de Lancome, esta vez lo apliqué con la brocha #6 de Chanel (para rubor). Esperaba lograr una aplicación más intenso, ya que es una brocha regular para aplicar rubor (similar a la Mac 116). Sin embargo, no siento que haya mucha diferencia entre esta aplicación y la que logré con la Yachiyo de Nars. Esto confirma mi sospecha de que aplica sutilmente y de que este rubor funciona para tonos de piel media o más clara, mientras que tonos más oscuros van a encontrarlo un poco parecido a un gis.
Today is my second attempt of doing a FOTD using Lancome Rose Ballerine, this time I applied with Chanel #6 (blush brush). I was expecting to get a little more intense look with it, since this brush has the regular blush brush shape (similar also to Mac 116). However, I don't feel there's much difference between this and the way it looks applied with Nars Yachiyo. This confirms my suspicions that it has a suble application and that this will work better for medium or lighter skintones, while on darker skintones it could look a bit chalky.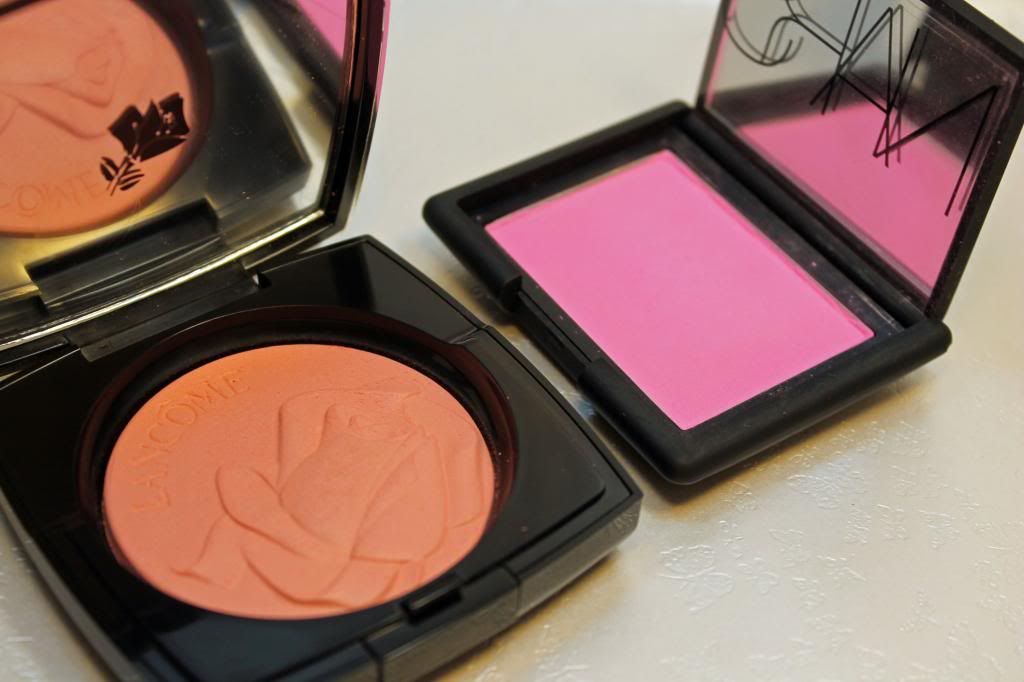 Aquí hay otro tema interesante a mencionar: mi piel es de lo más raro que hay respecto a cómo se ven los tonos aplicados sobre la piel en comparación con cómo se ve en el empaque. Este rubor se ve cálido en el empaque, en especial si lo comparas con el Gaiety de Nars que se ve de tono frío. ¿Por qué me parece mi piel rara? Porque al aplicarlo se ve frío -con un alto riesgo de verse como gis- en mi piel mientras que el Gaiety se ve relativamente cálido al aplicarlo, y más oscuro. En fin, vamos al look:
There's another interesting thing to point out: I found my skin is the weirdest thing on earth regarding to how shades apply compared to pan. This particular one looks warm in the pan, especially if you compare it to something like Nars Gaiety that looks quite cool in the pan. Why do I say my skin is weird? Just because this one applies on the cool side –with a high risk of looking chalky- on my skin while Gaiety applies fairly warm and darker. Anyway, let's move on to the FOTD: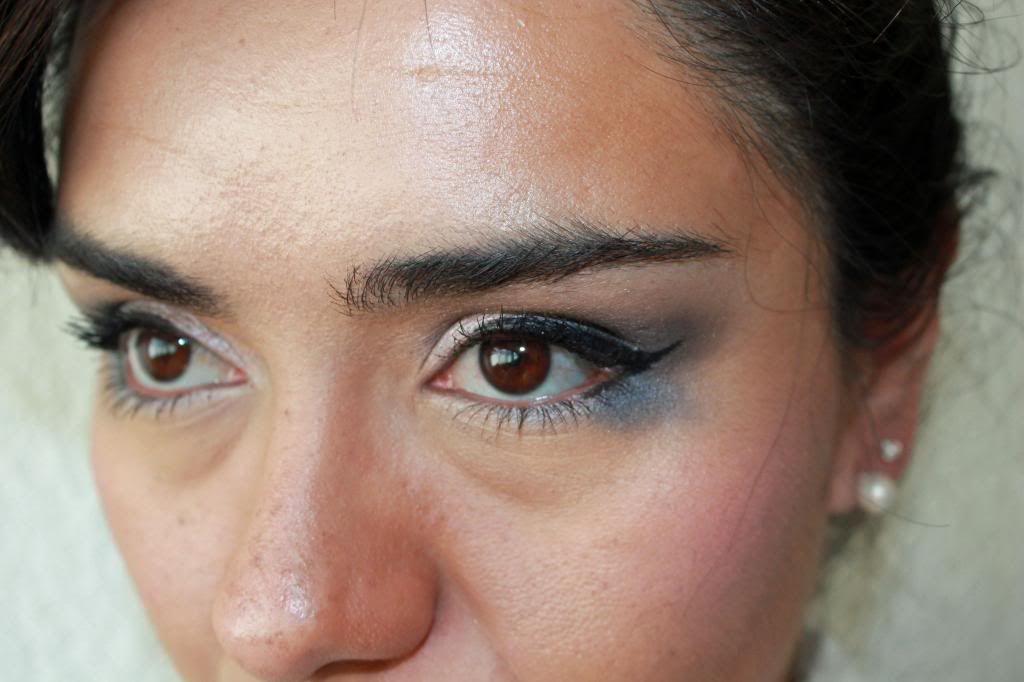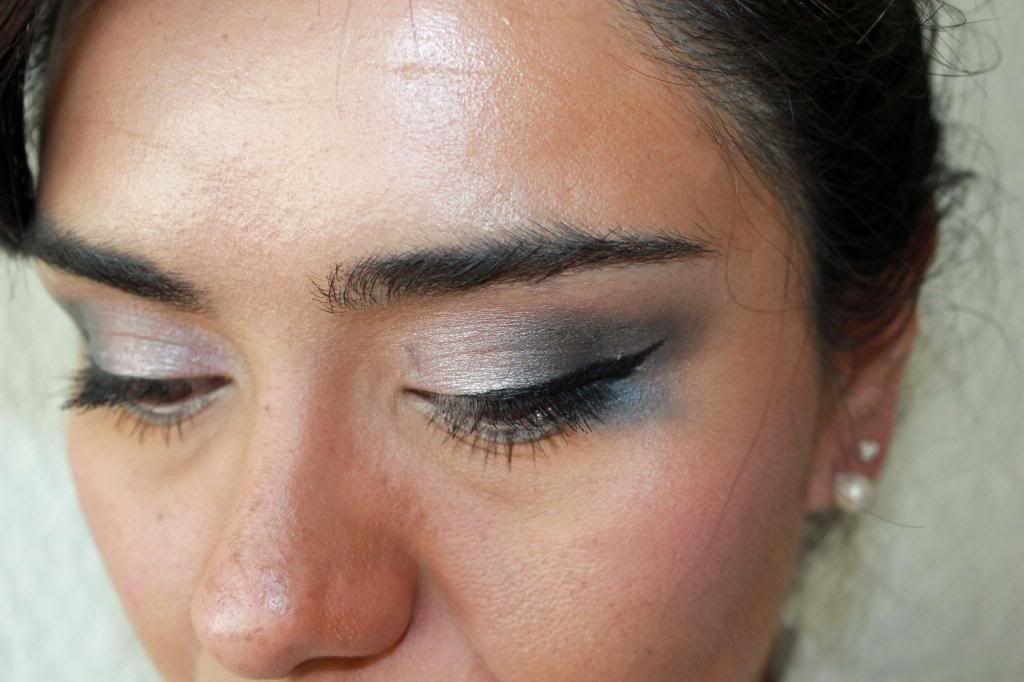 Sigo en la tendencia glamorosa del post pasado, pero con una ligera tendencia hacia el maquillaje editorial -que funciona bien como una descripción elegante de sombras poco difuminadas. La esquina exterior del ojo está en azul oscuro aplicado de forma similar a los
45°
y/o
smoked wing
, pero un poco menos difuminado que el anterior. Pese a que el efecto se ve tipo editorial, la verdad es que usé el Caviar Stick de Laura Mercier en el tono Sapphire para lograr profundidad pero debido a que este producto seca rápidamente no me alcanzó el tiempo para difuminarlo bien -por favor consideren esto al usar los Caviar Sticks de Laura Mercier, son maravillosos y duran como si fueran acero... sólo asegurata de difuminar bien. También usé el Caviar Stick en Rosegold para la esquina interior, y de ahí apliqué tonos de la paleta Free Spirit de la misma marca (colección de Verano 2013) y apliqué el tono rosado sobre el rosegold, el azul oscuro sobre Sapphire, el azul claro como delineador inferior y el tono taupe para difuminar el caos del azul. En los labios estoy usando el Rouge Automatique Chamade de Guerlain.
I'm still on the glamorous vibe I was in my latest post but going to the edge of editorial makeup –that's the fancy way of describing a poorly blended eyeshadow. My outer corner features dark blue that's placed in a way similar to 45° and / or smoked wing, but a little bit less blended than the former. As much as this effect looks editorial-ish, the true is that I used Laura Mercier Caviar Stick Sapphire to get the deepness but this particular product sets fairly fast, so I couldn't totally blend it –please keep this in mind when using Laura Mercier Caviar Sticks, they are wonderful and wear like iron… just make sure you blend well before they set. I also used Caviar Stick in Rosegold for inner corner, and then took the Free Spirit palette (same brand, from Summer 2013 collection) to apply the pink shade over rosegold, the darker blue shade over Sapphire, the baby blue shade as lower lashline and the taupe to blend my dark blue chaos. Lip is Guerlain Rouge Automatique Chamade.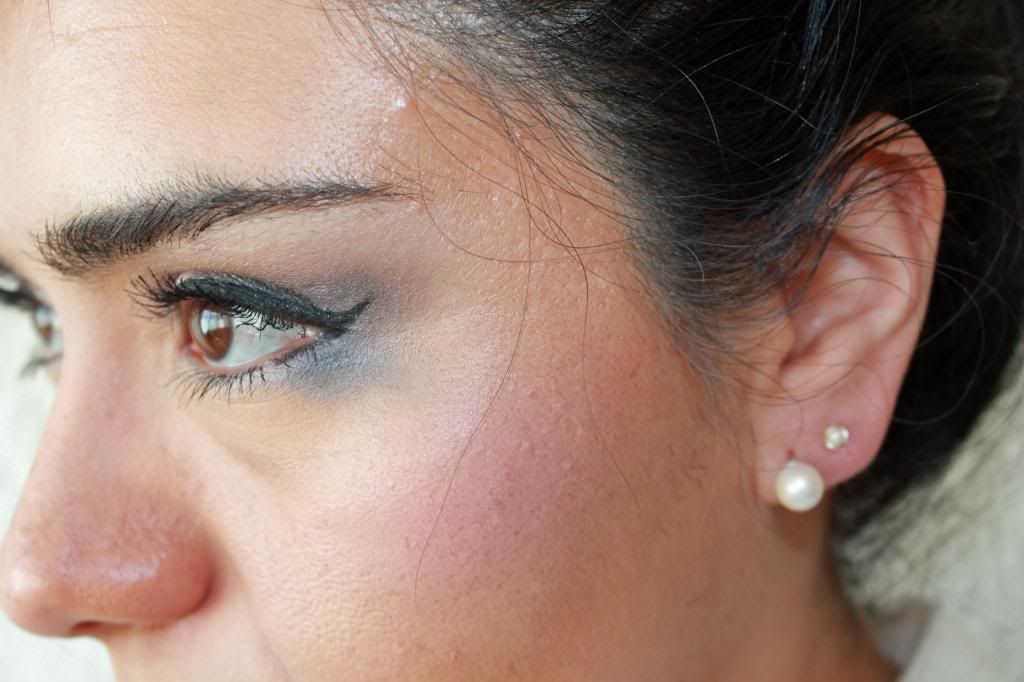 Hasta el momento, el Rose Ballerine parece funcionar para looks sutiles. Necesito probarlo sobre iluminadores líquidos o en crema, y también aplicarlo con una brocha aún más densa. Sigan al pendiente!
So far, Lancome Rose Ballerine looks fine for everyday soft looks. I need to try it over a liquid or cream highlighter, and applied with an even denser brush. Stay tuned :p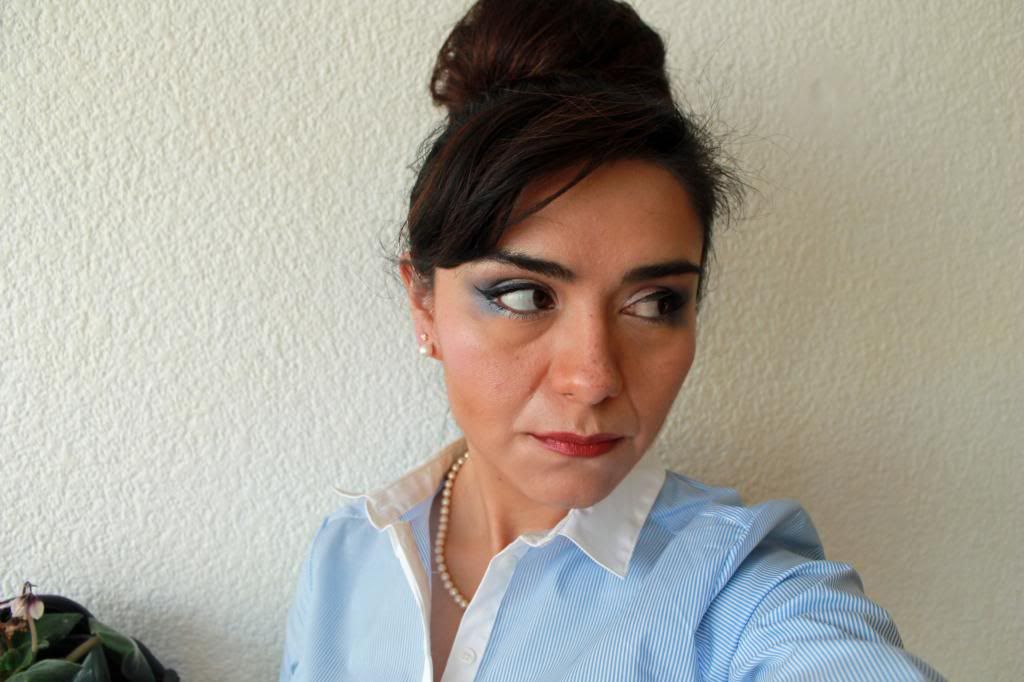 PD... si se preguntan qué le pasa a mi pobre plantita, les cuento que es una Violeta Africana y al parecer no le está gustando el lugar en el que está, por lo que debo cambiarla a uno con menos luz. Espero que mejore pronto.
Ps… If you're wondering about my poor plant in the pictures let me tell you it's an African Violet and seems it's not liking the spot so I need to change it to a less sunny place. I also hope it gets better soon.