Admito que me negaba a probar los nuevos cuartetos reformulados de Chanel, pese a que las imágenes de promoción son realmente adorables. El principal motivo es que ya tengo varias paletas de Chanel que en cuanto a tonos me resultan similares a esta gama, sea la fórmula que sea. Sólo hubo dos que me llamaron la atención: Tisse Venitien y Tisse Gabrielle. Hice una búsqueda en blogs para elegir, ya que decidí mantenerme en "low buy" (es decir, comprar poco) -aunque eso suene a tarea imposible dado que tengo un blog de maquillaje. Sara Beau Time de
Color me Loud
me ayudó mucho en esto, y también algunos comentarios en Makeup Alley -especialmente el amor de MariellaFromBe a esta fórmula, ya que tiene un gusto impecable. Cuando fuí a verlas en persona Tisse Venitien me pareció como un sueño hecho realidad, pero sólo le daría uso en looks de noche, así que me fuí por Tisse Gabrielle que me pareció más para usar de día.
I admit I really hesitated to get the new reformulated Chanel quads even when the promo pics are stunning. The main reason is that I already own quite a few Chanel quads and most seem very similar to what I already own, new formulation or not. There were only two that really caught my attention: Tisse Venitien and Tisse Gabrielle. I did a blog search to make my mind, since I decided I keep a low buy –as difficult as that sounds when beauty blogging. Sara Beau Time from Color me Loud was very helpful, also some comments on Makeup Alley boards –especially the love of MariellaFromBe to these, since she has an impeccable taste. When swatching at the counter I found Tisée Venitien like a dream come true, but only perfect for nightwear so went for Tisée Gabrielle that seemed more suitable for everyday wear.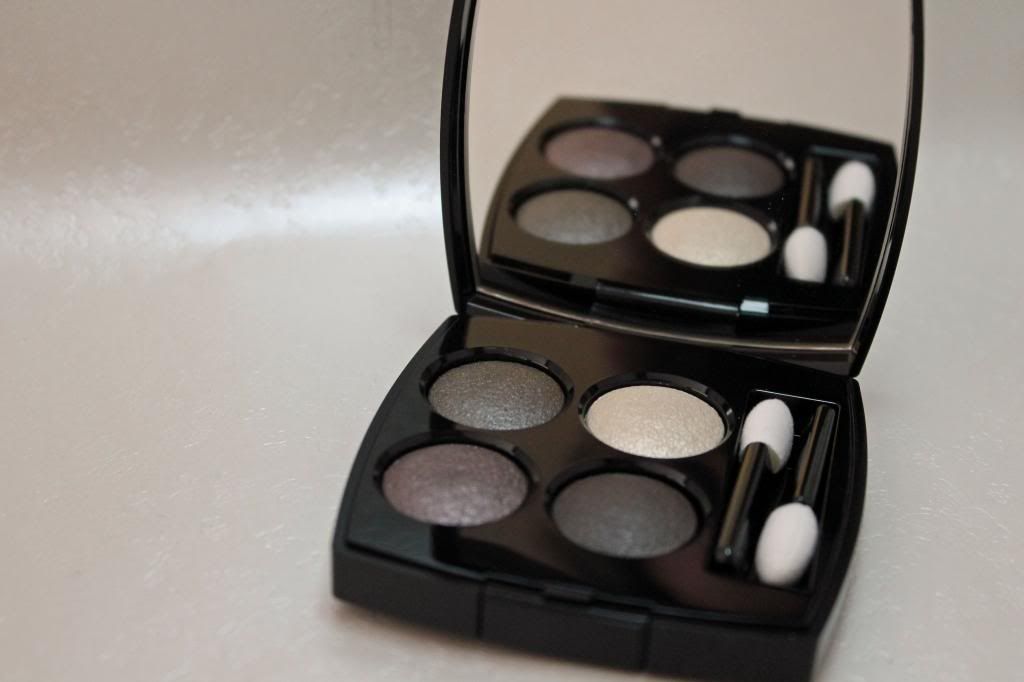 No tuve oportunidad de hacer swatches decente, pero si tienen la paleta Ombres Perlés de la coleccion de Primavera 2011 (Chanel) me parece que pueden no comprar ésta -y justo yo debí recordar eso en la tienda. Por favor tomen nota que las siguientes fotos se tomarón mientras jugaba con luz artificial cálida y fría, así que por favor diganme cuál prefieren. De pronto me parece que la luz cálida se ve algo como sepia, no?
I didn't have time to do some decent swatches, but if you have the palette Ombres Perlés from Spring 2011 (Chanel) I think you can skip this one -I should have remembered that at the counter. Please take note that in the following pictures I'm playing with both warm and cool artificial lighting, so please let me know which one do you prefer. I find warm lighting looks a little bit like sepia, right?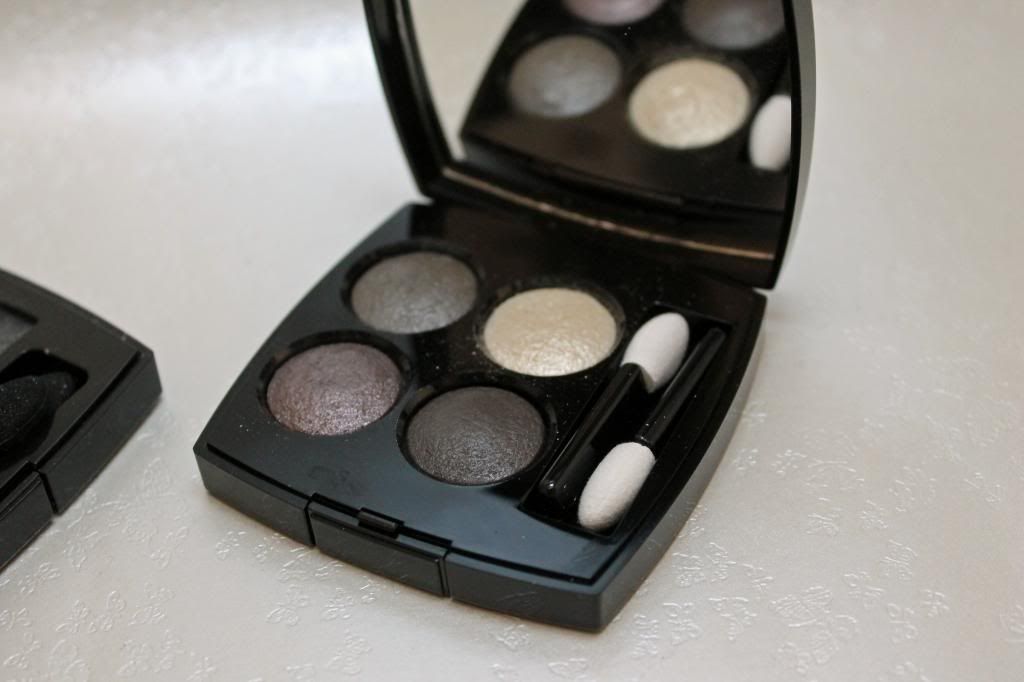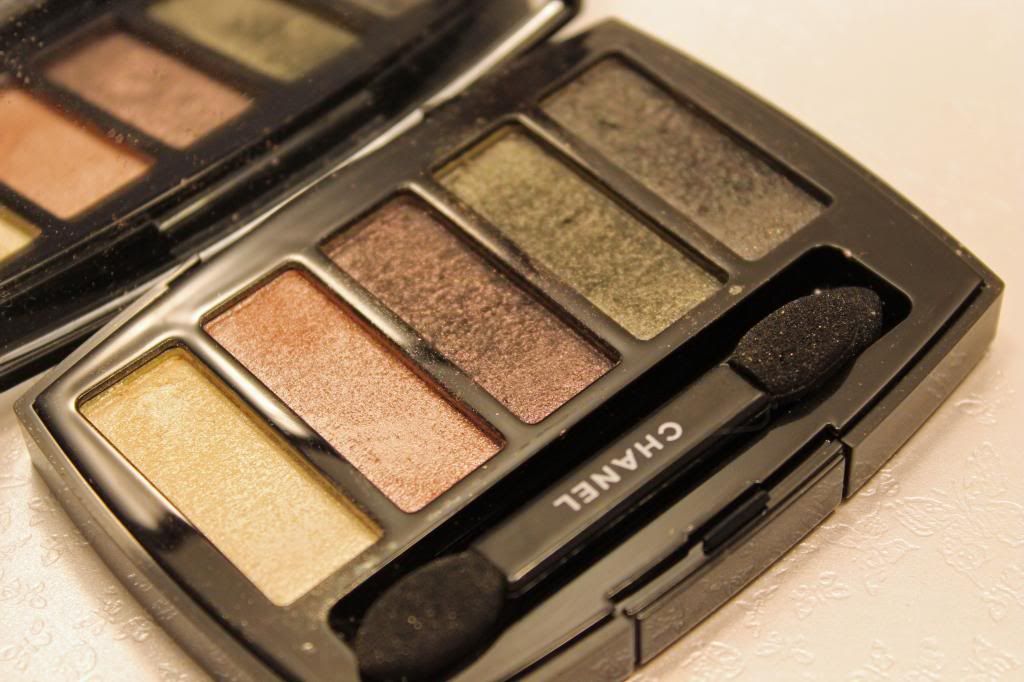 Aquí está mi primera prueba con esta paleta. Usé el tono marfil en la esquina interior, el gris oscuro como acento mientras el taupe morado como delineador inferior y el negro como delineador superior.
Here is my first attempt with it. I applied the ivory shade on the inner corner, deep gray as accent while purple taupe as lower lash line and black as eyeliner.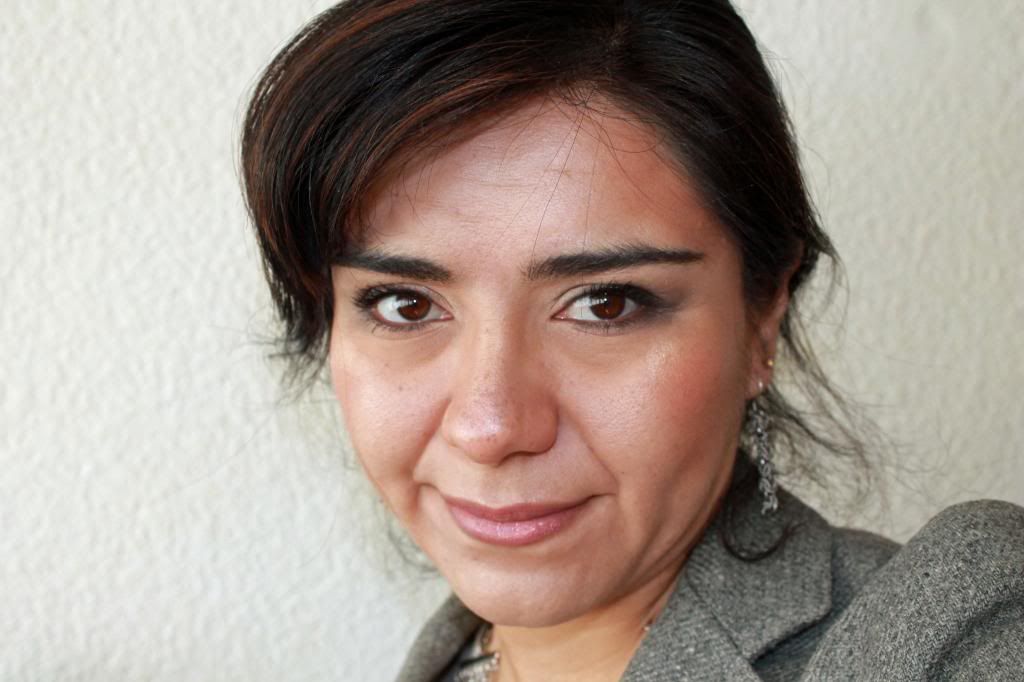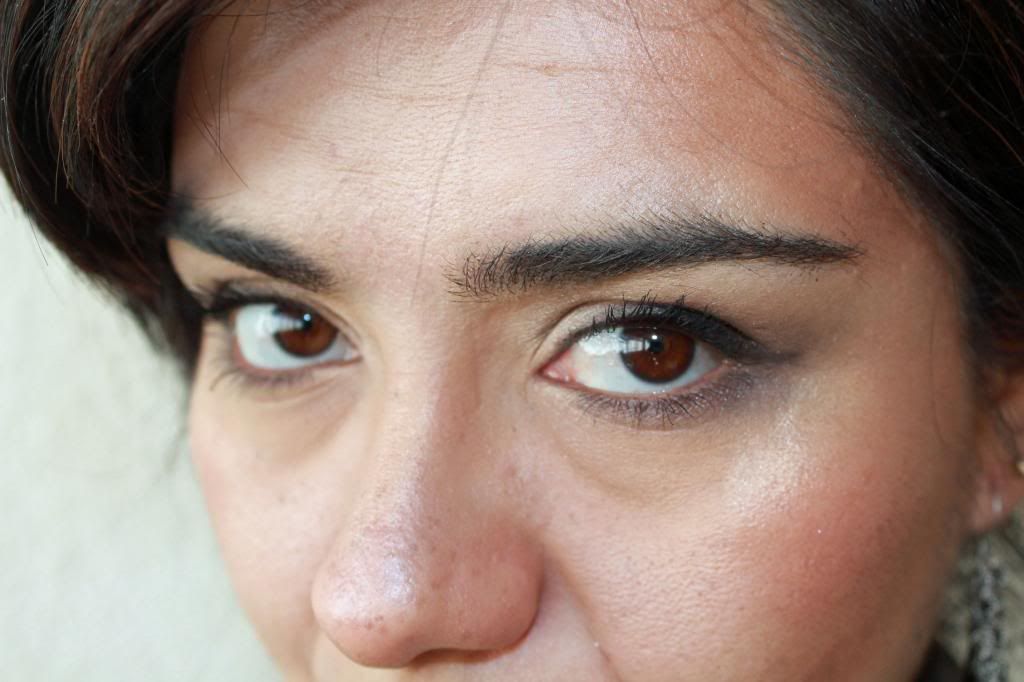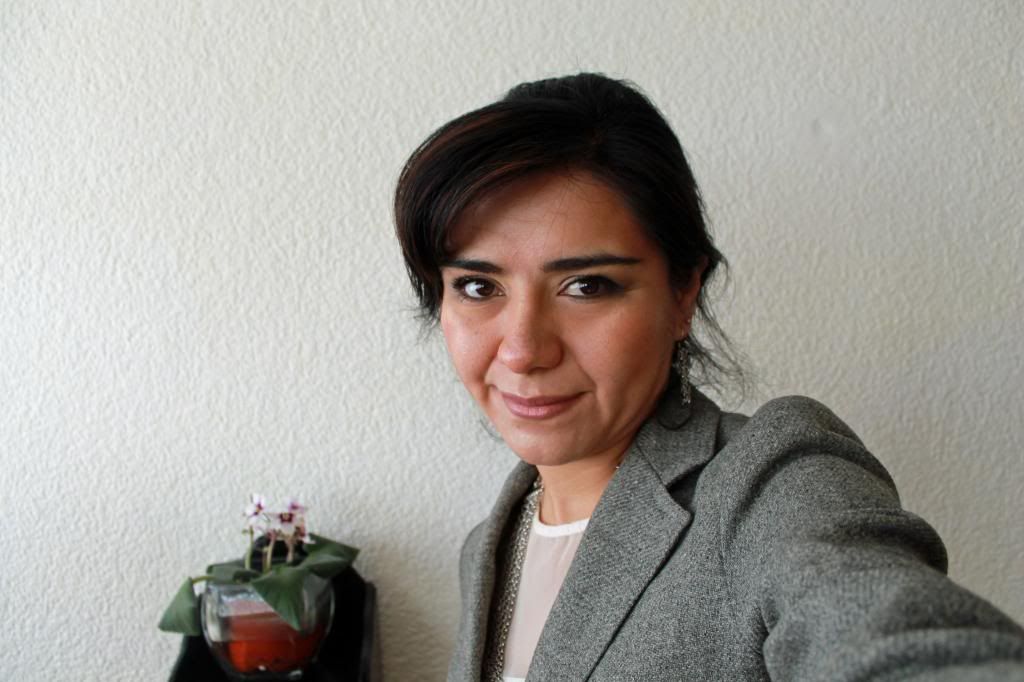 Aquí hay una segunda prueba, con fotos desde mi teléfono, hechas un día que no tuve tiempo para fotos antes de irme a trabajar. En verdad les pido disculpas por la cara de cansancio, pero he estado muy ocupada en la oficina y me ha faltado sueño. En este intento mantuve el tono marfil en la esquina interior, usé el tono morado como acento, el gris oscuro en la cuenta e hice un delineado con rabillo con un delineador de plumón de Kat von D y luego le apliqué el negro encima para difuminar un poco.
Here is a second attempt done with phone camera, on a day I didn't have much time to take pictures before leaving to work. I really apologize for my tired face. I've been very busy at work and I'm lacking some sleep. In this attempt I kept the ivory shade on inner corner, used the purple taupe as accent, deep gray on crease and did a winged eyeliner with Kat von D pen eyeliner and I applied the black on top to smudge a bit.
Aquí es cuando uno se da cuenta que la cámara si hace la diferencia. En ambos casos, estoy usando el rubor Love de Nars y el iluminador Albatross de la misma marca, y en los labios puede estar el Dior Addict Extreme Chérie Bow, YSL Glossy Stain #6 o #7 -estuve usando indistintamente esos tonos durante esos días. Tengo la impresión de que algo falta, me parece que no hay suficiente contraste para mi coloración (invierno oscuro), así que tuve que aplicar mi típico delineado interno en negro. Es discreto y me parece que funciona bien para la oficina, pero insisto en que algo le falta, y me hace pensar que debí comprar Tisse Venitien. Como Shryh en MUA me hizo ver, tal vez no hay suficiente contraste en los tonos de esta paleta para que funcione bien en mi, y probablemente no logre que los cuatro tonos funcionen en un look. Voy a hacer más experimentos usando sólo dos tonos al mismo tiempo.
This is when you realize the camera does make a difference. On both cases, I'm using Nars Love and Albatross on cheeks and either Dior Addict Extreme Chérie Bow, YSL Glossy Stain #6 or #7 –I rotated those 3 indistinctively during those two days. I really felt something was missing, that there wasn't enough contrast for my deep winter coloring so I had to add my typical inner black khol. It's subtle and work appropriate but there's still something missing here, that makes me wonder if I should have tried Tisse Venitien instead. As Shryh on MUA make me note, maybe there isn't enough contrast among the shades in the palette to work for my coloring, so I may not be able to make all the shades work in a single FOTD. I will do further experiments using only two shades at a time.
Conclusión preliminar: debo probarla un poco más, pero sigo pensando que debí llevarme Tisse Venitien.
Preliminary Bottomline: I need to test it a little bit more, and I still wonder if I should have got Tisse Venitien instead