Me tomé toda una semana corta para probar esto –puedes ver mis primeras pruebas aquí. Después de ello, ya tengo una opinión más firme sobre esta paleta y la puedo compartir. Me parece que es una maravillosa opción para el uso cotidiano, y en verdad lo recomendó para pieles medias o más claras que están en búsqueda de algo neutral que se pueda usar entre semana para la oficina pero diferente de los tradicionales beige y café. La fórmula es efectivamente mejor que la que está disponible en Europa y México. No obstante, me parece que hay algunos puntos que deben tenerse claros antes de comprar:
I've taken a full short week to test this –you can see my first attempts here. After doing so, I can now have a full opinion on this palette and share it. It's a great option for every day wear, and I totally recommend it for medium or lighter skintones who are looking for something neutral that can be used on weekdays at the office and that's different from the traditional beige-brown combos. Formula is indeed far better than the previous baked eyeshadow that's available in Europe –and also in Mexico. However, there are a couple of things to keep in mind:

Como van a ver en las fotos de abajo, esta paleta funciona mejor usando sólo dos tonos a la vez en tratar de usarlos todos. El principal motivo es que los tonos oscuros son muy similares entre sí, por lo que no hay suficiente contraste. Se debe usar el tono marfil combinado con otro más.
As you will see below, this one works better when using just two shades of it instead of trying to use the 4 shades in a look. The main reason is that the darker shades can look pretty close so you don't get enough contrast. Use the ivory eyeshadow and another one.


Aunque la fórmula es mejor que lo que había antes, de todas formas necesitas un pincel denso y pequeño para tomar suficiente pigmento y evitar que el color se aplique muy ligerito. Me parece que se requiere un pincel con la forma del Mac 239 para estas sombras, en lugar de uno menos denso que podría ser el 217 de Mac. Otra buena idea –que me dio MariellaFromBe- es usar tus dedos –si los usamos para las sombras en crema, por qué para estas no?

Even when the formula is better than the previous baked one, you still need a small dense brush to avoid an ultra sheer application. I've found it works better with a brush shaped like Mac 239 than with a fluffier one like Mac 217, another good idea –as MariellaFromBe pointed- is using your fingers.
Si quieres una aplicación muy oscura, vas a necesitar usar una sombra en crema como base o un delineador, y el resultado es muy lindo desde mi perspectiva.
If you want to make it darker, you will need a cream eyeshadow base or eyeliner to achieve that, and gives you a very nice outcome in my opinión.
Ivory + Dark Gray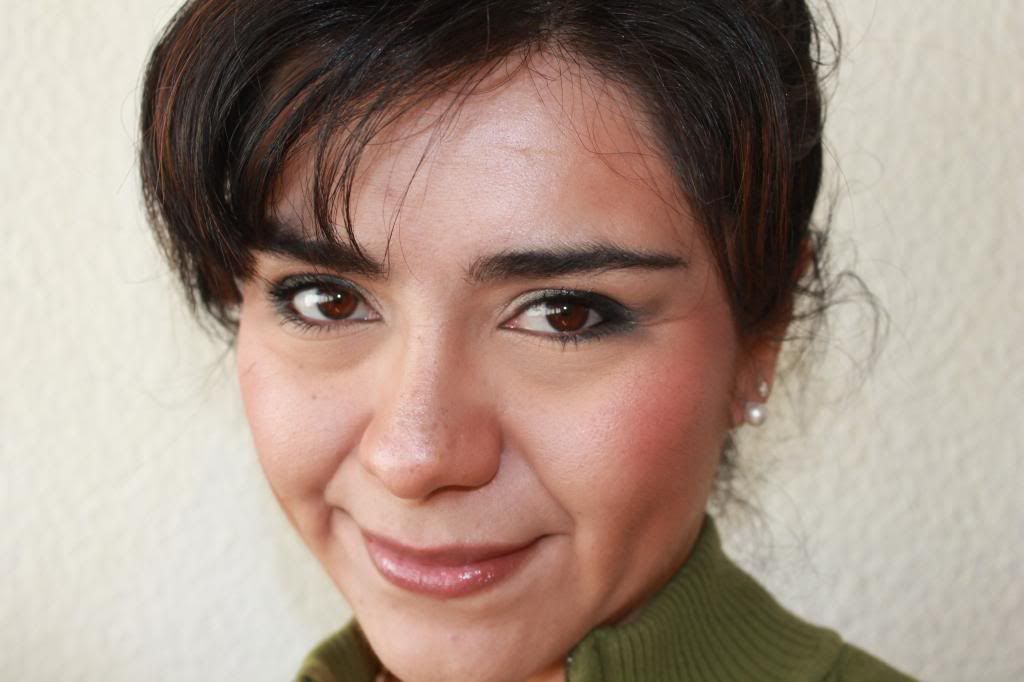 Apliqué el tono marfil en todo el párpado, luego hice un delineado con rabillo usando el delinador en plumón de Kat von D y apliqué el tono gris oscuro encima para difuminar. También estoy usando el duo de bronceador e iluminador en crema de Hourglass como contorneo, y fijé con un poco de Laguna de Nars. Como blush usé el Corail Bagatelle de Dior y en los labios… únicamente el Dior Addict Gloss 043, lo cual implica que prácticamente es el color de mis labios sólo un poco más brillante.
I applied the ivory shade all over lid, then did cat eyeliner with Kat von D pen eyeliner, and applied the deep gray eyeshadow on top and smudged it. I'm also using Hourglass duo bronzer / highlighter to contour a bit, and applied some of Nars Laguna over it. I'm also using Dior Corail Bagatelle blush, and on lips... it's just Dior Addict Gloss 043, which means it's pretty much my natural lip shade just a bit glossy
Ivory + Purple Taupe
Este intento resultó más sutil que el anterior pese a que es exactamente la misma aplicación. Tal vez lo único diferente es que no delinee por dentro el ojo y en su lugar agregé un poco de brillo blanco: la sombra en crema top coat de Givenchy sobre el tono marfil y el delineador líquido blanco de la colección RiRi de Mac en las pestañas inferiores. De nuevo usé el Corail Bagatelle de Dior pero esta vez en los labios usé el Rouge Allure Melodieuse de Chanel junto con el Glossimer Sonate de la misma marca.
This try turned out to be more subtle than the previous, even when it's the same placement. I didn't tightline and didn't do any inner black lining, but added a bit of white-ish sparkle: Givenchy cream eyeshadow top coat on inner corner and Mac RiRi White liquid eyeliner on lower lashes. Cheeks is Dior Corail Bagatelle and Lips is Chanel Rouge Allure Melodieuse with Sonate Glossimer on top.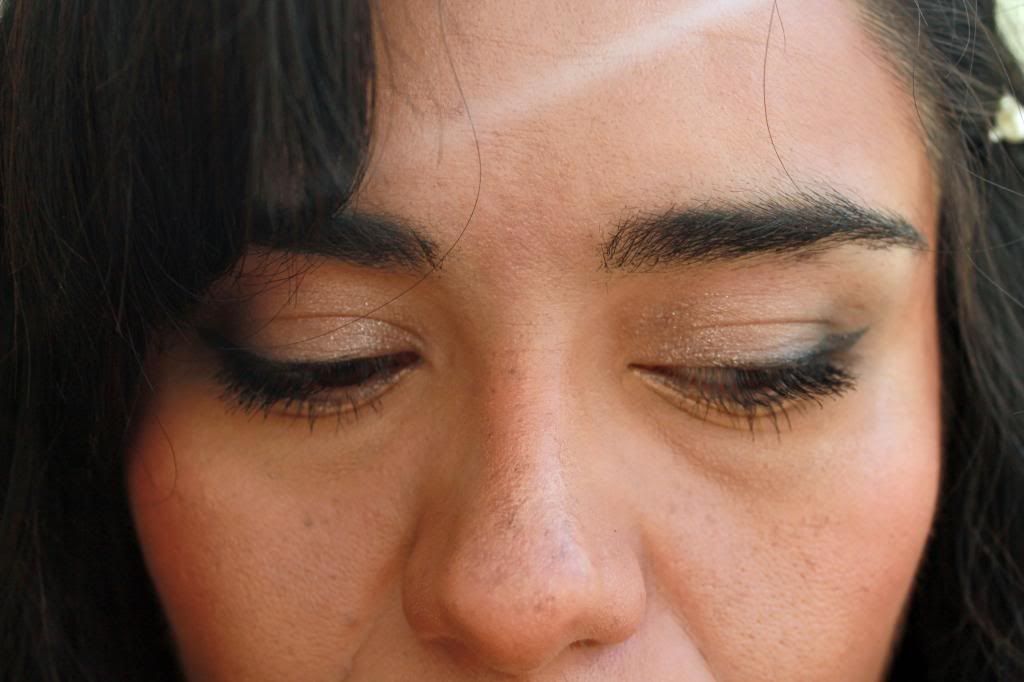 Ivory + Black
Este tono negro es bastante sutil, así que no me parece opción para usarse como delineador sino como un tono para difuminar y dar profundidad a otros tonos. En esta ocasión usé otra sombra en crema de Givenchy en café –de la que tengo una pequeña muestra. Hice prácticamente un cat eye gráfico con la sombra en crema, después apliqué el tono marfil en la parte interna del ojo y usé el negro para difuminar el cat eye –y de todas formas, se nota. Este me parece un maravilloso smokey eye delicado que se puede usar en el día –sin verte como actriz de telenovela. Me mantuve con los tonos coral en mejillas y labios (Dior Corail Bagatelle, Chanel Rouge Allure Pimpante y Lancome Gloss in Love 146).
I've found the black shade pretty sheer, so this is not an option to use as eyeliner but like a good blending shade to make other shades darker. I applied as a base the new Givenchy cream eyeshadwow, in a brown shade I got as a sample. I did an almost graphical cat eye with cream eyeshadow, then applied ivory on inner corner and black to diffuse the cat eye –yet, you can see it's still there. I think this is a wonderful soft smoked look you can use for day wear –without looking like a Telenovela actress. I paired it with coral cheeks and lips (Dior Corail Bagetelle, Chanel Rouge Allure Pimpante and Lancome Gloss in Love 146).
Conclusión final: esta paleta es una gran aliada para un look arreglado en los días de trabajo. No estoy completamente loca por la paleta y definitivamente no es la favorita de mi colección, pero me parece que le voy a dar mucho uso en el ambiente en que normalmente me desarrollo. Como lo dije antes, si quieres algo neutro que te permita verte arreglada en la oficina pero no quieres seguir con el aburrido combo beige y café, está es una gran alternativa.

Final Bottom line: This is a great partner for a polished look during working days. I'm not totally crazy about this one and it's definitely not the most beloved palette in my stash, but I'm sure it will get a lot of use due to my usual environment. As said before, if you want something neutral to help you look polished for work days but want to go out the boring beige-brown combo, this one is a great option.