Muchas cosas han pasado últimamente en ese mundo paralelo llamado "mi vida más allá del blog de maquillaje". De hecho, a veces ello me dificulta estar acá:
Many things have been happening lately in that parallel world called "my life outside beauty blogging". Actually that life sometimes makes me difficult to write here
1. Bailar / Dancing
De forma particular, he redescubierto y disfrutado de nuevo el baile. Tomé clases de ballet cuando era adolescente, lo cual te ayuda a tener buen ritmo y poder seguir a alguien que bailar. Habiendo dicho esto, se explica mi habilidad para jugar Dance Central en Kinect –el único videojuego que me gusta y juego.
In particular, I've recently rediscovered and enjoyed again, dancing. I used to take ballet lessons when I was an early teenager, which helps you to have good rhythm and to be able to follow a lead. Having said that, my ability to play Kinect Dance Central –the only video game I like and play- comes from my former years a ballet student.
Desafortunadamente, ello hace que tu percepción de la danza cambie a una serie de movimientos con algo de racionalidad (pasos), y puede producir una falta de espontaneidad al bailar en eventos sociales como fiesta –tal vez sólo me pasa a mí, pero me parece más sencillo contar hasta el 8 y que cada paso tenga un nombre… bailaba ballet, la danza contemporánea nunca fue lo mío. Por ello, la verdad mi capacidad para bailar cosas como esta son muy limitadas, aunque sea muy popular en México. Creo que soy tan mala como las chicas al incio del video.
But unfortunately, that also makes you see dancing as a series of somehow rationalized movements (steps), and that may cause a lack of spontaneity when dancing in social events like parties –probably it's just me, but I find it easier when I count from 1 to 8 and each step has a name… I danced ballet, contemporary dance was never my thing. For that reason, I'm not really capable of dancing things like these, even when they are very popular here in Mexico. I think I'm as bad as the gals in the first part of the video.
Sin embargo, la semana pasada redescubrí el baile y el hecho de disfrutar bailar después de un evento cultura en mi trabajo en donde vi tap, jazz y musicales, y posteriormente el fin de semana mientras cenaba en un restaurante libanés con una de mis mejores amigas, el belly dance. No sólo lo vi y lo disfruté, hasta "hice mis pininos" bailando.
However last week I rediscovered dancing and the joy of doing it after a cultural event at my job where I saw tap, jazz and musicals, and later on while having dinner at a Lebanese restaurant with one of my best friends, belly dancing. I not only watched and enjoyed, I even tried it!
2. Oscars
Anoche fue una de las ediciones favoritas de la entrega del Óscar, y no fue porque Ellen DeGeneres compartió pizza y tomo selfies que le dieron la vuelta al mundo, sino porque dos mexicanos ganaron muy merecidamente premio: Alfonso Cuarón y Emmanuel Lubeski. En mi caso, no se trata sólo de orgullo nacional y comportamiento "Villamelón" (la palabra se usa para describir a quienes van a los toros sin saber nada sobre el tema, sin pasión pero actuando como si en verdad fueran fanáticos, la palabra se puede extrapolar a otros ámbitos como lo estoy haciendo yo hoy): ambos han estado en el negocio del cine por muchos años ya, y yo he tenido el gusto de poder ver su trabajo desde que era muy joven. He esperado que le den un Óscar a Lubeski desde su trabajo en "La Princesita" y de Cuarón admiro que no se haya estancado en representar "lo mexicano" y que haya preferido historias más universales –mi película favorita "Grandes Esperanzas" (1998) fue dirigida por él. Les comparto trailers de algunas de sus películas:


Last night was one of my favorite Oscars show, and not really because of Elle DeGeneres sharing pizza and taking worldwide famous selfies, but because two Mexicans won a much deserved award: Alfonso Cuaron and Emmanuel Lubeski. In my case, it's not about national pride and acting as a "Villamelón" (a word in Spanish referring to people who go to bullfighting without knowing a thing about what it is, without passion and that acts like being a total erudite on the subject; and the word can also be used in other contexts like I'm doing it here): these two have been in the film making business for a long time, and I had the joy of watching their work since I was very young. I've been waiting for Lubeski to win an Oscar for his wonderful cinematography work since "The Little Princess" and as for Cuaron, I admire the fact that he didn't got stuck into representing "the Mexican way", he's gone for more universal stories –my favorite movie "Great Expectations" (1998) was directed by him. I'm sharing you here trailers of some of their films:
1. Como Agua para Chocolate (Emmanuel Lubeski, Cinematography)
2. La Princesita / A little princess (Alfonso Cuarón, Director / Emmanuel Lubeski, Cinematography)
3. ¿Conoces a Joe Black? / Meet Joe Black (Emmanuel Lubezki, Cinematography)
4. Grandes Esperanzas / Great Expectations (Alfonso Cuaron, Director / Emmanuel Lubeski, Cinematography)
5. Los hijos del hombre / Children of Men (Alfonso Cuaron, Director / Emmanuel Lubezki, Cinematography)
6. Gravity (Alfonso Cuarón, Director / Emmanuel Lubezki, Cinematography)
3. Maldives and the hint of green
Como seguramente ya lo notaron en los trailers anteriores, hay un toque verde en la mayor parte de ellos. El principal motivo es que ese es el color favorito de Cuarón –o al menos lo era en los 90's. Con dicho color, aquí les comparto un look sutil que hice este fin de semana para ir a cenar al restaurante libanés. El toque de verde se lo di con el delineador Forest Green de Mac y después apliqué un poco del Permanent Khaki de L'Oreal para fijar.


As you may have noticed from some of the trailers before, there's a hint of green in most of them.
The main reason is because it's Cuarón's favorite shade –or at least it was in the 90's. Using that, here is a very subtle FOTD I did this weekend for having dinner at the Lebanese restaurant. It's just a hint a green that I did with Mac Forest Green eyeliner and then applied L'Oreal Infallible eyeshadow Permanent Khaki on top.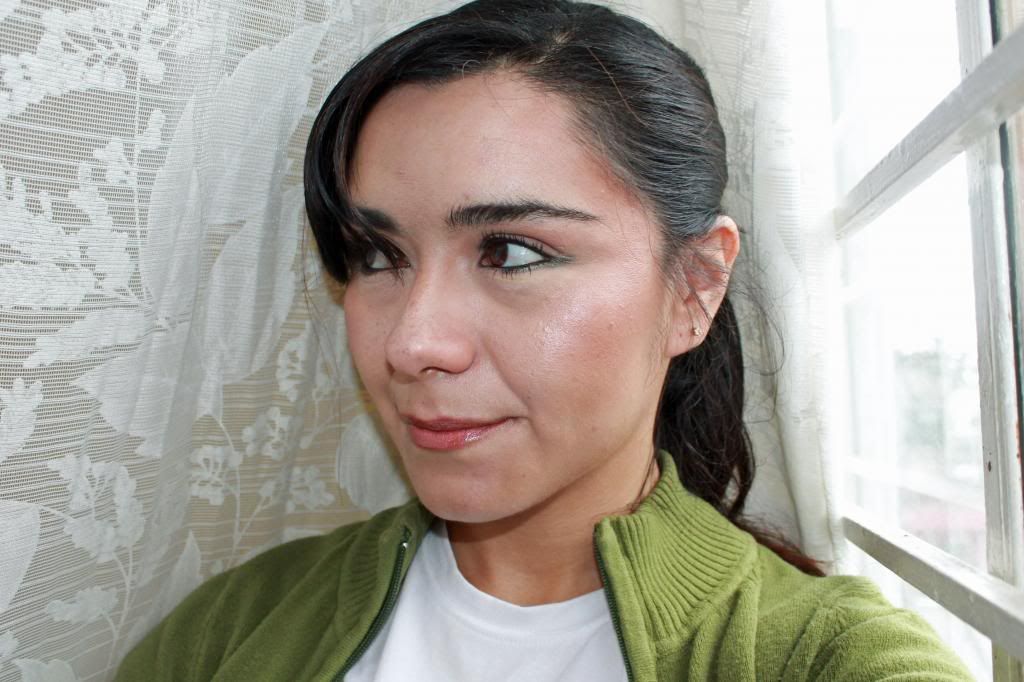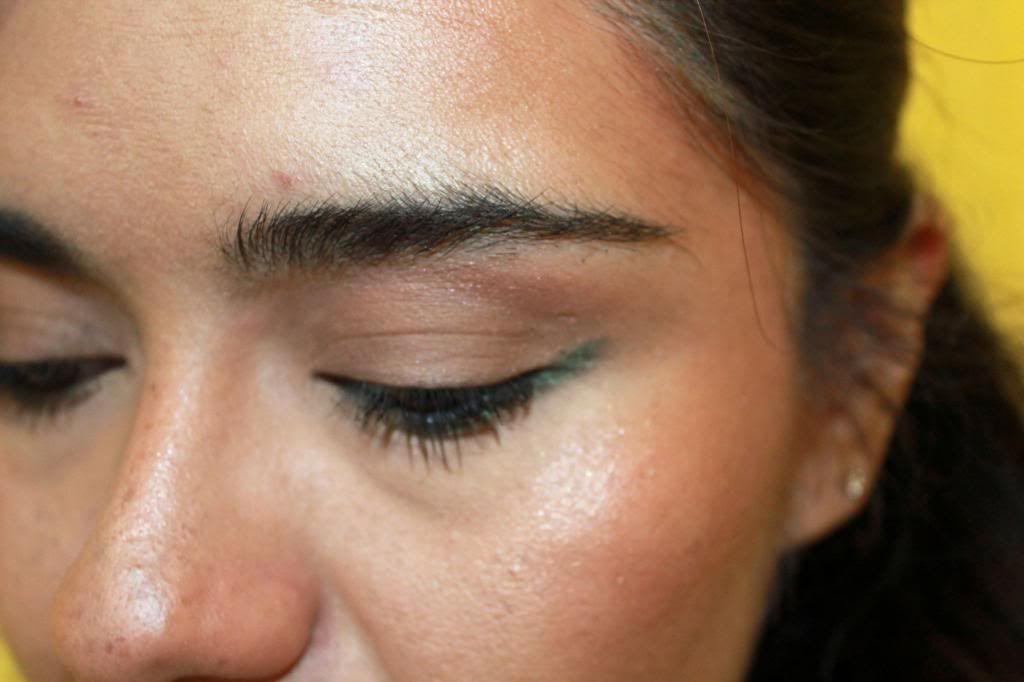 En las mejillas está mi combo favorite (actualmente): el multiple Maldives con el blush Luster, ambos de Nars. La idea de usarlos provino de esta linda imagen de Leighton Meester (aka Blair en Gossip Girl):


On cheeks I included my current favorite combo: Nars Multiple Maldives and Luster blush, the idea of using this came from this wonderful Leighton Meester (aka Blair in Gossip Girl) picture: