Ambas marcas sacaron su colección de otoño la semana pasada en México, y aquí están algunos apuntes iniciales de las dos paletas de sombras que elegí en esta ocasión. Ya había leído algunas reseñas y buscado looks con ellas en tonos de piel similares al mío, para asegurarme de que valiera la pena –puesto que ambas son edición limitada. Al parecer mi otoño se tratará de verdes y smokey eyes.
Both brand released their fall collection last week here in Mexico, and here are some first thoughts about my two eyeshadow palette picks from them. I had read some reviews and searched for FOTDs using them from bloggers with similar skintones to mine, just to make sure they were worth getting (since they are both limited editions). Seems my fall this year will be all about greens and smokey eyes.
Sobre Bonne Etoile, Gaia de
The Non Blonde
escribió « si sólo vas a comprar un producto esta temporada… » y estoy totalmente de acuerdo con ella. La combinación de tonos es un poco rara, pero funciona. Incluye tres tonos de verde, un plateado y un café verdoso. Todas las sombras son brillosas, pero no tienen ese terminado frosty muy característico de las sombras de Dior y que las hacen poco usables. De hecho, ese terminado provocó que perdiera el interés en las sombras de Dior por un muy buen rato –aunado a la mala experiencia en cuanto a atención en algunos puntos de venta, tema que por suerte ya está mejorando. Aquí hay unos swatches y mi primer intento con los tonos:
Gaia from The Non Blonde said about Bonne Etoile "if you're only getting one item this fall…" and I totally agree with her. The shade combo in this palette looks a bit odd but it works. It includes three variations of greem, a silver eyeshadow and a greenish brown. All shades have sparkle, but they aren't super frosty –which has been very common in Dior eyeshadows. In fact, all those super frosty finishes took me away from Dior eyeshadows for a while, and so did their bad costumer service in the counters I frequented –which fortunately has improved lately. So, seems Dior is back for good in my makeup preferences, at least with this palette. Here are some swatches and my first try with it: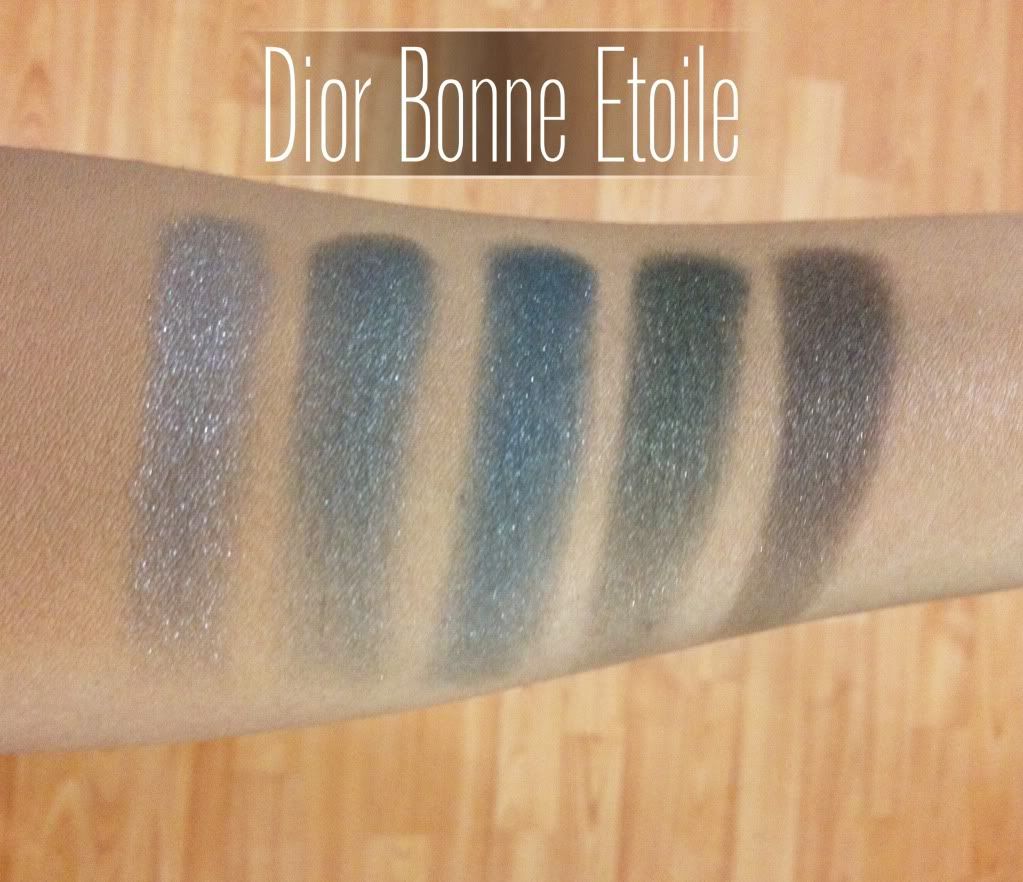 Mystere de Chanel no tuvo tan buen recibimiento por parte de las bloggers como Bonne Etoile, aun cuando ambas están en la misma frecuencia de las sombras verdes para smokey eyes. No puedo decir mucho de la versión de Estados Unidos, ya que aquí recibimos la misma que Europa, pero si les puedo decir que esta paleta va del verde al taupe –y con ello ganó mi atención. También son sombras brillosas, pero de una forma más sutil que Dior, y también su pigmentación es más sutil. Aquí unos swatches y mi primer intento con los tonos:
Chanel Mystere didn't get much love from bloggers as Bonne Etoile did, even when both are in the same smokey green eyeshadows. I cannot tell much about the US version of this palette, since we always get the baked ones, but I do can tell you this palette takes the green to the taupe frontier –and that made me interested in it. It also has some shimmer, but is less evident than Dior and is sheerer as well. Here are some swatches and my first try with it.
Tengo que aclarar que desde mi perspectiva, una pigmentación sutil no es algo malo –siempre y cuando no implique que tenga que restregar mi brocha en el producto para obtener algo de color. Para muchas de nosotras que trabajamos en ambientes formales, no podemos ir maquilladas a la Drag Queen o Kim Kardashian a diario, y en verdad se agradece que haya maquillaje sutil que te permita verte arreglada. Las sombras de Chanel son muy buenas para esto.
Having a sheer finish isn't bad as long as you don't have to strongly rub your brush in the pan to get some product to apply. In fact, some of us who are in formal environments can't be using Drag Queen or Kim Kardashian makeup, and really thank for sheer suble makeup that can help achieving a polished classy look. Chanel baked eyeshadows are great for that kind of look.
Después de hacer swatches de ambas paletas, decidí también hacer de un favorito de la Primavera de 2013: Coup de Foudre de Guerlan, básicamente con fines comparativos. Me parece que ninguna de las 3 paletas se parece, lo cual justifica tener las tres.
After swatching these 2 palettes, I decided to swatch a favorite from Spring 2013: Guerlain Coup de Foudre, just for the sake of makeup science. None of the three ressemble to each other in my opinion, and feel it's good to have them in my stash.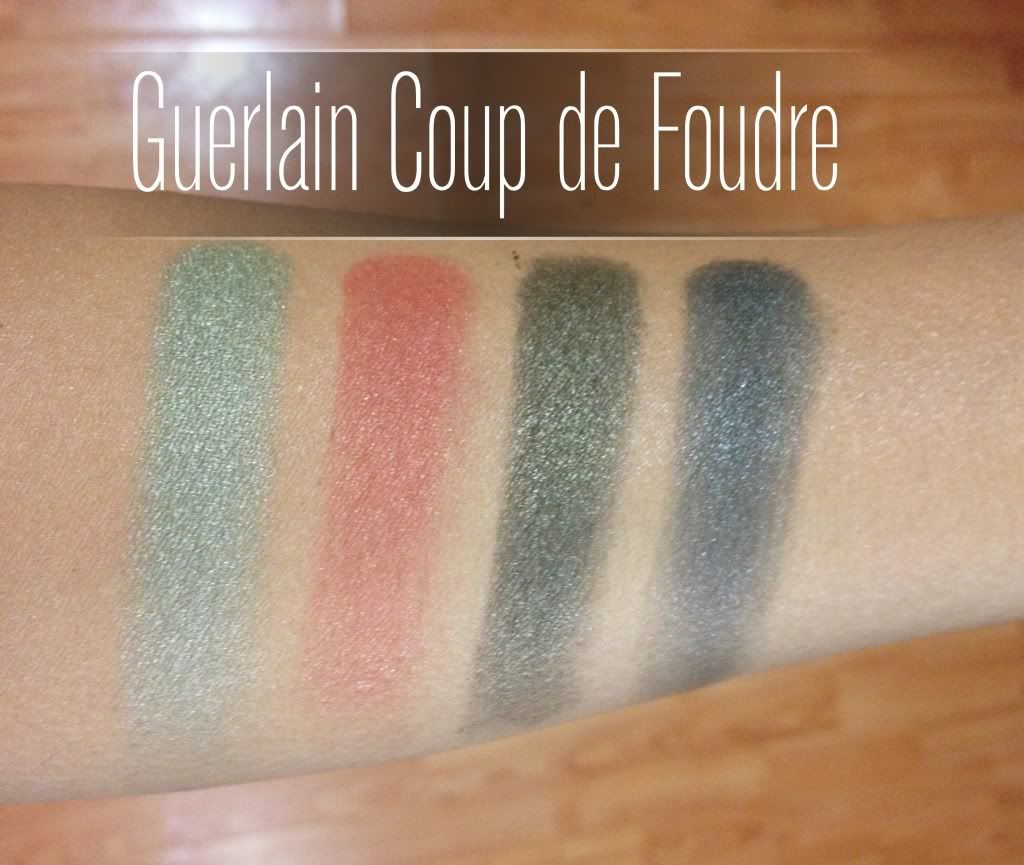 Como conclusion preliminar, si solo vas a comprar una paleta, que se a la de Dior. No obstante, yo si recomiendo ambas para estar armada este otoño. Trataré de hacer swatches de comparación para ver si encuentro algún tono similar en mi colección.
As a conclusion I would say, if you're just buying one, get Dior. Else, I would get both for a complete fall look. I will try to do comparison swatches with other palettes, just to see if I can find similar shades in my stash.