Pensé que el
look con ojos oro viejo
que les mostré ayer era muy de otoño y que le faltaban unos labios rojos. Hasta me puse vestidito negro, algunas perlas y me dejé el cabello ondulado para sentirme en el mood -y medio rendir homenaje al maquillaje hecho. Aún así, no pude decidir cuál rojo usar y aquí les muestro diez diferentes para pedir su apoyo en elegir uno. Aquí está la selección y algunos comentarios sobre cada uno:
I thought yesterday's Peridot EOTD was very fall-ish but it needed some red lips to complete this Old Hollywood glam I felt it had. I even put on a black dress, some pearls and left a wavy hair to feel in the mood -and to honor the time it took to get this done. Yet, I couldn't decide which red to use, so took 10 of my faves, swatched them and tried them on. I hope you please help me decide which one is best for this look. Here are my choices and a word about them: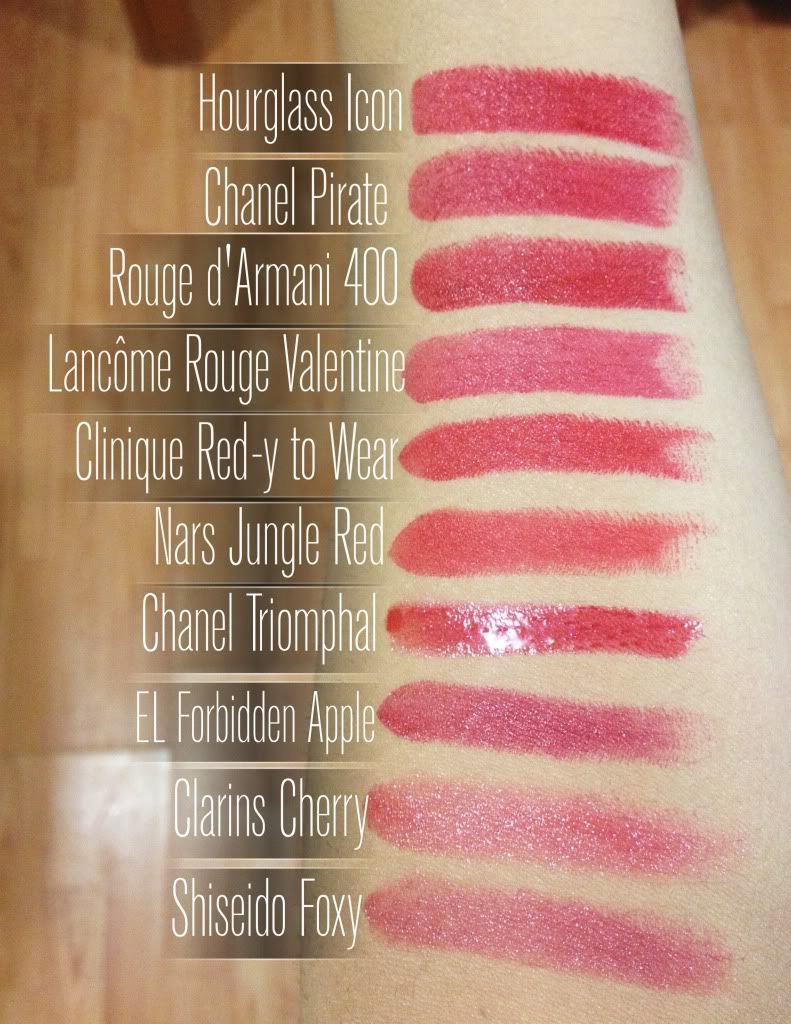 Shiseido RD506 Foxy: Este creo que ya lo han visto en varias entradas, desde lo que hay en mi bolsita de maquillaje hasta los labiales traslúcidos con color. Es un gran tono para introducirse a los rojos // You've seen this in many posts already, from what's in my makeup bag to sheer lipsticks. It's a great shade and I find it's a good starter red for anyone who has never tried one.
Clarins Jolie Rouge Brilliant Cherry: Otro buen tono para iniciarse, aunque tiene más brillitos por lo que va mejor en la noche. Another sheer red great for starters. It has some shimmer, so it's good for night events while Foxy is better for day wear.
Estee Lauder Forbidden Apple: Un rojo frío con algo de brillo plateado. Para algunos puede parecer oscuro, pero para las de labios pigmentados es genial. // A cool toned red with some shimmer, might seem dark, but when you naturally have dark pigmented lips, it doesn't seem so.
Chanel Triomphal: Yo le había dicho a Kate de Drivel about Frivol que tenía el tono Fatale, pero no, el que tengo es Triomphal de la colección de invierno 2011 de Chanel // I had told Kate from Drivel about Frivol I had a red from this range, but I thought it was Fatale but it wasn't, the one I own is this one Triomphal, from Chanel 2011 Holiday collection.
Nars Jungle Red: Me parece un rojo fresa, bastante usable. Es como el siguiente paso cuando ya le tienes confianza al Foxy o al Cherry // I find it like a strawberry red, and find it very wearable. I think it's the next step after Foxy or Cherry.
Clinique Red-y to Wear: Este es mi primer rojo, y que usé a diario durante una temporada. Creo además es el único que he comprado dos veces porque el primero me lo acabaé. // This was the first red I've used on a daily basis, and actually the only one that I've repurchased in my life.
Lancome Rouge Valentine: Este lo tengo porque es muy cercano al rojo que usó Anne Hathaway en la última película de Batman -Batman y maquillaje con labios rojos, mi combo. // I got this because it's very close to the red Anne Hathaway used in the Dark Knight rises -Batman + red lipstick, definitely my combo.
Rouge d'Armani 400: Mi rojo favorito, es un rojo neutro que puede servir para un look muy glamuroso pero también como el único elemento de color en un maquillaje básico. // My current favorite red lipstick, it's a neutral red that can work for a very glamorous look but also as a statement red in a bare face.
Chanel Pirate: Este lo tengo porque es el que usó Keira Knightley en la portada de Allure de diciembre de 2012, es un hermoso rojo de base fría. // I got this one after I saw it on Keira Knightley on Allure's december 2012 issue. It's a gorgeous cool toned red.
Hourglass Icon: Este se ve más oscuro en el tubo que al hacer el swatch (se ve parecido a Pirate y RdA 400), aunqeu en mis labios se ve algo cálido. Tiene una gran textura, está dentro de mis labiales favoritos. // This one looks darker in the pan than swatched (when it seems similar to RdA 400 and even Pirate), however on my lips it goes to the warm side. This one has a great texture, it's among my favorite lipstick texture all times.
En las próximas horas les estaré mostrando el look Peridot de ayer en combinación con todos estos labiales, les pido su ayuda diciéndome cuál prefieren.
In the following hours, I'll be posting the Peridot eye look with all of these lipsticks, please let me know which one is your fave.