Feliz dado que el delineado con rabillo está de tendencia para el otoño. Decidí usar algunas formas y tonos para empezar a jugar con mis delineadores en crema / gel. Entre mis favoritos están los de Bobbi Brown, seguidos por un segundo lugar empatado entre Essence y Laura Mercier -los de Essence tristemente descontinuados. Los de Mac también son buenos, pero me parecen algo cremosos para mi gusto y los tonos no son muy complejos -salvo algunas excepciones de edición limitada. Estoy esperando que lleguen los de Nars, a ver qué tal salen. En fin, de regreso a mis intentos, como primera inspiración usé la siguiente imagen del desfile otoño / invierno 2013 de Monique Lhuillier:
Happy since cat eyes are trendy for fall, I decided to try some shapes and shades for it. That allows me to play with my gel/cream eyeliners, that I really enjoy. Among my favorites are Bobbi Brown gel eyeliners, followed in a tied second place by Essence (unfortunately discontinued) and Laura Mercier. Mac are good too, but I somehow find them too creamy for my taste and not very complex -except for some that are released as limited edition. I'm eager to try the new Nars ones, hope they arrive here soon. Anyway, back to the cat eye attempts subject, I used the following image from Monique Lhuillier fall/winter 2013 show as inspiration.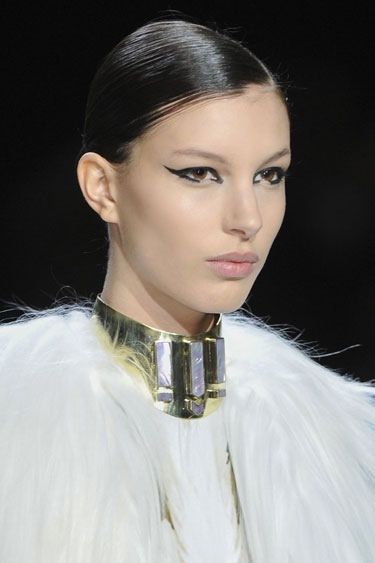 Claro que no lo intenté exactito, ya que me pareció algo aburrido sólo usar negro, así que me fui por algo de color. Hice dos intentos, usando prácticamente los mismos productos como base, en mejillas y labios, por lo que sól cambié lo que usé en los ojos. El primer fue usando un tono morado oscuro con un toque de fuchsia. Aquí el resultado:
Of course I didn't try it exactly, since I thought it could be rather boring with black, so decided to try with some color. I did 2 attempts, using mostly the same base / cheek / lip products, and just changing eye products. First one was using a dark mauve shade with a hint of fuschia. Here's the result: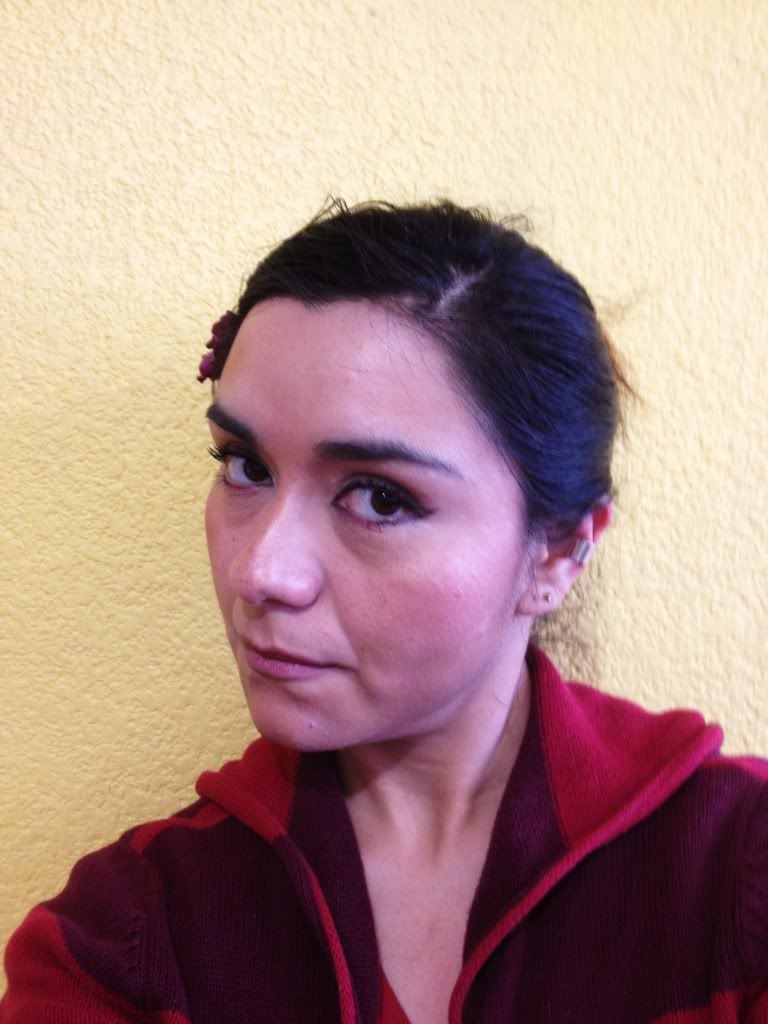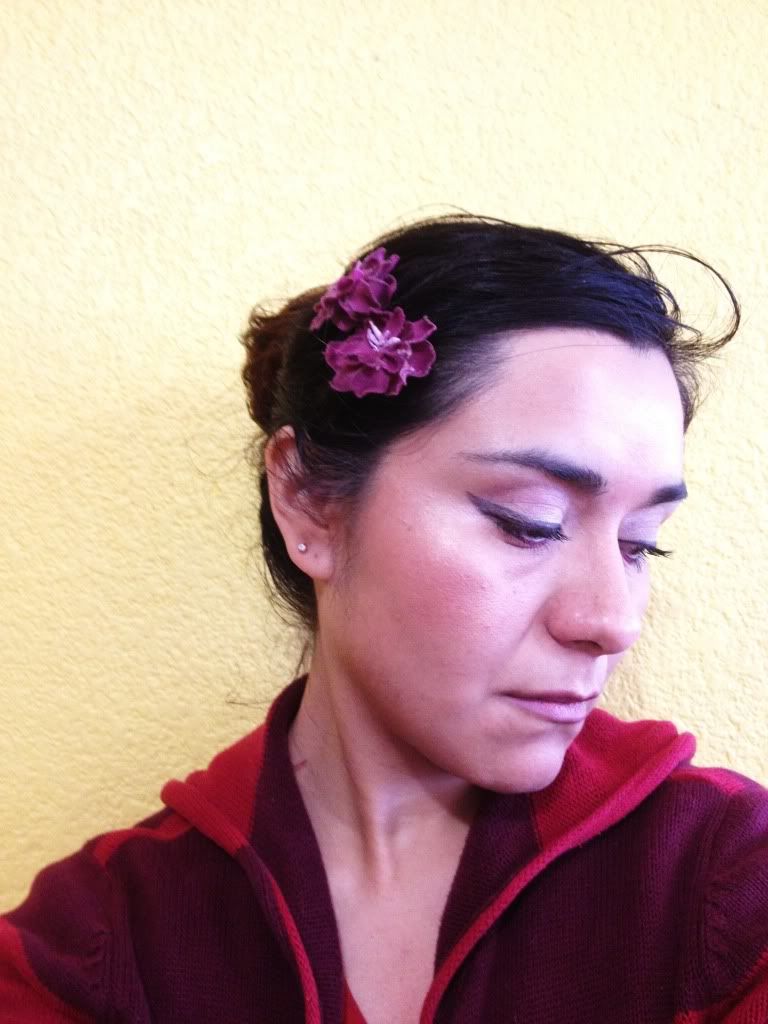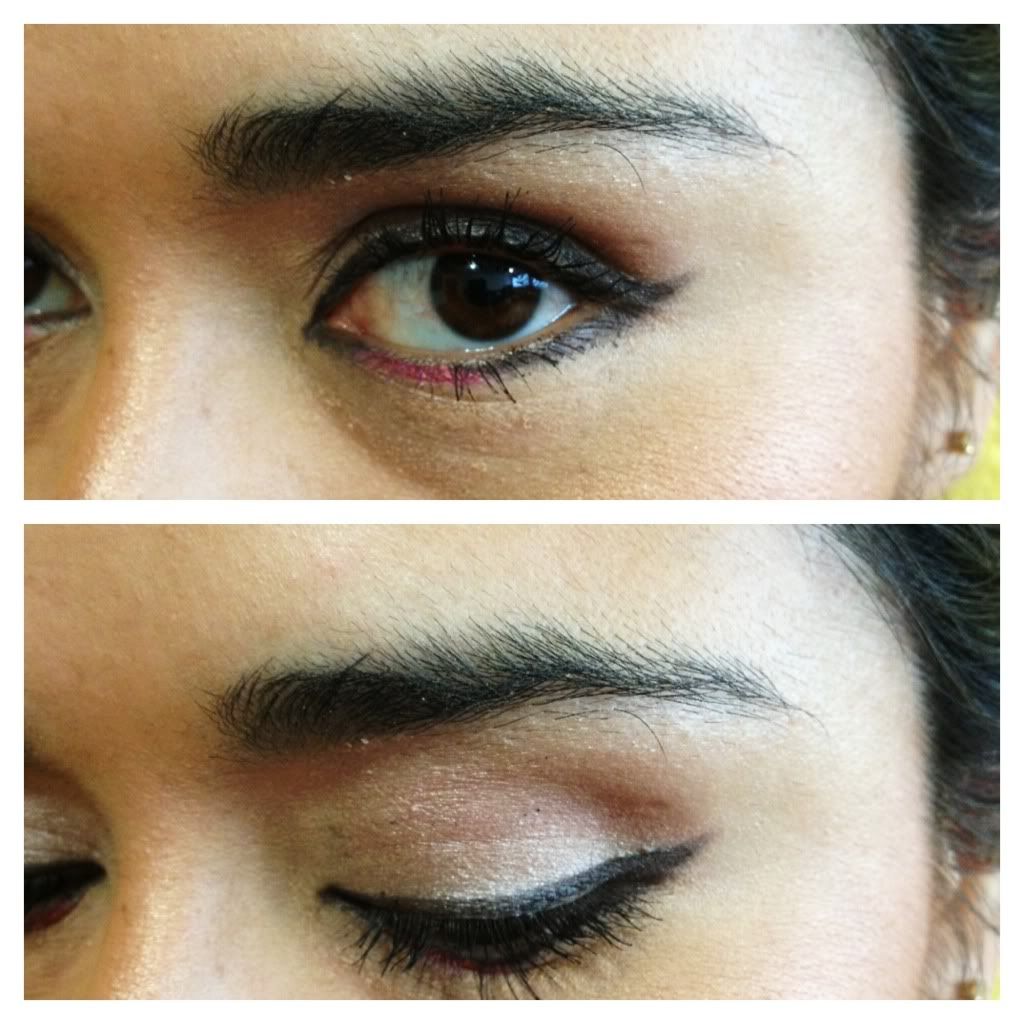 Me parece que el tono Black Mauve Shimmer de Bobbi Brown es muy usable. Es más suave que el negro, pero los ojos se siguen viendo definidos -algo muy importante especialmente para aquellas que tienen pestañas muy oscuras y que todo lo más claro se pierde. También descubrí que Rose d'Exception de Givenchy es muy usable, y es un lindo tono MLBB (mis labios pero mejor) para alguien de labios pigmentados como yo.
I found Bobbi Brown Black Mauve Shimmer eyeliner to be a very wearable one. It's softer than black, but your eyes are still defined -that is very important especially for those with dark lashes, since lighter shades seem just to dissapear. I've also found that Givenchy Rose d'Exception lipstick is very wearable and a nice MLBB shade for someone with pigmented lips like me.
Products:
Skin 79 Pink BB cream
Benefit Erase Paste
Chanel Poudre Libre Universel
Guerlain l'instant d'un baiser eyeshadow all over lid
The darkest shade in Bourjois Rose Vintage trio
Bobbi Brown Black Mauve Shimmer gel eyeliner
UD Woodstock eyeliner
Le volume de Chanel mascara
Laura Mercier Ritual bronzer
Guerlain Madame Rougit blush
Laura Mercier Spelbound highlighter
Givenchy le Rouge Rose d'Exception lipstick
Segundo intento, ahora con verdes. Sólo apliqué un tono azul verdoso muy sutil (me hubiera encantado que fuera más intento, pero esta sombra definitivamente no cooperó) y el delineador verde.
Second try, now with green shades. I just did a sheer wash of color with a teal shade (it could have been bolder, but my cream eyeshadow decided not to cooperate), and the green eyeliner.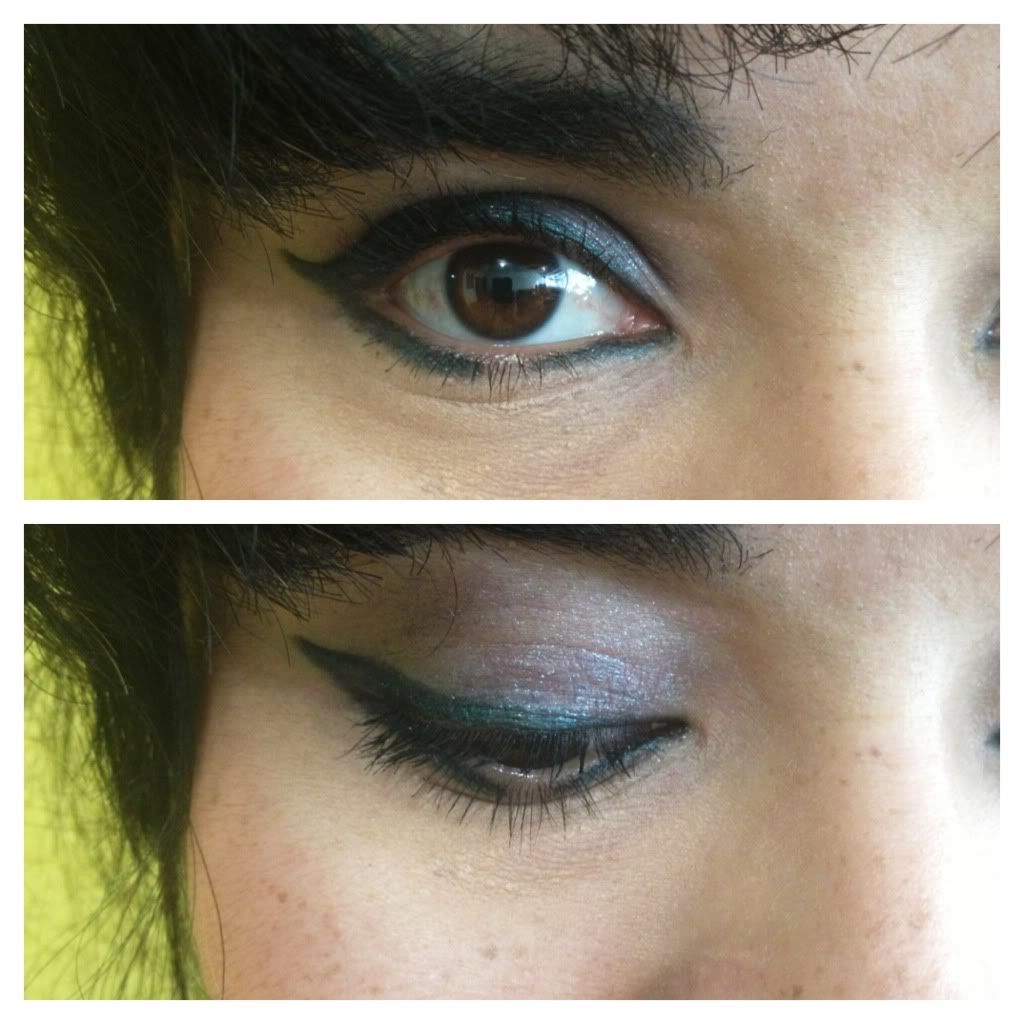 Si, el azul verdoso tiene muy poca pigmentación, pero aún así tiene unos brillitos my sutiles que me gustan -creo que puede funcionar más sobre otra sombra. El delineador verde de Bobbi Brown es maravilloso y ahora le di un toque más rosado al labial de Givenvhy con un gloss coral.
Yes, the teal eyeshadow lacks pigmentation but yet it has some nice subtle sparkles -I think this could be a good top layer. The green eyeliner is just marvelous in my humble opinion. Now I gave a twist to Givenchy Rose d'Exception with some coral lipgloss.
Products:
Skin 79 Pink BB cream
Benefit Erase Paste
Chanel Poudre Libre Universel
Dior Cosmos cream eyeshadow as a wash
Bobbi Brown Ivy Shimmer gel eyeliner
Le volume de Chanel mascara
Chanel Bronzer Terre Epicee
Guerlain Madame Rougit blush
Givenchy le Rouge Rose d'Exception lipstick
Guerlain Coral Frizz Gloss d'Enfer
Conclusión: aún cuando muchos productos de Bobbi Brown me han decepcionado, sé que los delineadores no lo harán.
Bottom line: even when I usually dislike many Bobbi Brown products, I always come to gel eyeliners.