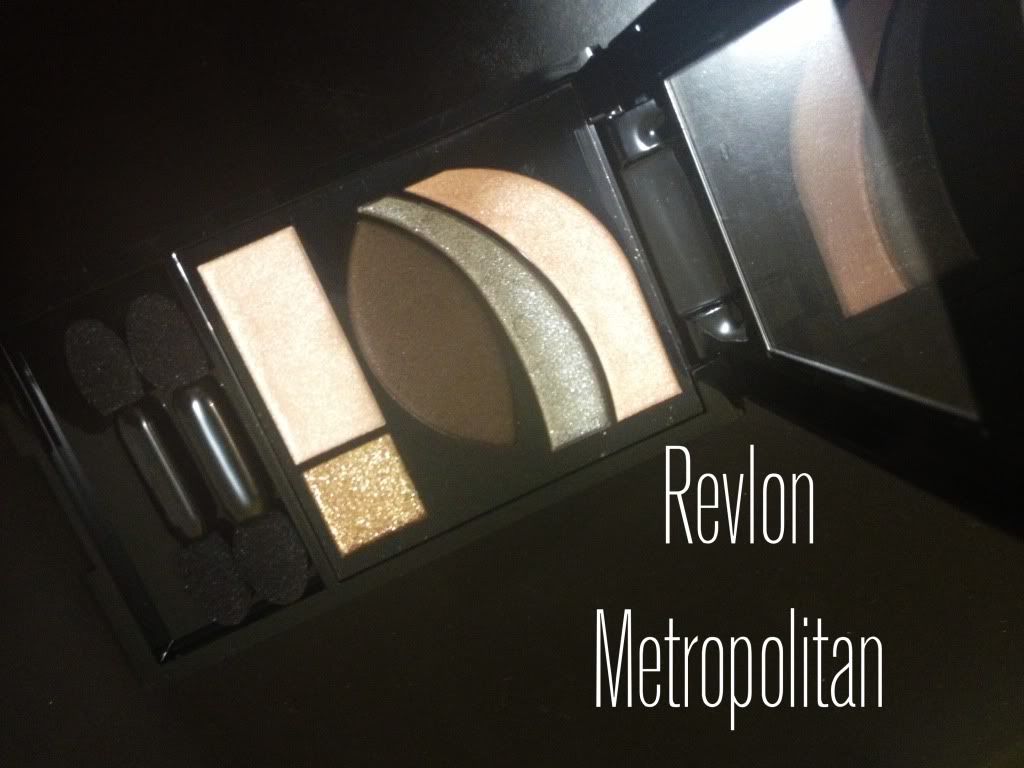 Cuando vi el nombre de esta paleta de inmediato me trasladé a Sex and the City -un referente en cuanto a moda, especialmente zapatos. Me he topado recientemente que Revlon tiene combinaciones interestantes en sus paletas de sombras, y decidí probar -si me sigues en Instagram seguro ya sabes cuáles elegí. En fin, empiezo mostrandoles esta paleta que me parece tiene los tonos más "normales" para días de oficina. La paleta trae las sombras ubicadas en un look básico de 3 tonos, más una prebase y una sombra con brillitos -la forma de la paleta es un bonus para las que no queremos pensar cómo ubicar las sombras. Con esta paleta puedes hacer un smokey eyes café, aquí algunos swatches:
The name of this palette immediately brings my mind to Sex and the City -quite a reference in fashion world, especially for shoes lol. I've recently found Revlon has some interesting shade combos in their palettes and decided to take a try -if you follow my Instagram, you probably have already seen my picks. Anyway, I started with this one that has the most common wearable shades for work days. It comes with a basic 3 shades look, plus a primer and a sparkly eyeshadow. The shades are placed in a diagram form so you know how to use it (bonus for girls in a hurry!), which shows this goes for a brown smokey eye look. Here are some swatches:
Los tonos que me parecen excepcionales aquí son el café, ya que es el más pigmentado (algo raro para las sombras mate) y el taupe (ya es más que evidente mi amor por el taupe). Los tonos claritos están bien, a secas, el swatch de hasta arriba son ambos tonos claros uno encima de otro para ver si se notaba más. La sombra de brillitos se ve bien, aunque dudo darle mucho uso salvo para looks de noche.
The outstanding shades in this palette for me are the brown since it's the most pigmented of all (rare for a matte eyeshadow) and the taupe since it's a gorgeous shade -and I think it's pretty evident at this moment how much I love taupes. Lighter shades are ok, and the swatch in the top are both lights layered to see if the swatch was stronger. The sparkly golden shade swatches good, but I'm afraid I won't be using it much for everyday wear and just keep it for a night look.
Aquí hay swatches de comparación con otras marcas de los tonos cafés y taupe:
No pude encontrar un tono similar para la taupe, pero para la café me parece que Truffle de Laura Mercier es comparable -tanto por la pigmentación como el tono. Así que, si no venden Laura Mercier en donde vives (creo que sólo la encuentras en el D.F.) o quieres algo más accesible, esta de Revlon es una buena opción.
I wasn't able to find a similar shade in my stash for the taupe, but for the brown I think it's comparable to Laura Mercier Truffle -shade and pigmentation. So, if you want Truffle but Laura Mercier isn't available where you live or you're in a budget, this one is a good option.

La prebase, realmente no es una prebase como TFSI, UDPP or la de Nars, sino una sombra que se usa como base para que no se pierdan los tonos de las otras sombras. Habiendo dicho eso, si les recomiendo usar una prebase con estas sombras para que les duren todo el día. En el siguiente look, yo usé la sombra en crema bone de Bobbi Brown como prebase. Les pido de antemano una disculpa por el terrible peinado de ese día.
The primer, isn't really a primer (like TFSI, UDPP or Nars) but rather an eyeshadow you can use a base so the other shades show true to pan. Having said that, I recommend using a primer before this one so they don't crease. In the following FOTD I used Bobbi Brown bone cream eyeshadow as a primer. I apologize in advance for such bad hair day.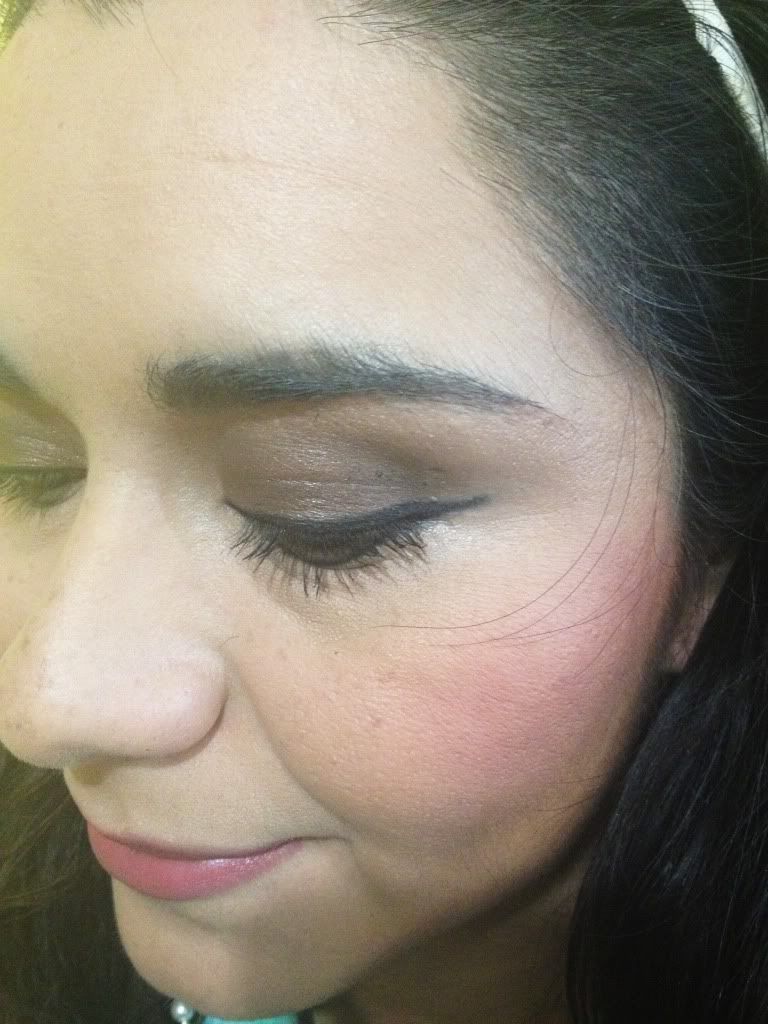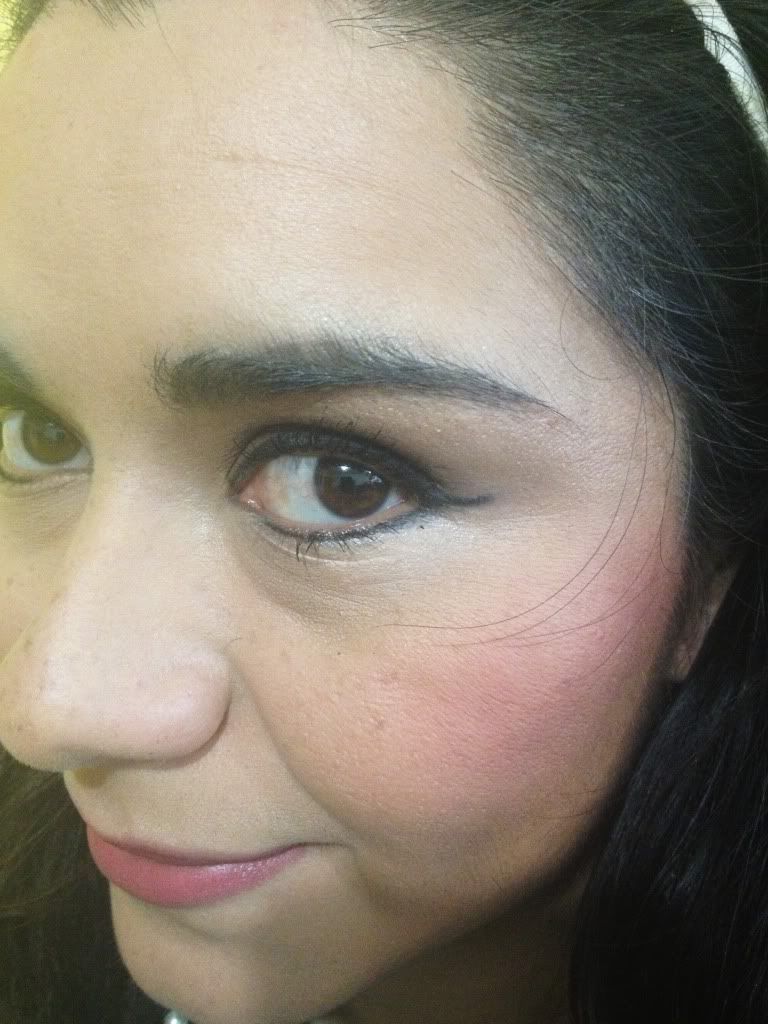 Completé el look con los siguientes productos:
I completed the look with the following products:
BB Black Ink gel eyeliner
Shiseido Medium Bronzer
Chanel Rose Petal blush
Nars Rosebud lipliner
Laura Mercier Antique Pink lipstick
Como conclusión, esta paleta me parece una muy buena opción a un buen precio. A mi me duró todo el día laboral sin que desapareciera (recordatorio, si usé primer) y me parece que la combinación de colores funciona para ambientes de oficina.
Overall, if you're in a budget this palette is a good pick. It lasted my working day without fading (keep in mind I did use another primer) and I think the combo is appropiate for office environments.