Como complemento de mi paleta Bonne Etoile, me hice de la sombra en crema Cosmos, también de Dior. En la foto se ve como un azul oscuro con tendencia al teal. Me llamaron mucho la atención estas sombras, ya que últimamente me ha gustado mucho usar sombras en crema.
As a complement to Bonne Etoile palette, I decided to get Cosmos Diorshow Fusion Mono Eyeshadow, which you can see in the pic is a dark blue that tends towards teal. I was very intrigued by these eyeshadows, since I've been loving my cream eyeshadows lately.
Trae el misma noción de una textura tipo gel como las Illusion d'Ombre de Chanel, pero los brillitos son aún más finos y debo decirles, es menos pigmentado. Aquí hay unos swatches de comparación con otros tonos, que no son tan parecidos pero van por la onda.
It has the same idea of a mousse-like texture as Chanel Illusion d'Ombre, but with finer sparkle y and I must say, less pigmentation. Here are some comparison swatches with other somehow close shades in different formulations.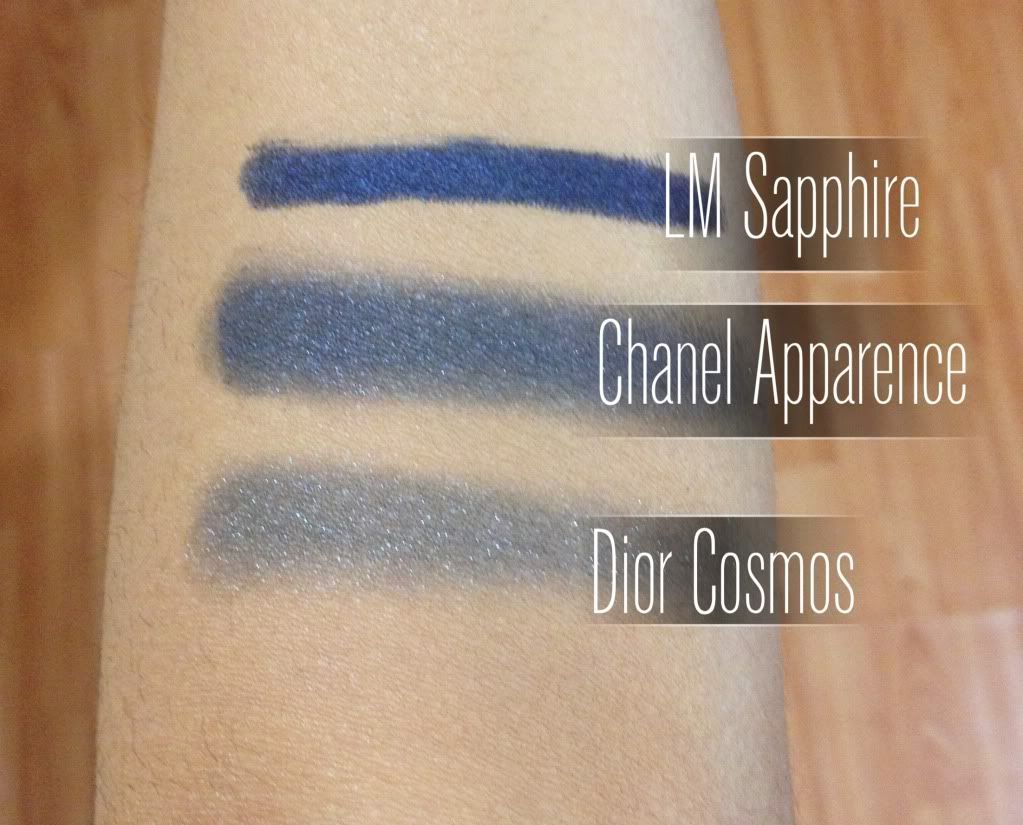 Con esta foto trato de mostrar los brillitos.
I'm trying to catch the sparkle in this pic.
Sé que a Kate de
Drivel About Frivol
le gusta esta sombra, aunque no sea tan pigmentada, así que decidí incluir un par de tonos más para comparar.
I know Kate from Drivel About Frivol likes this even when it isn't pigmented, so I tried to find a couple of more shades to compare with.
Ya sé que Temptalia tiene unos swatche maravillosos en su reseña, pero desgracidametne a mi me salió con muy poco color y eso que usé el aplicador de esponjita y mi dedo. Es decir, mi percepción fue más parecida a la de The Non Blonde sobre estas sombras. Aquí les dejo como se ve en los párpados sin nada -bueno, un poco de la BB cream de Garnier.
I know Temptalia in her review has very heavy swatches, but unfortunately mine were a lot sheerer even when I tried with the sponge applicator and my finger. Let's say, mine were more similar to the perception The Non Blonde had about these eyeshadows. I'm showing you here some pics of how it looks on almost bare lids -I just had some Garnier BB cream on my lids.
Ya alguna vez dije que una pigmentación sutil puede ser bonita, pero en este caso no. Ello, porque se pierde la intensidad del tono y los brillitos y justo, eso es lo lindo de la sobra al verla en empaque. Habiendo dicho esto, la verdad no se los recomiendo como base para sus sombras, mejor usen sombras en crema de Bobbi Brown o Laura Mercier. Aún así, cuando la compré la vendedora de Dior me recomendó usarla sobre mis sombras para darles brillo y lo intentó. Aquí hay unas fotos usando Cosmos sobre Bonne Etoile:
I once said a sheer finish can be nice, but not in this case. Why? Because all the intensity and the sparkles get lost, and that's what's best about the eyeshadow in the pan. Having said that, I really don't recommend using these as a base, I'd rather use Bobbi Brown or Laura Mercier for this purposes. However, when I got this one, Dior SA at the counter gave me a great idea for using this: on top of my powder eyeshadow to add some extra glow, and that's what I tried. Here are some pics using it over the teal shades in Bonne Etoile:
Lo cual me lleva a hablar de Bonne Etoile. Su duración es decente, si se cuartearon un poco luego de 8 horas. Claro, ya era al final de mi jornada laboral y cabe recordar que yo no uso primer -me resecan mucho los párpados y luego se me abre la piel. Sé que ya lo dije, pero estos tonos son hermosos y le van muy bien a los ojos cafés -tono que muchas de las mexicanas tenemos. Tanto los tonos bronce y khaki funcionan muy bien para el diario, mientras que los verdosos con un toque de azul son buenos para resaltar los ojos cafés y hacer algo más dramático. El tono plateado, funciona muy bien como iluminador porque no tiene un terminado super frosty -así que una no termina viéndose bling bling plateado.
Which leads me to the Bonne Etoile review. Wear time is decent, I did get some creasing after 8 hours of wear. But, that was by the end of my working day and we must remember I don't use a primer. I'm sure I've already said this, but the shades in this palette are gorgeous and really compliment brown eyes -which many of us mexicans have. Both bronze and khaki shades are amazing for every day wear, while the teals are great to achieve an interesting look and tend to pop brown eyes. The silver shade, works great as a highlighter since it isn't super frosty -so you won't look super silver bling bling.
Aquí los swatches que ya les había mostrado. En los próximos días trataré de hacer algunos swatches comparativos para ver si hay alguna sombra similar.
Here are again the swatches I've already shown you. I'll try to do some comparison swatches to see if there's anything similar.
Conclusión: Definitivamente Bonne Etoile es un básico para la temporada. Cosmos es lindo en el envaso, pero puedes conseguir un tono igual de complejo, con mejor calidad y mejor precio. Había pensado en hacerme de Chimere también, pero probablemente ese lemming ya se haya perdido.
Bottom line: Bonne Etoile is a must for the season, Cosmos is cute in the pot but you can find the same complex shade with better color pay off. I was thinking about getting Chimere from the same range, but probably the lemming is now dead.