Tengo una infección en la garganta, así que no me siento con ánimos de hacer swatches o looks. Ni siquiera voy a celebrar las fiestas patrias. Mi imaginación se apagó por un rato y realmente, sólo quiero irme a dormir. Sin embargo, decidí escribir un breve post antes de descansar con algunos comentarios de las tendencias de otoño 2013. Todas ellas fueron tomadas de
Harper's Bazaar
.
I got a throat infection, so I'm not very eager to do swatches nor FOTDS. My imagination has just gone away and my only true lemming at the moment is to stay in bed. However, I decided to write a small post on fall trends, a quick word of them. All of them are taken from Harper's Bazaar Fall 2013 Makeup Trends.
The Cat Eye
Me parece es un clásico que no sólo aplica en el otoño. Es una forma fácil y hermosa de resaltar los ojos -aún cuando estoy consciente de que no es un look para todas. Puede ser con delineador negro y labios rojos (Pinup look), delineador negro y labios nude (como Bridgitte Bardot, Edie Sedwick), en tonos café oscuro con labios naturales o ligeramente rojizos (como Sophia Loren) o alguna de estas opciones.
I think this is a classic and not only fall-ish. It's an easy and gorgeous way to make eyes stand out -even when I'm aware it's not a look for everyone. You can use it with black eyeliner and red lips (aka, the pinup look), black eyeliner and nude lips (like Bridgitte Bardot, Edie Sedwick), mostly dark brown eyeliner and MLBB or soft red (like Sophia Loren) or the most recent options I'm showing you today.

Orangey Eyeshadows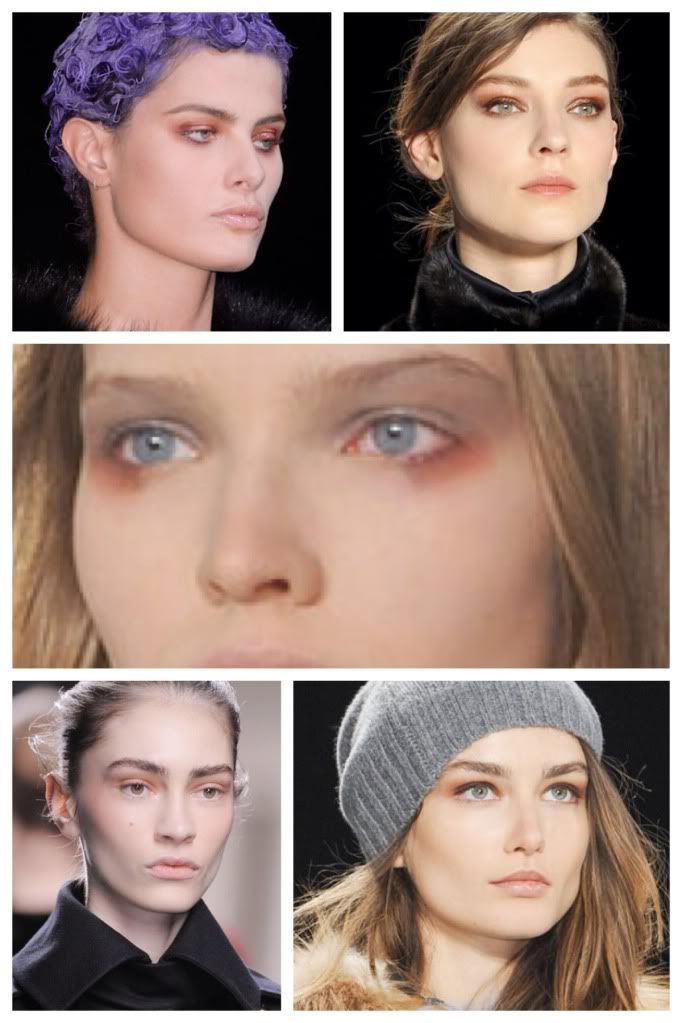 La verdad no me encanta el naranja, es simplemente un tono que no me va -mi coloración es invierno oscuro, así que el naranja está algo alejado. Pero si están en el mood de usar sombras naranjas, les recomiendo mucho el look Sepia que las hermanas Pixiwoo hicieron.
I'm not really a fan of orange, it's a shade that just doesn't flatter me -I'm deep winter, so orange is quite far from my range. But, if you're on the mood of trying orange eyeshadows, you should take a look at Pixiwoo Sepia FOTD video.
Red lips
Prune eyes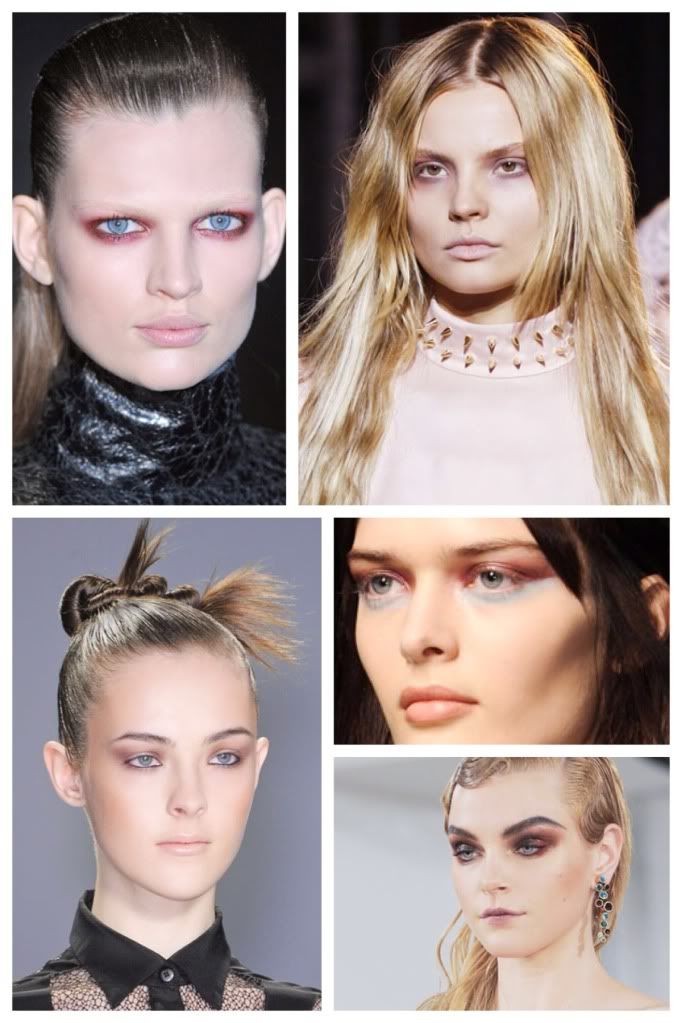 El tono me encanta, pero me parece que puede hacer que una se vea enferma, así que no me parece un tono fácil de usar.
I love the shade, but I'm afraid it can make many people look sick so it isn't an easy shade to use in my opinion.
Glittery eyes
Desde luego que no voy a salir con semejantes brillitos, pero eso no quita que algo de brillitos sea lindo para un look cotidiano. Me parece que nadie hace brillitos en el maquillaje como Chanel -siempre se ve fin. Recientemente traté con Dior, que se veía hermoso pero desgraciadamente no era muy pigmentado. También me llamaron la atención las sombras Sparkle de Bobbi Brown, pero cuando hice el swatch parecía que me había echado la bolsita de diamantina en el brazo. Así que no me pareció que valiera la pena.
Of course I'm not going out with that chunkly glitter, yet, some fine glitter is great for an everyday look. I think no one does glitter like Chanel -always fine and classy. I've recently tried Dior, which looked gorgeous but unfortunately was poorly pigmented. I was also intrigued by Bobbi Brown sparkle eyeshadows, but I'm afraid I would look the same if I used a bunch of kids sparkles all over my lids, so I don't think it's worth the price tag.
Wine-Hued Lips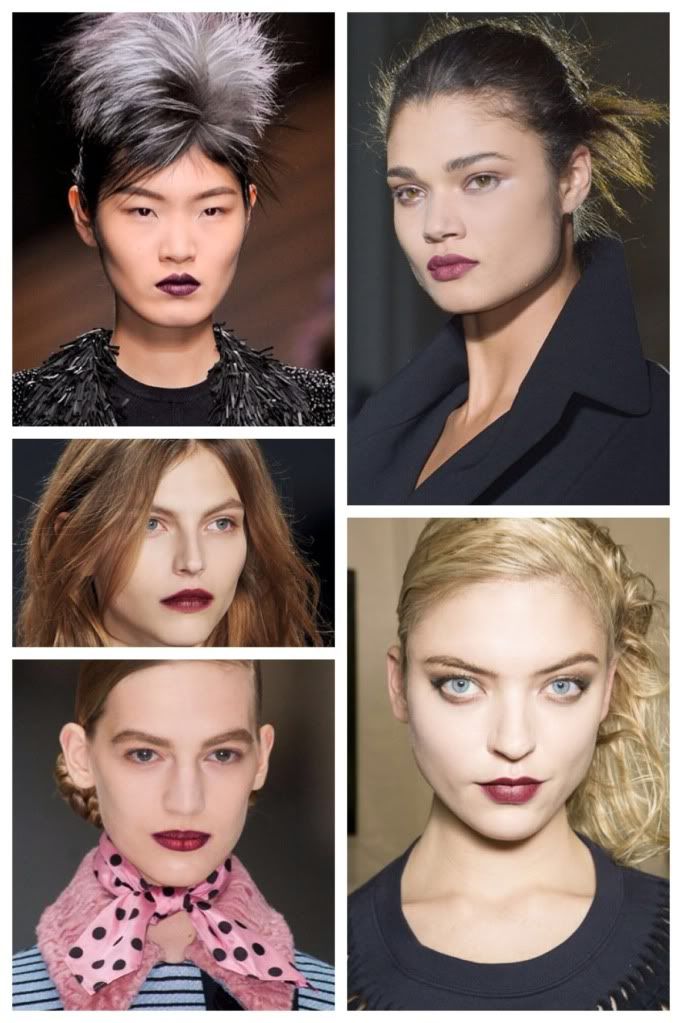 Esta tendencia es super de otoño y todos los años aparece. Pero este año, no me está llamando tanto la atención. Algunas opciones para intentar este look son Guerlain Gigoló y Orgueil, así como Nars Volga.
This is super fall-ish, and it comes every single year. This year however, I'm not feeling that attracted to it. There are many good shades for this: Guerlain Gigolo and Orgueil and so does Nars Volga.
Gray Wash
Esto significa: saca todos los tonos taupe grisacéos que tengas y usalos como única sombra en el párpado móvil, no? Esta tendencia me hace muy feliz, ya que son de mis tonos favoritos.
This means: take out all your grayish taupe eyeshadows and use them as a wash of color, right? This brings happiness to me, since grayish taupes are among my favorite shades.
Mis favoritas son el cat eye, los labios rojos y la sombra gris, algo que por cierto, uso durante todo el año.
My personal favorites are The cat eye, red lips and gray wash, which by the way, I use all year around.