La sombra Bavaria fue la elegida de la colección de otoño 2013 de Nars. Los otros tonos no me parecieron interesantes. Es un maravilloso tono teal azulado que me pareció sería muy favorecedor para los ojos cafés -una disculpa si me avoco a los ojos cafés, pero les pido entiendan que con esos nací. También es un buen tono de transición del verano al otoño, y lo mejor que es aún en otoño lo puedes usar si quieres evitar las sombras muy oscuras o grisaceas.
Bavaria eyeshadow was my pick from Nars Fall 2013 collection. It's a gorgeous blue teal that I felt it would be very flattering for brown eyes -I'm sorry if I sometimes over focus on brown eyes, but I was born with those. It's also a good transition shade from summer to fall, and best of all, you can use it during fall if you want to avoid the very dark and usually gray-ish shades.
Imagen del sitio web de Nars / Image from Nars website
La textura es decente y tiene buena pigmentación -no se como si te hubieras puesto el polvito del gis, pero si es necesario armar el tono con un par de pasadas. No se difumina maravillosamente, y si se cuartea después de 4-5 horas, así que definitivamente necesita un buen primer o una base. En mi preuba usé el Stylo Eyeshadow de Chanel en el tono Jade Shore, que me dura bastante bien y de todas formas se cuarteó.
The texture is decent and it has good color pay-off -it isn't chalky but you do have to buid the shade. It isn't super blendable and it creases after 4-5 hours, so it definitely needs a primer or a very good base. When trying I used Chanel Stylo eyeshadow Jade Shore as a base, which had a pretty good lasting powder on my lids and I still got creasing.
Aquí hay unos swatches de comparación con otros tonos verdes / teal que tengo. Como pueden ver, la sombra Vanessa's Paradise de Catrice se ve como una versión más intensa de Bavaria, también con mejor precio.
Here are some comparison swatches with other green / teal eyeshadows I own. As you can see, Catrice Vanessa's Paradise seems like a more vibrant version of Bavaria, which also has a really good price.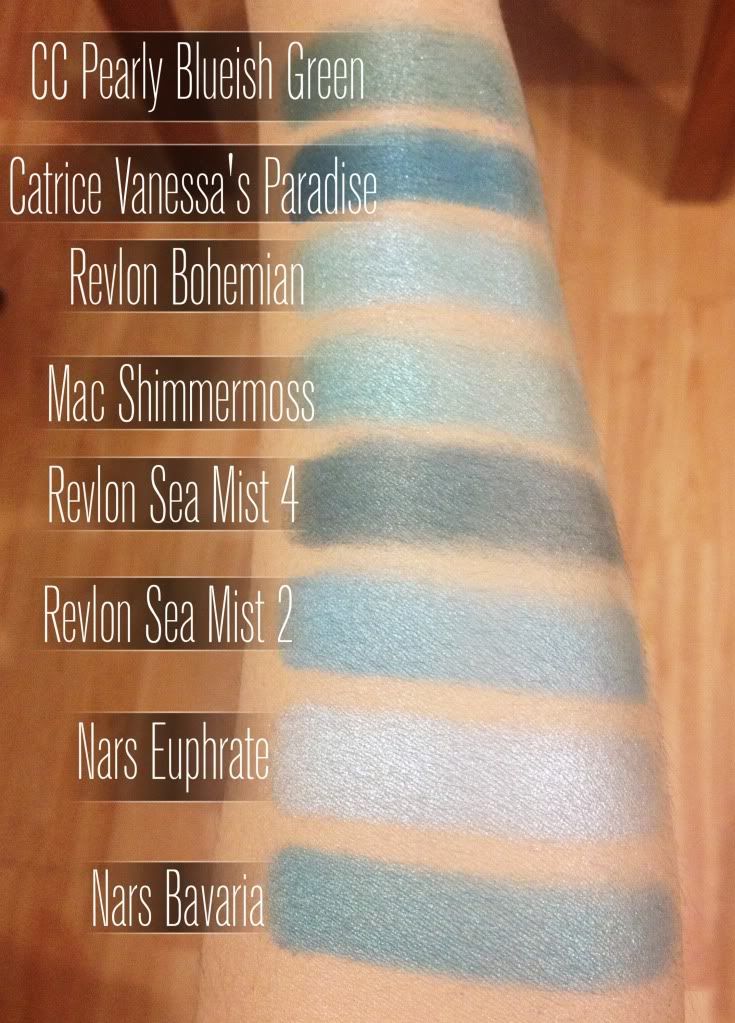 Probé esta sombra en una especie de delineador con rabillo que abarcó todo el párpado móvil, y debo admitir que me pareció una forma muy divertida de usar una sombra. Como ya lo dije, usé como base el Stylo Eyeshadow de Chaenl en el tono Jade Shore y también el delineador en crema de Laura Mercier en el tono Canard. Para las mejillas usé una mezcla de los rubores Amour y Deep Throat de Nars, y el iluminador Spellbound de Laura Mercier. Para los labios usé el delineador Clover de Laura Mercier y encima el labial Peloponese, también de la colección de otoño de Nars.
I tried it in a winged-like graphic eyeshadow placement, which I really enjoyed wearing. As I already said, I used Chanel Stylo Eyeshadow Jade Shore as a base and Laura Mercier Canard cream eyeliner to complete the eye. I also a mix of Nars Amour and Deep Throat with Laura Mercier Spellbound on top. For lips I used Laura Mercier clover lipliner all over lips, and then filled with Nars Peloponese matte lipstick -my other pick from that collection.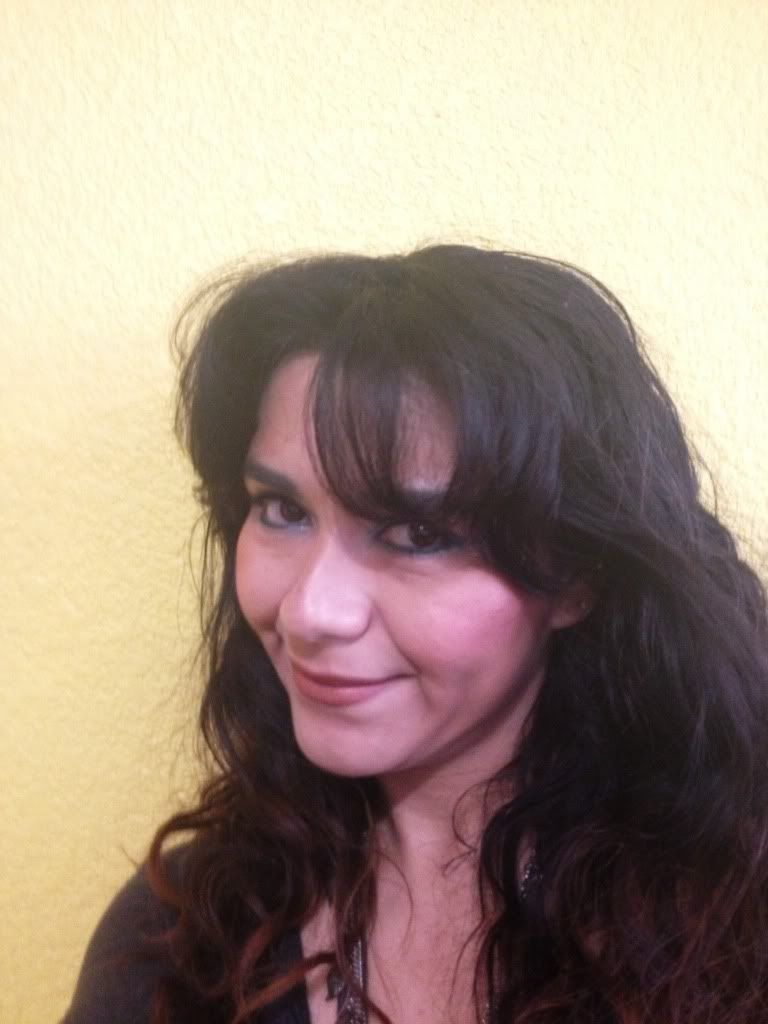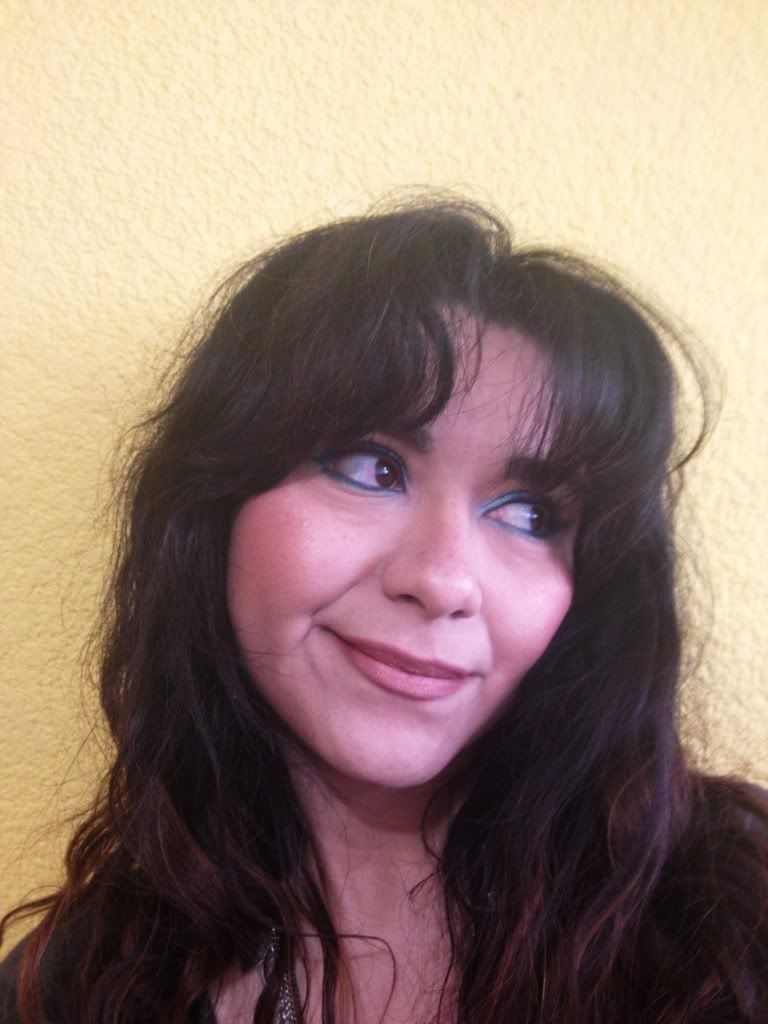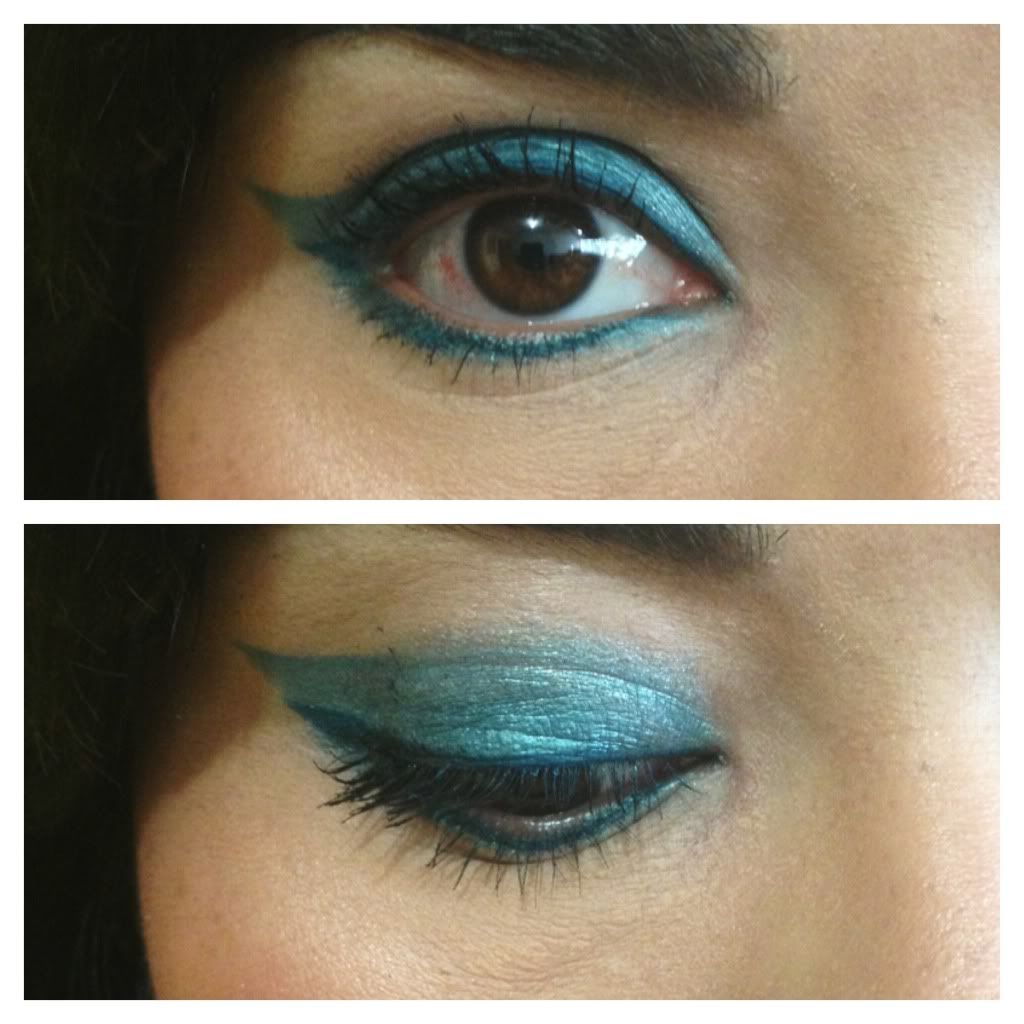 Conclusión: un color muy lindo, pero puedes conseguir algo similar por menos.
Bottom Line: Nice shade, but you can get better for less.