Como ya lo dije antes, los labios nude y yo como que no nos llevamos. Por ello, la alternativa que he usado para continar con el mood California Girl Look sin que mi boca desaparezca es usar labiales con color pero transparentosos. Digamos que son el paso entre el gloss y el labial, ya que tiene color pero su terminado es brilloso. Le van muy bien a los labios pigmentados sin sentirse pegajosos como muchos glosses. Seguramente con esta descipción se vienen a la mente los Chubby Sticks de Clinique y los Just Bitten Kissable de Revlon, pero la verdad, no he probado ninguno de estos. En fin, aquí les dejo mis opciones:
As I've said before, nude lips and I are just not meant to be together. However, the alternative I've found to keep the California Girl Look that I love are sheer lipsticks. They usually have a glossy finish and have some pigmentation, so they go great with pigmented lips without the tacky feeling most lipglosses have. Probably the most famous are the Clinique Chubby Sticks and Revlon Just Bitten Kissable, yet... I haven't tried any of those (I haven't felt particularily interested in Clinique lately). Anyway, here are some options: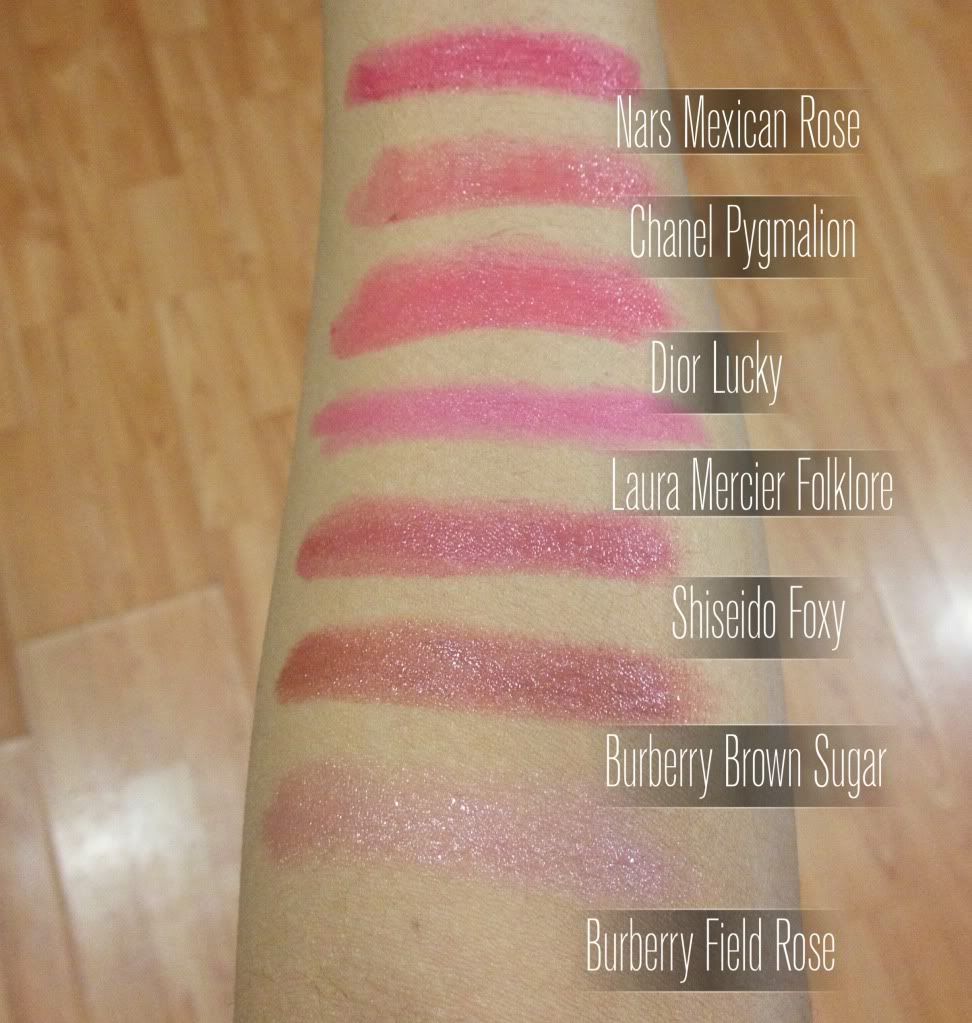 Nars Velvet Gloss Lip Pencil Mexican Rose: Por obvias razones me encanta el nombra de este ;) Salió en la colecciónde primavera de Nars de 2012 y afortunadamente no es edición limitada sino permanente. La forma del lápiz puede ser problemática si no tienes un sacapuntas de ese tamaño, pero el tono me parece tiene el justo balance entre ser intenso pero exagerado. // I just love the name of this one! It came out in Nars Spring 2012 collection and fortunately it's permanent. The pencil shape might be a problem (especially if you don't have a sharpener that big) but the shade is fine for a bright lip.
Chanel Pygmalion Rouge Coco Shine: Nunca he sido fan de esta formula de Chanel, y por lo mismo me negué a probarlo. Sin embargo, después de leer la reseña que hizo The Non Blonde de este tono, supe que valía la pena probar. Es así, que tengo mi segundo Rouge Coco Shine (el primero fue Antigone, hace mucho). Es un coral rosado, que desafortunadamente fue edición limitada de Verano 2013. Sin embargo, el siguiente parece un tono similar. // I was never a fan of this formulation, and really hesitated to try it. However, after reading the Non Blonde's review on this one, I knew it was worth trying. So, I got my second RCS in history (Antigone was the first) and I don't regret it. It's a pinky coral but unfortunately, it was limited edition. Anyway, the next one seems a similar one.
Dior Addict Extreme Lucky: No tengo idea por qué no me hice de uno de estos antes, si son increíbles!!! ESte tono en particular es un coral rosado. Si no pudiste conseguir Pygmalion de Chanel, este es una muy buena alternativa y no es de edición limitada. // I have no idea why I didn't get any of these before, they are just great!!! This particular one, is a pinky coral. If you couldn't get Chanel Pygmalion, this is fairly close in shade and feeling, but it isn't limited edition.
Laura Mercier Lip Crayon Folklore: Esta es la versión de Laura Mercier de los Chuby Sticks, y me encantó el tono que conseguí -un rosa frio. Otros tonos son Mayan Sun (rosa naranja) y Burnt Clay (café) // This is Laura Mercier version of the Chubby Sticks and I really like the shade I got that's the cool pink one. Other shades are Mayan Sun (orange pink) and Burnt clay (deep brown)
Shiseido Perfect Rouge Tender Sheer BR506 (Foxy): Creo que este es el tono más intenso de la gama, que es un rojo. Claro, para mi tono de labios es un tono MLBB. La textura, como en la mayor parte de los productos que muestro es maravillosa, no es pegajosa pero tampoco reseca los labios // I think this one is the boldest in the line, it's actually a sheer red. However, I find it a MLBB shade on my pigmented lips. The feel, like in most of the products featured in this post is great, not tacky nor drying.
Burberry Brown Sugar: Este es un gran tono para los labios pigmentados, ya que les da algo de brillo. También me parece un buen tono de transición para el otoño, ya que los labios cafés están regresando. Este es café, pero no ese café mate super oscuro que se usaba en los 90's // I think this is a great shade for dark pigmented lips, since it adds some shine to them. It is also a good transition shade for fall, since seems brownish lips are coming back. This one is brown, but not 90's brown.
Burberry Field Rose: Este ya estaba en la serie de nudes / MLBB, y me parece que es el tono más claro que tengo dentro de esta gama. Lo agregué sólo para mostrarles como pasar del nude / MLBB a este tipo de tonos transparentes pero con color // This one was also in the nude / MLBB swatches, this might be the lighest sheer lipstick I own. I added this one just to show it as a transition from the nude / MLBB to this sheer ones.
Sé que había dicho que tendría una entrada de favoritos hoy, pero aún no me decido. Espero tenerla esta noche.


I know I said I would have a "favorites" post today, but I'm finding it hard to decide which ones are. Hopefully, I'll t have that post tonight.